Purple nails keep you looking luxurious and classy. It is my go-to nail color whenever I have a luxurious event or occasion coming up.
For a night out, medium-length dark purple nail designs with rhinestones or glitter are the best option. For a classy day-to-day look, you should get pastel purple nails, especially in spring or summer.
With numerous shades of purple available, getting purple nail art that suits you might be tough. No worries, because I've got you. From dark purple nails to pastel and ombre purple nail designs, here are 40 purple nail designs you can rock regardless of the season.
Purple Nail Designs For Inspiration
1. Croc Tips Purple Nail Design
The versatility of this purple nail is unmatched. It has a light pink base with purple crocodile tips on two fingers.
One nail is designed with charming swirls of pink and purple with gold glitter that gives the whole look a pretty finish.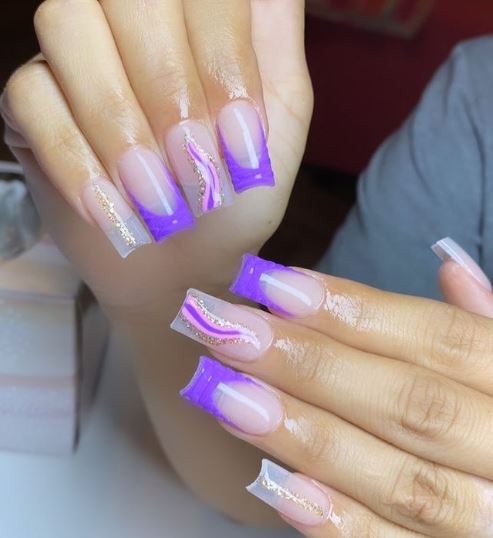 Image by @gvlden_beauty_lounge_ via Instagram
2. Bold Purple Nail Designs
Not a big fan of acrylic nails? You can get glossy violet nail polish to paint your natural nails.
You can do this at home if you don't feel like going to the salon. To prevent the polish from staining your cuticles, apply vaseline using a Q-tip to your cuticles before you start putting on the nail polish.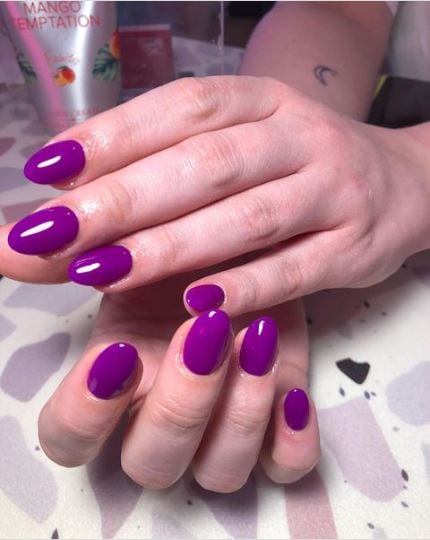 Image by @thebeautybartampico via Instagram
3. Purple Nails With Glitter and Florals
Coffin nails are a delight. These medium-length purple coffin nails are charming with a little bit of everything going on.
It has orchid purple nails on the thumb and little fingers decorated with rhinestones. The ring finger is filled with silver glitter and the middle finger has an angelic 3d flower on it.
This nail look would be the perfect choice for a spring wedding.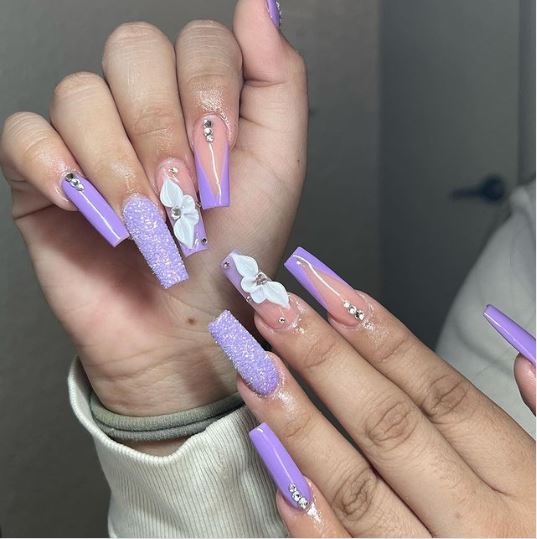 Image by @lauraa.naills via Instagram
4. Purple Ombre Nail Art
The marble purple nail art here is just spectacular. The dark-tipped ombre nails also complement the marble nails.
The whole look is elevated by the purple flower and glitz on the ring finger.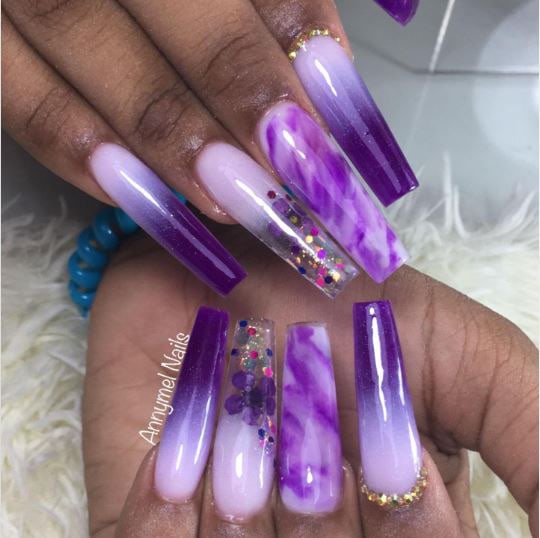 Image by @adimel_nailsacademy via Instagram
5. Light Purple Nails
With just the perfect length, these square nails are neatly and carefully done with swirls of light purple, white, and glitter.
The single color accent nail on one finger is an addition you can decide to go without or replace with a different color like white or pink.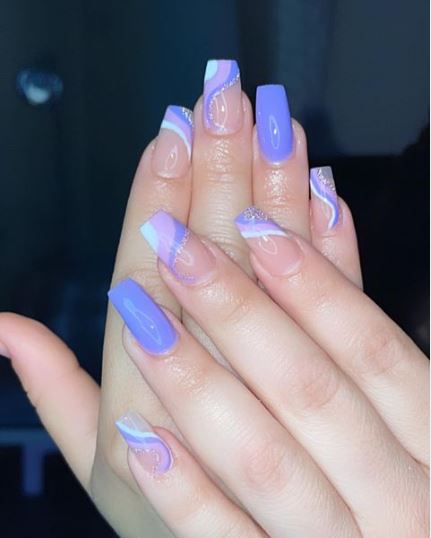 Image by @nailsbygabyglam via Instagram
6. Long Purple Sparkly Nails
If you're a little timid and shy, you should pass these baddie nails up. With its extreme length and glam, this dramatic nail is perfect to make a statement and draw attention.
A silver accent nail decorated with gems and stones is featured on one nail. The others are chrome purple with holographic nails to spice things up further (like this isn't spicy enough).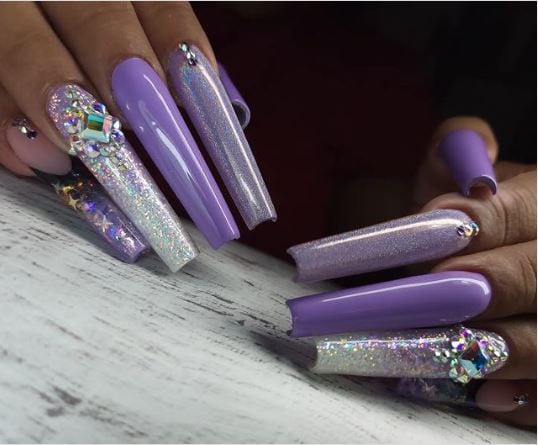 Image by @nailsbyjessyjess via Instagram
7. Medium Stiletto Pastel Nails
I love how faint these nails are. Very light shades of purple are used to create a calm and delicate look.
The last nail has a slight shimmer that is just lovely. Small rhinestones and flowers are used to adorn the middle and ring fingers respectively. This would be great for a baby shower thanks to the softness of the color.
Image by @julienails_stalbans via Instagram
8. Purple Summer Nail Idea
If you like simple manicures as much as I do, you might be delighted by this subtle nail look.
The perfect length acrylics are used to create these amazing nails.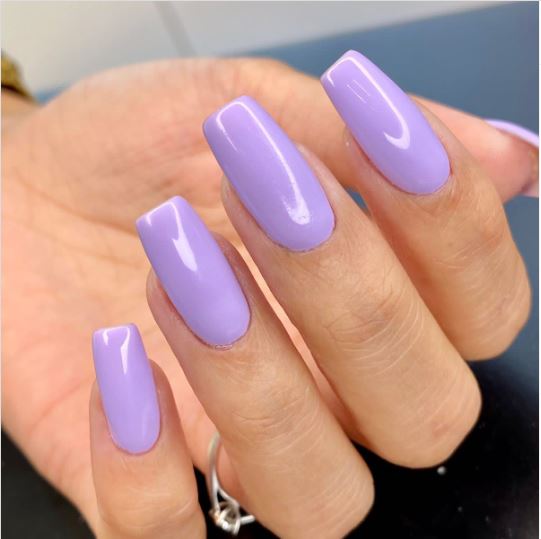 Image by @mindnsense via Instagram
9. Purple Halloween Nail Idea
When dark purple nail polish is mixed with black such as in these matte nails, it creates a dark, flattering nail look. The purple base and black bats help create a dramatic look that's perfect for Halloween.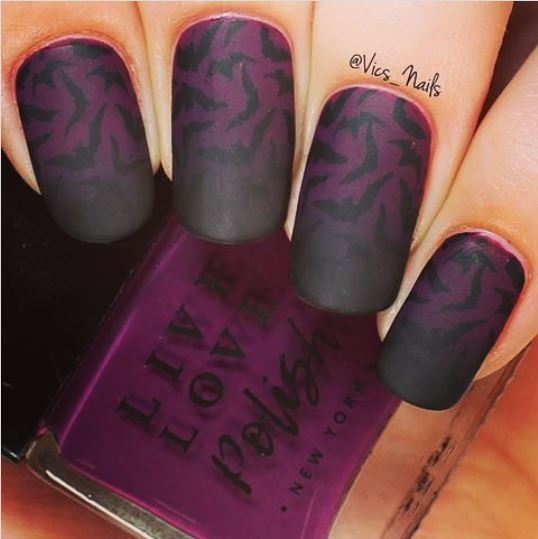 Image by @halloween_nail_art via Instagram
10. Purple Gradient Hearts
Accent nails add an amazing twist to any nail art as it does here.
Most of the nails are done with charming purple gradient french tips with accent nails of hearts with gradient purples from light to dark.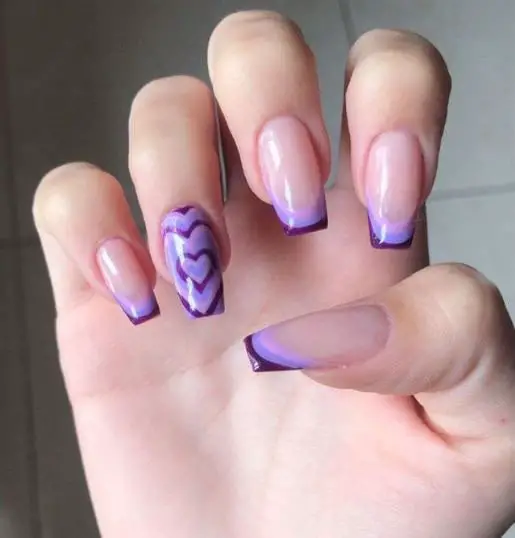 Image by @centenovilchezboutique via Instagram
11. Purple Chanel Nails
These pretty nails incorporate different nail trends to create this gorgeous nail look. The little finger has a purple and white ombre with a gold chanel decal on it.
The ring fingernail has a nude base with a slight shine. The other nails are marble nail art with gold decals attached to create an amazing glow. This nail will look amazing for prom or graduation.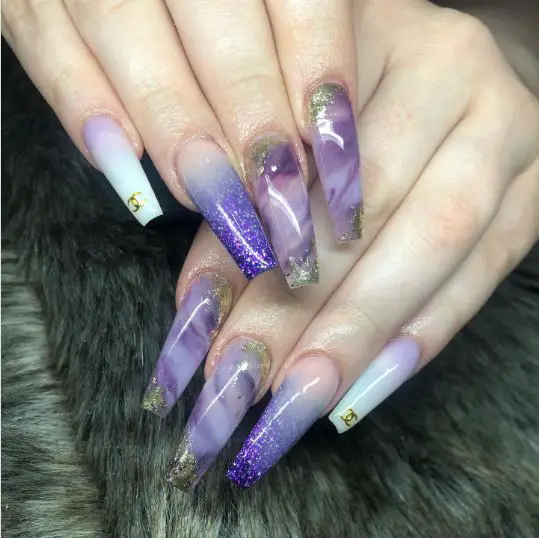 Image by @jessica_nailzz via Instagram
12. Purple Animal Print Nail Art
I am definitely getting this done for my next nail appointment. This nail art features nude nails with purple and black leopard-like dots with solid purple nails.
This is a super cute nail for a casual date. This goes well with jeans or monochrome sweats.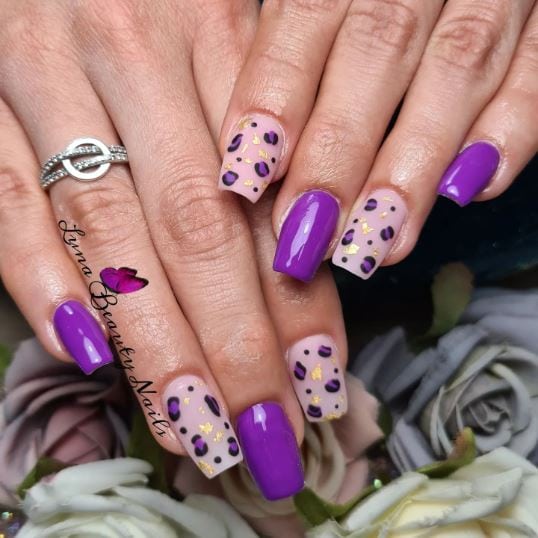 Image by @luna_beauty_nails via Instagram
13. White Marble and Gold Decals
This is my favorite shade of purple polish due to how gorgeous it looks. The color combo of white marble nails and gold decals creates a wow factor.
You can stun with this for a date night.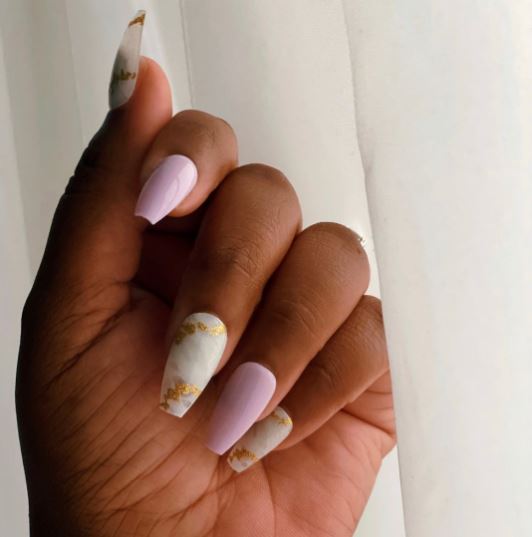 Image by @iglnails via Instagram
14. Purple Flower and Rhinestone Nails
Step out looking like a goddess with these gorgeous purple nails. It's perfectly arranged with petals with swirls of glitter on ombre purple nails.
The rhinestone is added to the little fingernail to create a trendy look.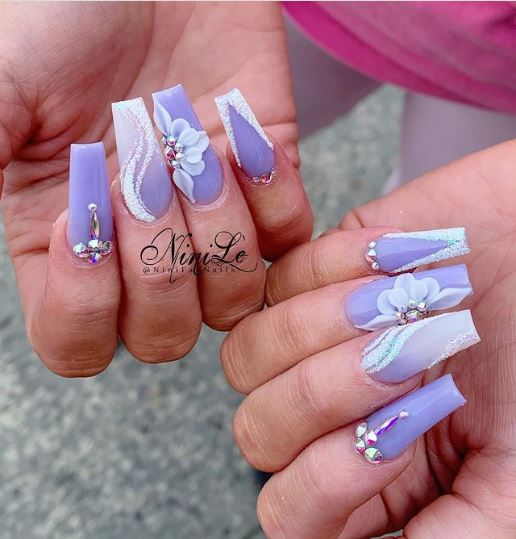 Image by @ninisfabnails via Instagram
15. Purple Holographic Nails
This gorgeous, trendy nail look is much-loved by fashion icons. It's bright in a subtle way because the purple glitter nail polish used is a dark one.
This is a great choice if you want elegant nails that are dark enough to make a statement.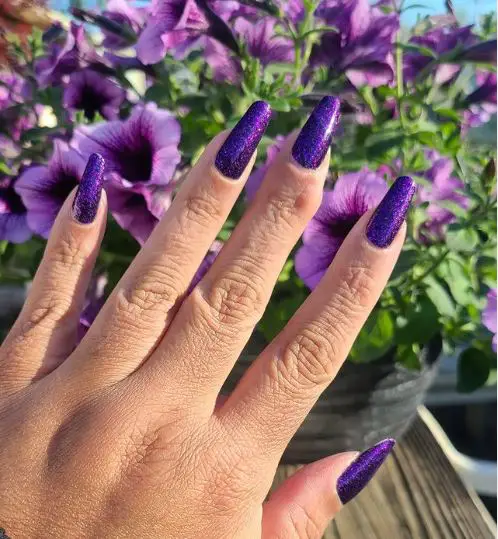 Image by @jaycandies via Instagram
16. V-tips Purple Nail Ideas
Purple glitter nails are used here on one nail to complement the remaining purple V-tip nails. The nude base of this nail art goes perfectly with the skin tone.
This is the perfect nail for you if you like to appear polished and high-class.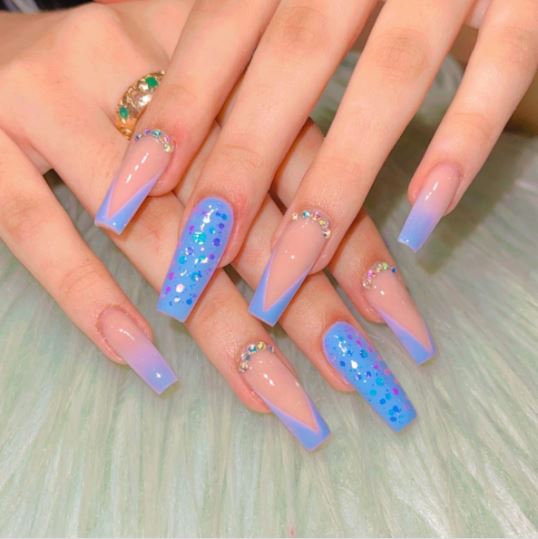 Image by @nailsbyzarasara via Instagram
17. Purple and Pink Nail Art
Light purple nails are always flawless. This nail art has fun patterns and a nice almond shape.
The chic nail look is created with a pink base and purple tips with swirls of white nail polish in between them.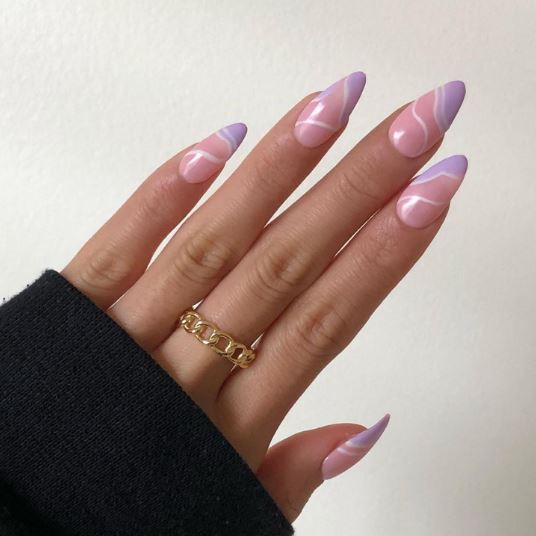 Image by @yournaillab via Instagram
18. Glam Purple Nail Designs
An easy way to create a cool look that will pop against any outfit is by adding rhinestones.
The trendy fashion look is achieved with crystal rhinestones and star-shaped decals added to the purple nail art, increasing the fun level of the nails.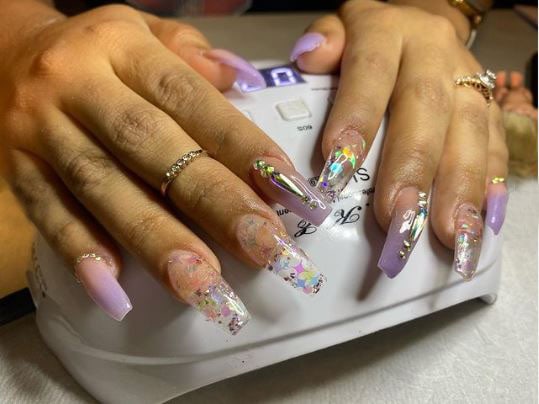 Image by @karis.beauti.bar via Instagram
19. Purple Butterflies
This manicure is fun and sweet. The different pattern on each nail creates an interesting look.
One nail has a butterfly with twinkles, some nails have unique half french tips with dot work flowers and pearls on the other half. The last nail is adorned with stars and ocean-like swirls of dark purple.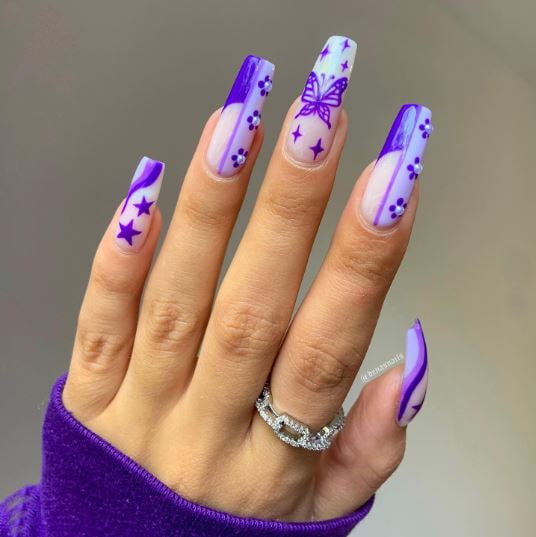 Image by @denasnails via Instagram
20. Long Nails With Purple Swirl
Nails with swirls are becoming trendy and for good reason. These square nails are light purple with dark purple swirls to make the look pop.
This vibrant nail look can be worn with most monochrome outfits. If you are not a fan of long nails, you can get shorter ones for this look.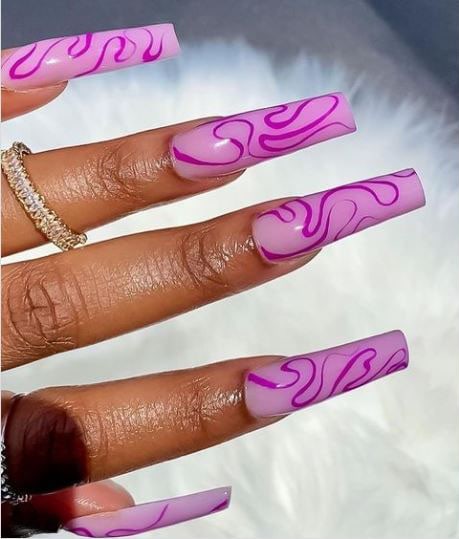 Image by @thenailprogramme via Instagram
21. Purple Nails With Butterfly Charms
Step out looking elegant and stylish with these fantastic nails. Purple and nude are combined, creating a stunning ombre appearance.
You can add rhinestones and charms to allow the light purple color to pop slightly or leave it without adornments. The nails would still look creative.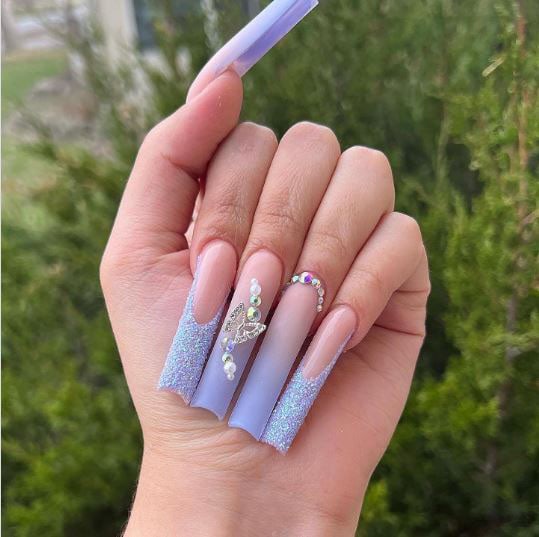 Image by @nailsbyalejandraaa via Instagram
22. Purple Nail Designs With Flames
The creativity of this dark purple nail art is top-notch. Every nail has a different design. Some feature plain purple nail designs with solid silver nail polish.
Another has a purple snake and the index nail art has hot purple flames that look like it took a lot of work.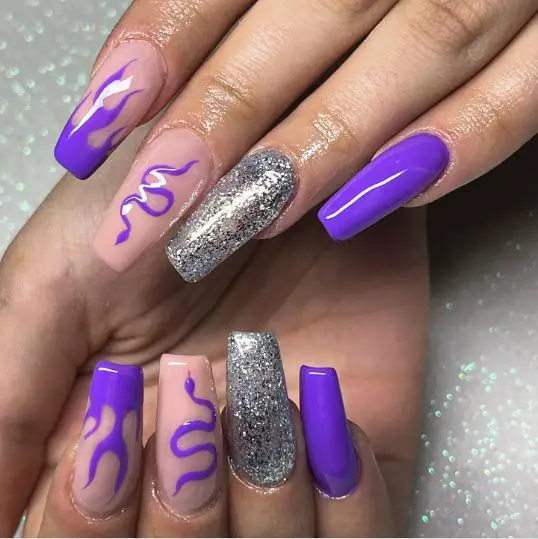 Image by @melymelissa_nails via Instagram
23. V-tips Purple Glitter Nails
This nail art is for baddies that like extra long nails. The nail idea is simple, with nice nude nails at the base and purple glitter v-tips.
If you want to stand out at a party, you might want to consider getting this done.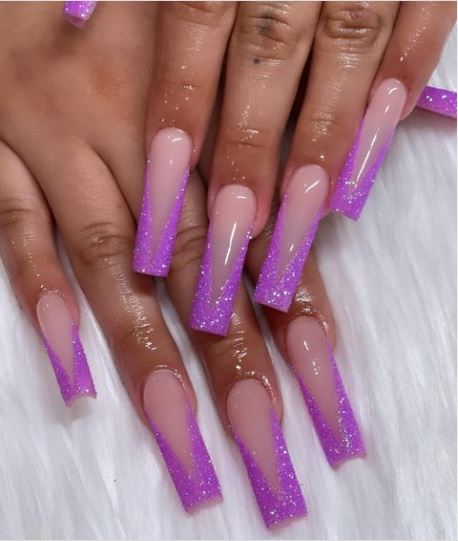 Image by @guerass_nails via Instagram
24. Short Lilac Nails
Need a nice purple nail design to keep you looking stunning as you go about your daily life? You should consider getting this done.
The nail art is plain except for the accent nail with a mixture of white. If you want to make this sparkle a bit, you can add glitter or rhinestones.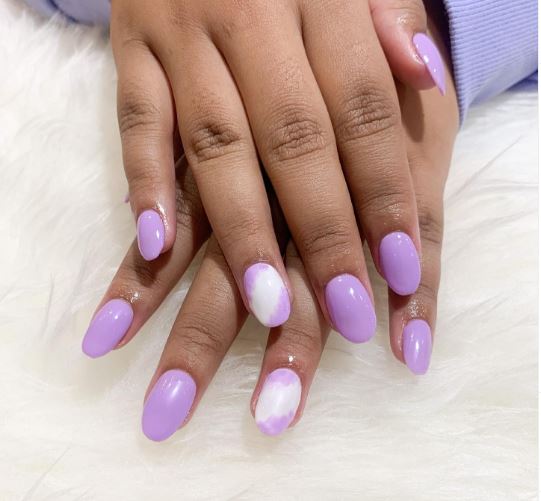 Image by @sorebeauty_ via Instagram
25. Black Polish With Purple Nail Designs
Here, glossy and matte nails are used to create a glam, dark appearance. The black nails are mixed with purple, creating a look similar to an amethyst crystal.
If you have a masquerade party to attend, you should consider getting this nail design done.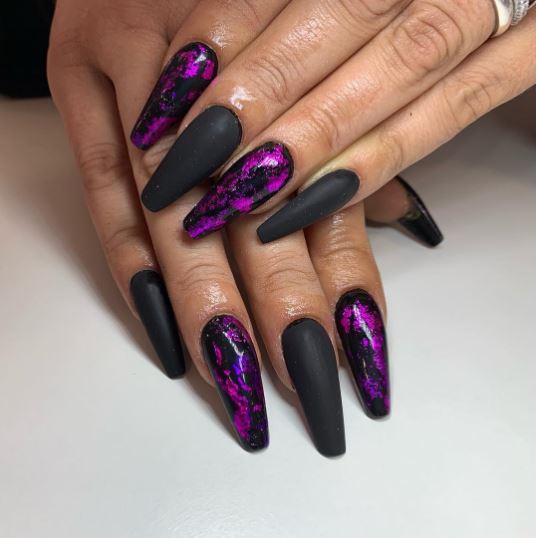 Image by @nail_lab_official via Instagram
26. Short Purple Nail Designs With Glitter
There are tons of unique purple nail ideas just like this one. The design is that of simple short nails with purple glitter at the tips that look like magical crystals.
This nail art will look great with a bright outfit or any formal outfit you want to rock.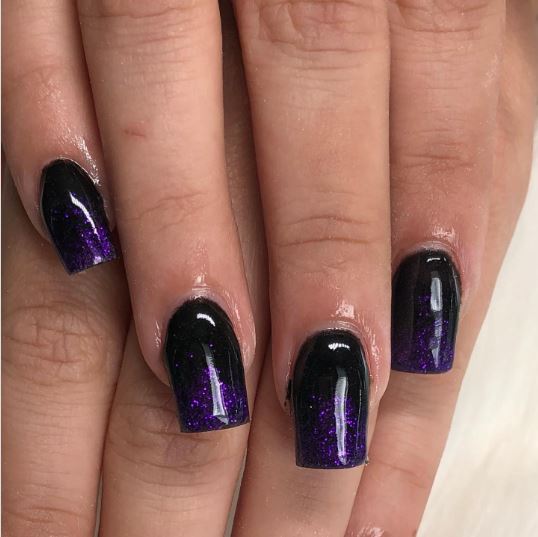 Image by @naidenailedit via Instagram
27. Bling Purple Nail Designs
Indulge in some extra bling with these crystal-filled purple nails. The short almond nails are sparkly and lovely with the rhinestones added.
The dark purple nail polish does a great job of turning down the brightness of the whole look, making it stunning and attention-grabbing.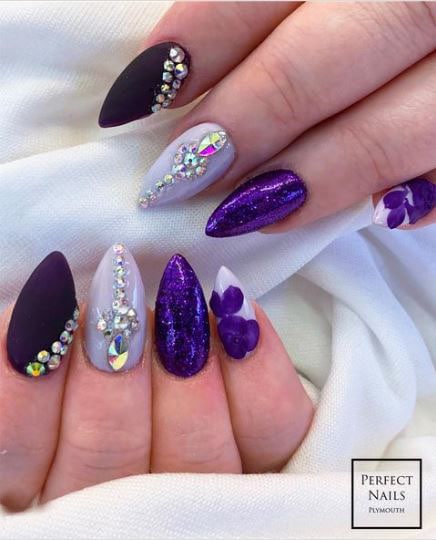 Image by @perfectnailsandbeautyply via Instagram
28. Ombre Purple Nails With Black
This is an awesome take on purple nails. It features a white base with light purple tips. A tree-like design with black stems, branches and gold leaves is used to decorate the gorgeous purple nail on the ring finger.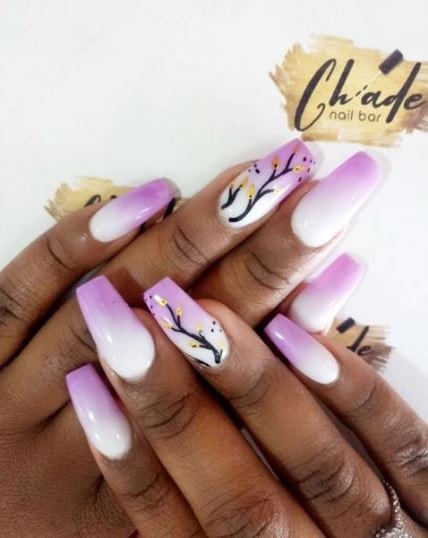 Image by @chadenailbar via Instagram
29. Sparkly Purple Ombre
I love how glitter-filled these short nails are. The color combo is really stunning. It features a pretty shade of purple used at the base of the design with white tips.
This is a great nail idea if you want to show yourself some love by getting a gorgeous manicure.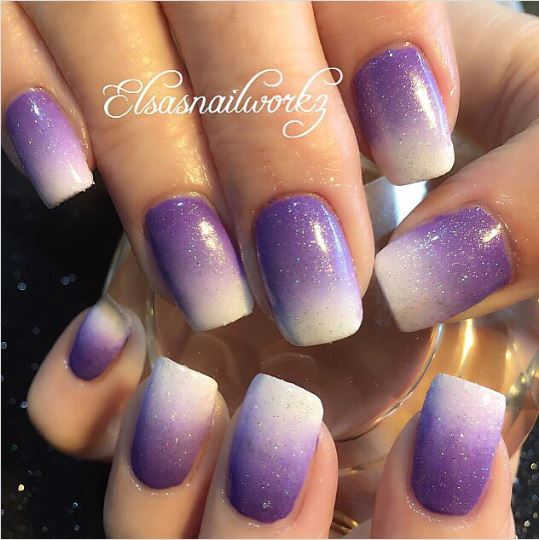 Image by @elsasnailworkz via Instagram
30. Mauve Purple Nails
Are you a fan of square and stiletto nails? You should consider getting a nail design that combines both square and stiletto acrylic nails. This cute mauve nail art has both, and is decorated with crystal rhinestones.
Some nails have stunning transparent tips with glitter that creates a look that you are sure to fall in love with.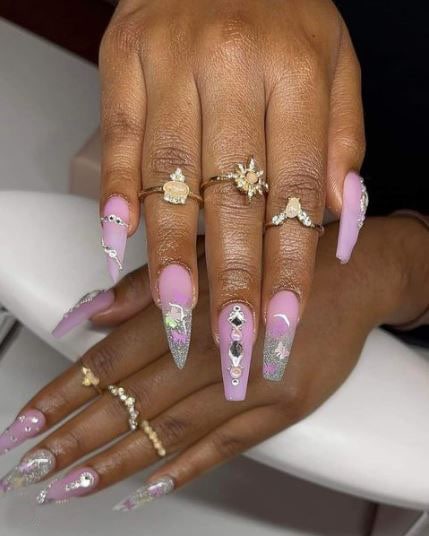 Image by @igelbeauty via Instagram
31. Blue and Purple Nail Designs
It doesn't get any more elegant than blue and purple nails with a matte finish. This almond shape nail art features plain ocean blue and purple on some nails with two floral-designed nails on each hand.
Purple, black and white flowers are drawn on the ocean blue nails and I'm yet to see more perfectly blended colors.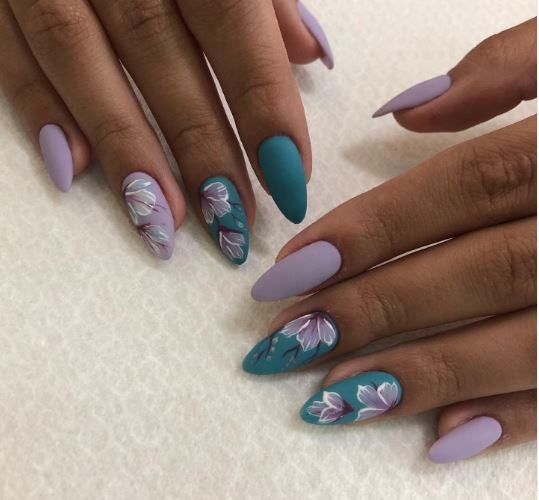 Image by @sihamsalon via Instagram
32. Lavender Purple Nail Designs
Celebrate who you are every day because there is no one else like you. You can do this by treating yourself to a pretty manicure with your initials incorporated, as in this nail design.
The nails have a light pink base with purple v-tips. The initials of the name are written in black, making it shine on the light nails. Can't wait to try this out for my next nail appointment.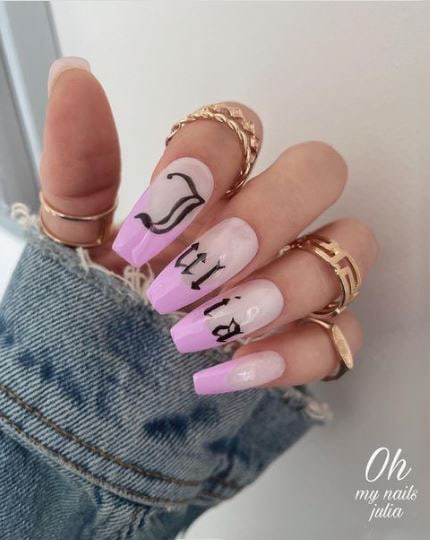 Image by @ohmynailsjulia via Instagram
33. Plum Purple Nails
This glossy plum purple nail art is cute and bold. The coffin nails have a single color that is mature and classy.
The nail design will work perfectly when worn with corporate outfits. You should consider this for your next nail design if you are looking for a subtle yet stunning shade of purple to rock.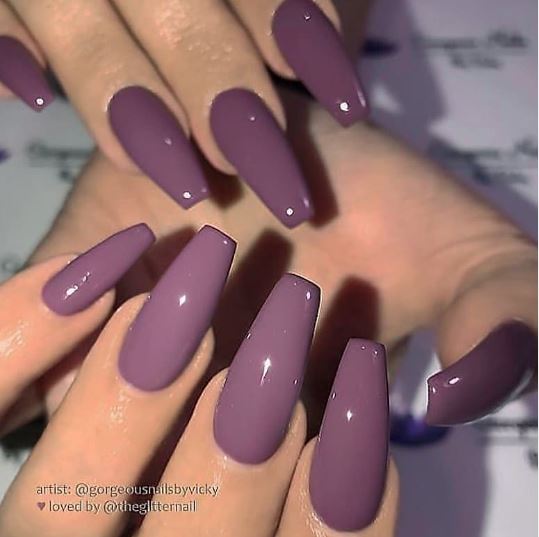 Image by @nailsterm via Instagram
34. Touch Of Purple
Have fun with your nails by getting these cute short designs. The nail look features different shades.
Nude, gold glitter, and blue are used on different nails. Two nails are beautified with florals with a touch of purple, giving this a nice spring vibe.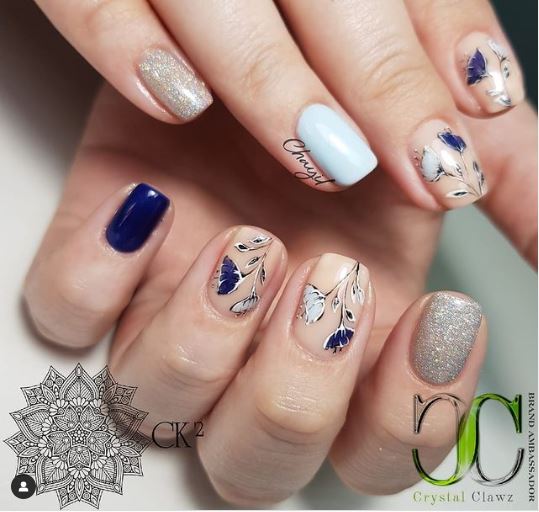 Image by @ck2_nailart_studio via Instagram
35. Deep Matte Purple and Glitter
Everything about this nail idea is just perfect. The cool plum purple color, the glitter nails, and even the short style.
You can rock this cool and subtle manicure with bright monochrome outfits in nude or milk.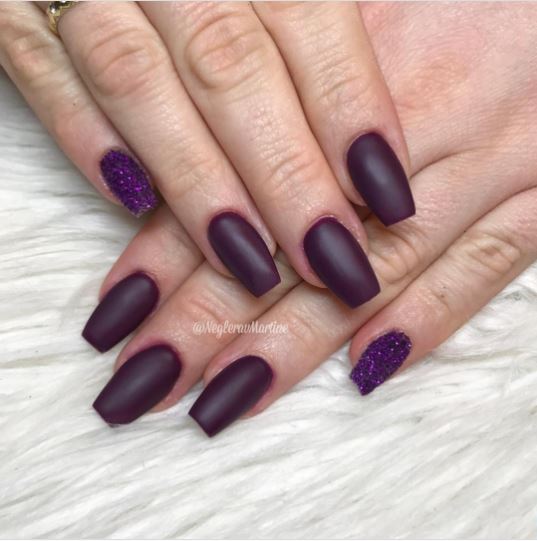 Image by @uniquebeautybymartine via Instagram
36. Violet and Glossy
This is a charming nail idea to flaunt. Most of the nails are plain glossy violet with two accent nails added to spruce things up.
The white accent nails have pink and purple florals. The contrasting green on the nail gives an elegant finish to the whole look. I can see myself wearing this pretty manicure in spring.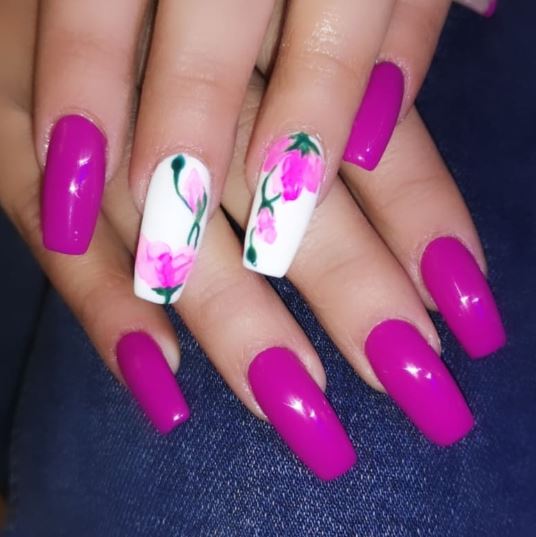 Image by @ibtisambeauty via Instagram
37. Green and Purple Manicure
The best word that can be used to describe this mani is perfection. The long coffin shape nails are fresh and vibrant. With all the glitz and glow going on here, this is sure to make you smile.
The nail designs feature purple ombre and green ombre nails. Little moon and star charms are added to beautify the nail look.
What makes the style pop is the fun multiple shades added on the nails with a gold swirl that stands out.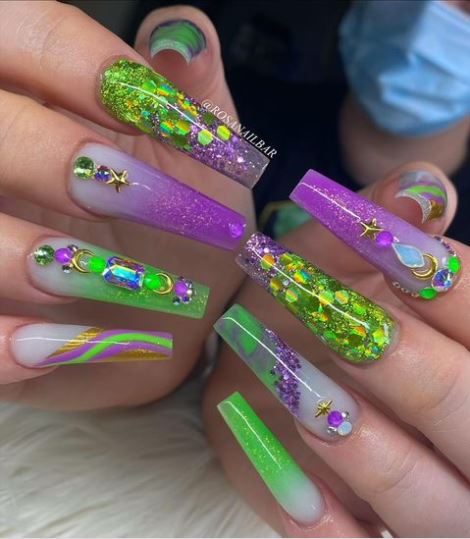 Image by @rosanailbar via Instagram
38. Metallic Purple Nail Designs
The glow of this metallic nail is just out of this world. The almond shapes and amethyst design of the ring fingernail have a pleasant shine making the nails suitable for an authentic glam look.
You can wear this with lighter shades of purple for a bold, classy look.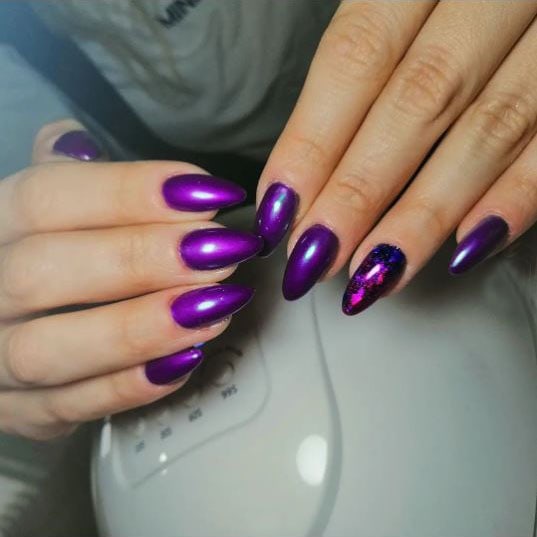 Image by @nashaat_radwan via Instagram
39. Little Pony Nails
Show that you are a woman with both a sassy and sweet personality by getting these creative nail designs.
I love how metallic nails, glitter nails, and gel nail polish with a charming pony are used to bring these nails to life. The rainbow heart on the glitter nails is a stunning mix that's subtle yet stylish.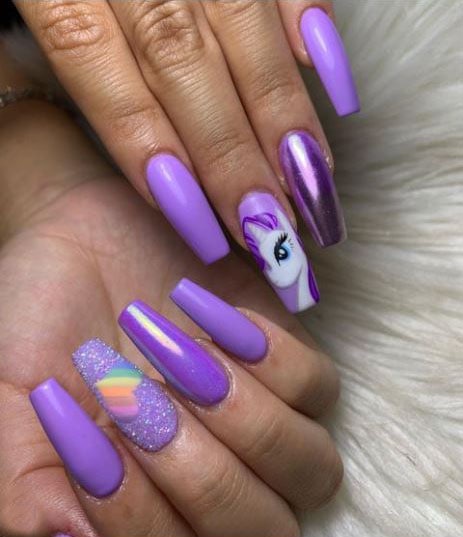 Image by @talia.nails via Instagram
40. Purple Gradient Nails
Nails with a matte finish always look chic and high-class. The purple gradient nails with five shades of purple are too cute to pass up.
The shades of purple used here give you a large range of options when it comes to selecting an outfit to match your mani.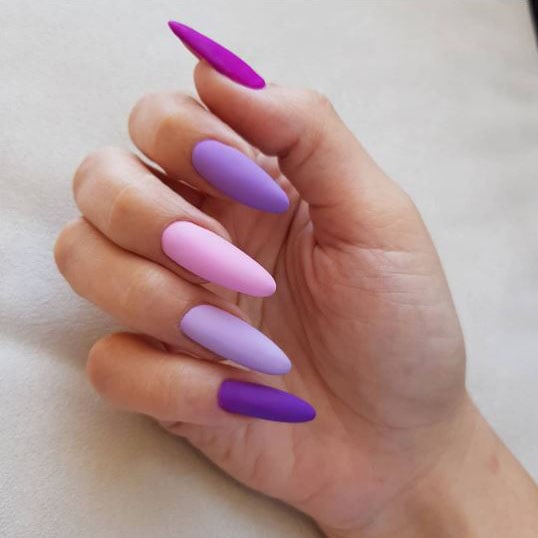 Image by @chabs_nail_house via Instagram
We have come up with tons of pretty purple nail designs. From romantic to gothic nails, spring and summer nails, we've covered them all. All you have to do is pick your favorite and get it done on your next mani appointment.