Red coffin nails are one of the most popular bright nail colors to get a bold and vibrant look. Rocking plain red nails is elegant, but you can switch things up by combining red with neutral colors like white, beige, taupe, and grey for a more subtle nail look.
Making your nail art personal allows you to be more confident. Feel free to express yourself via your nail art with crystals, gems, glitters, or a painting of your favorite place.
If you love red nails as much as I do, these 25 unique red coffin nails will give you inspiration for new and exciting ways to wear your red coffin nails.
Stunning Red Coffin Nails For Inspiration
1. Glossy Red Coffin Nails
Coffin nails with dark red shade and glossy finish. This mani screams hot. It's perfect for a dinner date.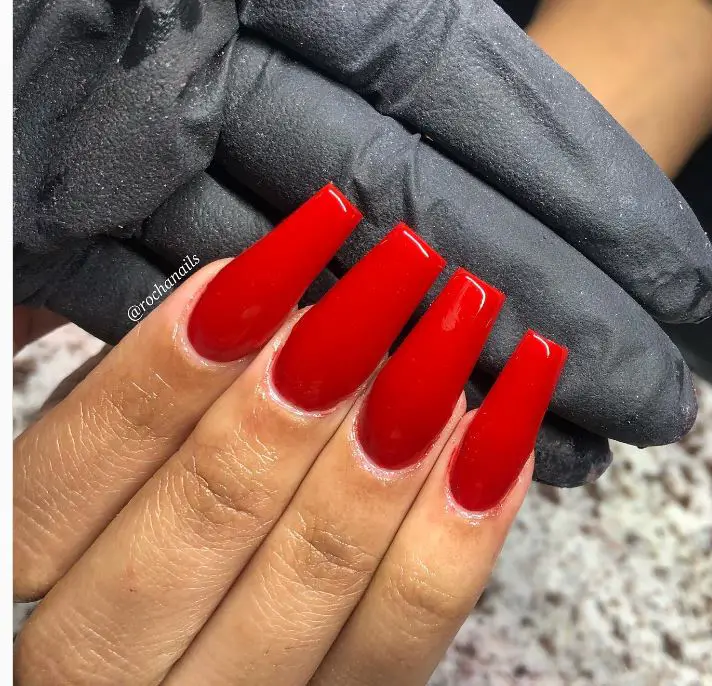 Image by @rochanails via Instagram
2. Red and Nude Nail Design
These coffin nails are so clean and stylish. The nails are a mix of red, nude, and white.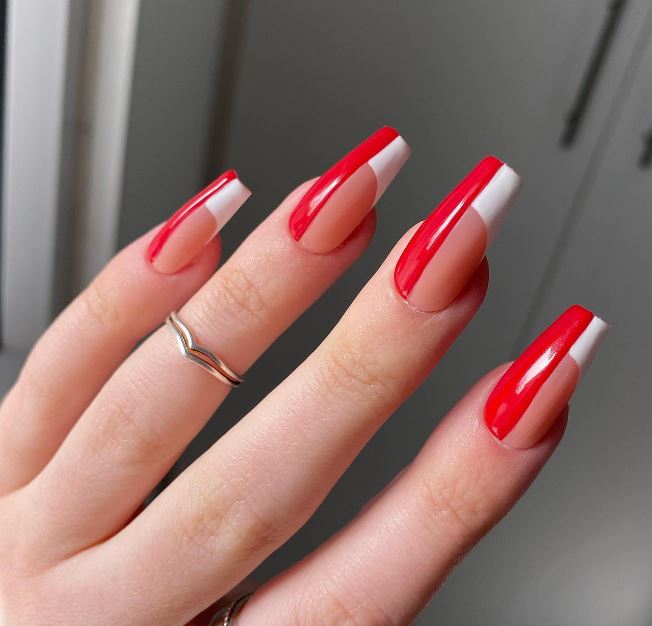 Image by @mbeauty__x via Instagram
3. Gorgeous Manicure With Cherry Design
This nail art has amazing cherry designs on nude polish on the middle finger and ring finger. The bright red shade makes the whole mani pop.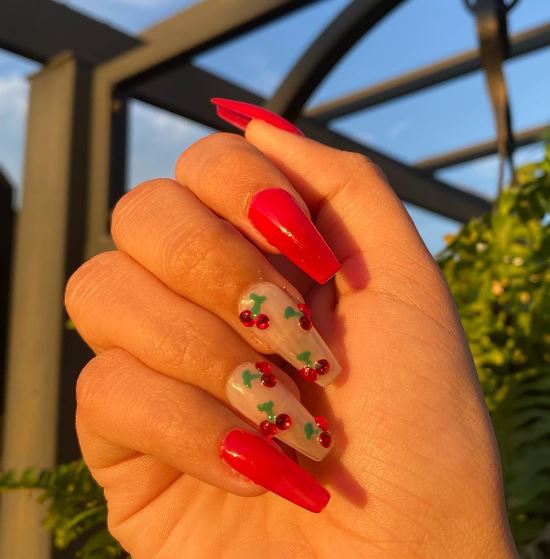 Image by @nailsbydharma via Instagram
4. Dark Red Nails
This red nail art has a unique design with small red hearts on the accent nail and glossy nude nail polish.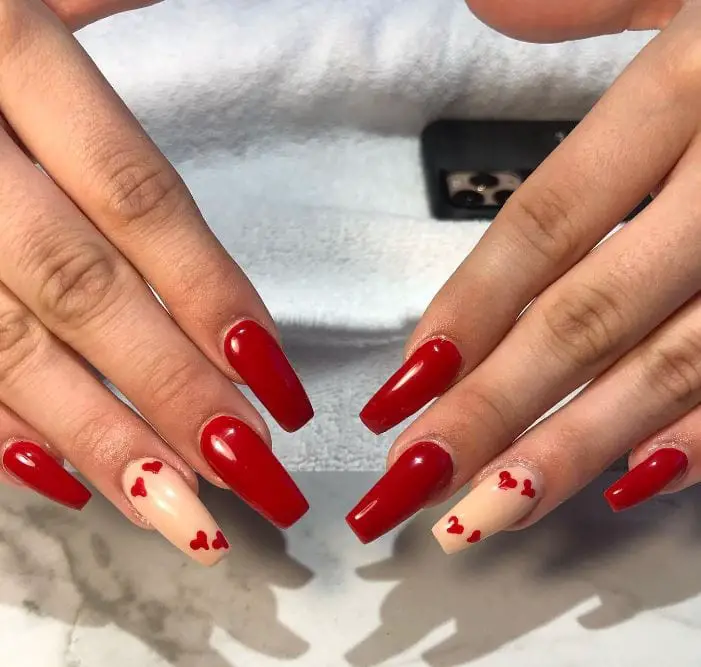 Image by @nailsbyfina_ via Instagram
5. Long Red Coffin Nails
This dark red manicure has lovely red glitter on the accent nail. The index fingernail also has super shiny silver glitter with a few silver rhinestones. The pattern on the middle finger makes the manicure more unique.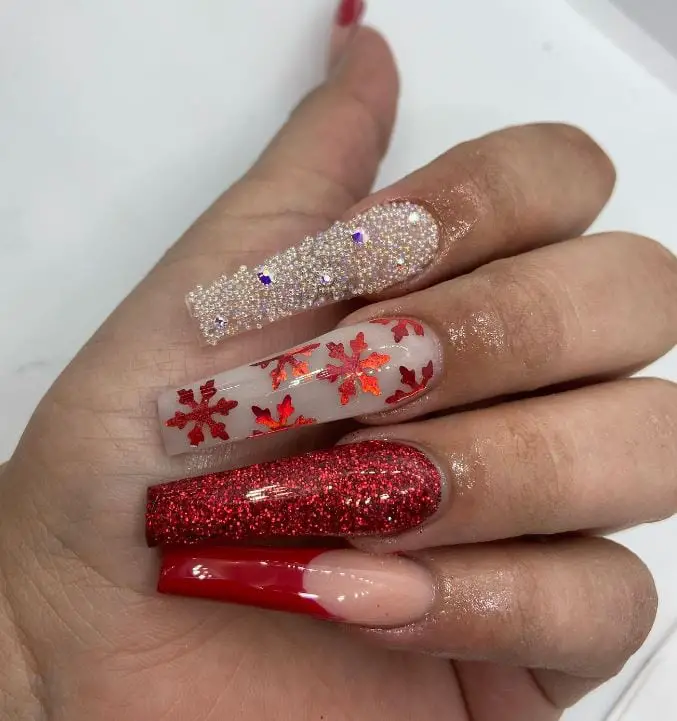 Image by @nailsbyluznayeli via Instagram
6. Red and Gold Nail Design
Matte red nails with nude nail polish and gold glitter tips on the index and accent nail.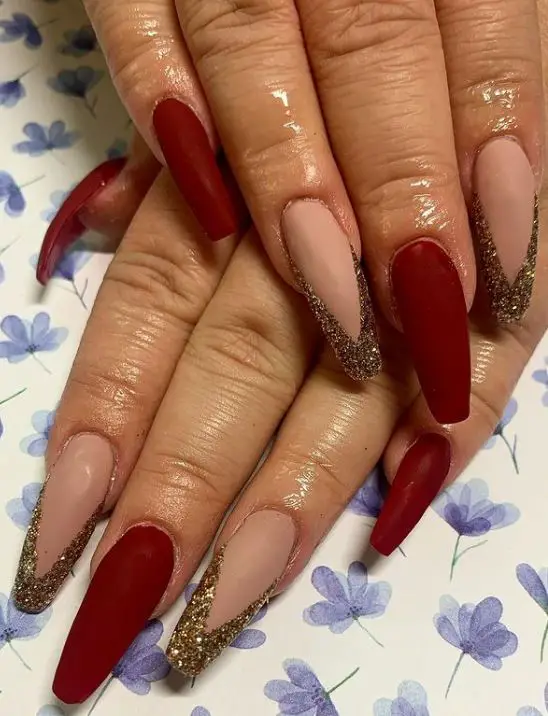 Image by @melbelz_nailz via Instagram
7. Stylish Red Coffin Mani
Short, glossy red coffin nails with white stripes. This nail design looks heavenly.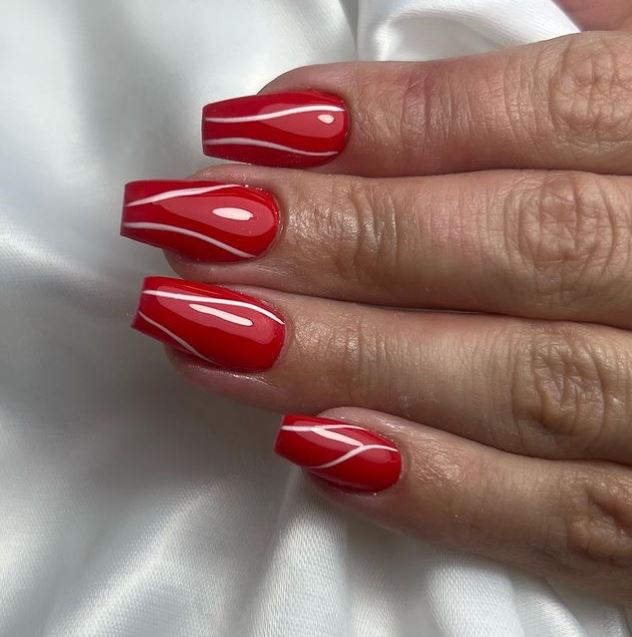 Image by @sallon_afrodita via Instagram
8. Long Coffin Mani
If you're a fan of long nails, you'll love this one. This nail design has red glitter on the thumb and little fingernail. The other nails are painted with glossy nude polish and bright red at the tips.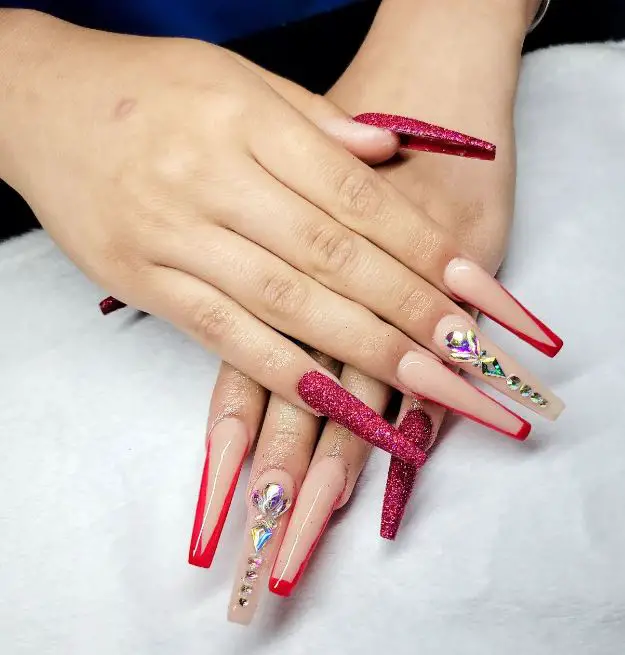 Image by @marineida_nail_creations via Instagram
9. Bright Red Croc Nails
Long coffin mani with nude and bright red. This nail art has croc designs and red Swarovski crystals on the ring fingernail.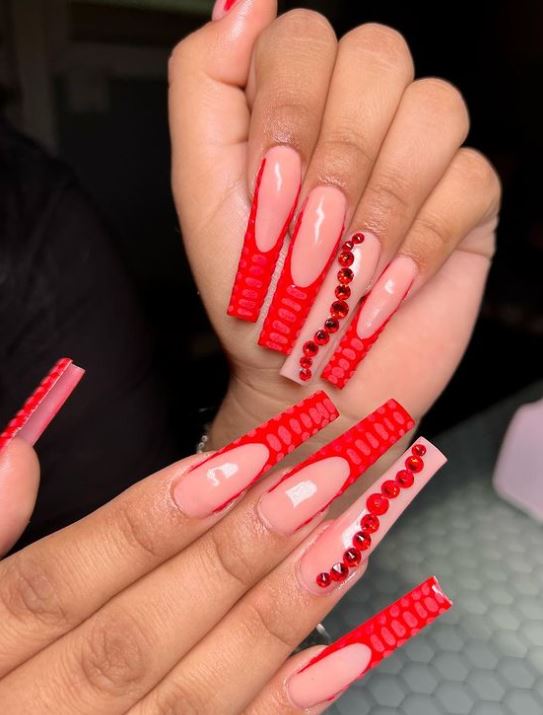 Image by @naildbyliz_ via Instagram
10. Red Coffin Nails with French Tips
This nail art has a bold and glossy finish with white nail polish on the index fingernail of the right hand.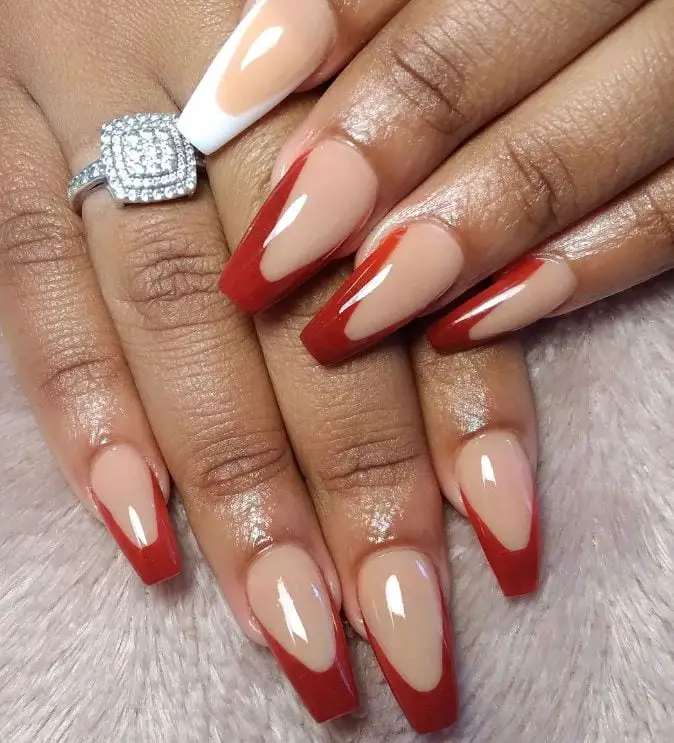 Image by @nailfetishbydre via Instagram
11. Gorgeous Matte Red Mani
These short coffin nails have bright red shades which make the whole look appear vibrant. Matte nails have a way of making you look elegant, and this is proof of that.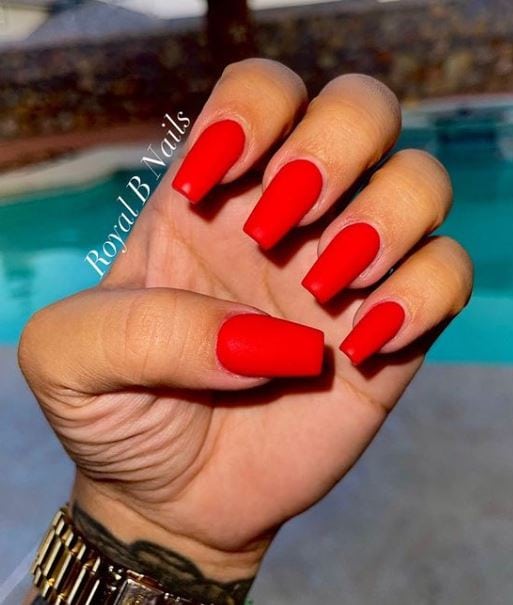 Image by @_royalb_nails via Instagram
12. Pretty Red and White Coffin Nails
Red and white are a perfect color mix. The middle finger of this nail art has fun gold designs on the red polish.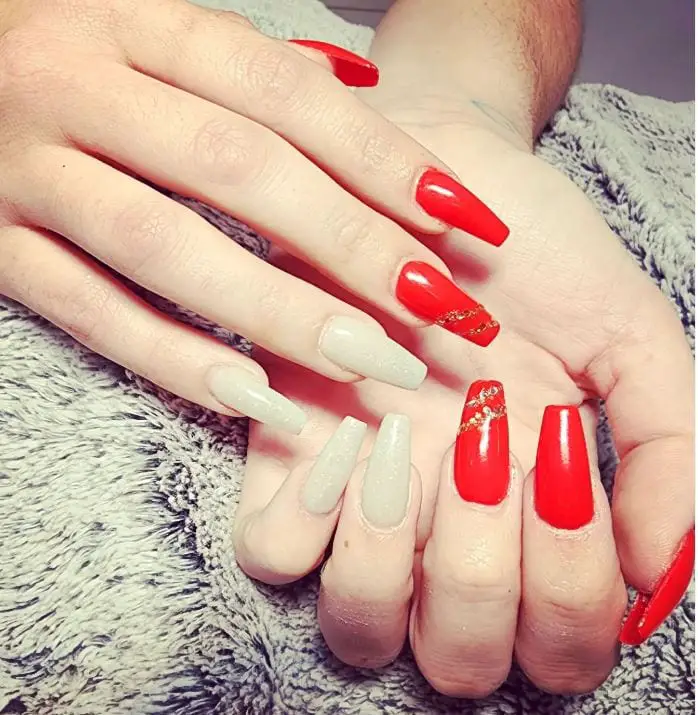 Image by @bossedupbeauty2340 via Instagram
13. Hot Marble Nails
Super shiny mani with marble design on accent nails; rhinestones, and loose red glitter on index fingernails. Dark shades always give a bold and daring look.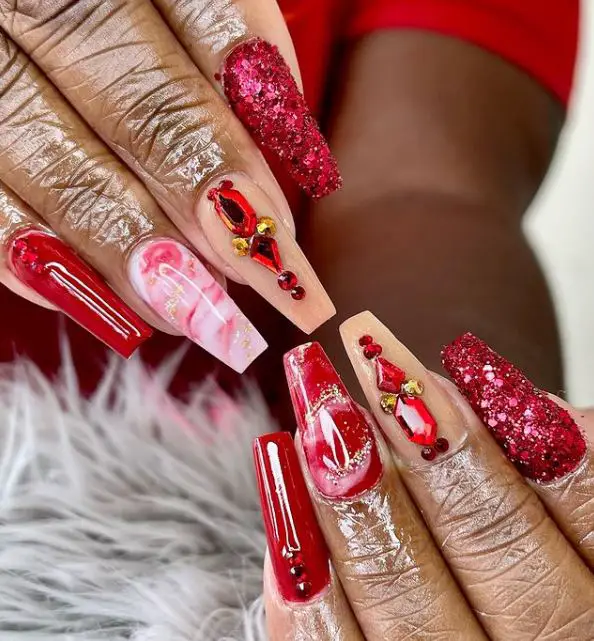 Image by @nailsbysheyy via Instagram
14. Coffin Nails With Dragon Designs
The dragon designs with colorful rhinestones on the ombre ring fingernails are unusual. The nail color looks vibrant and eye-catching.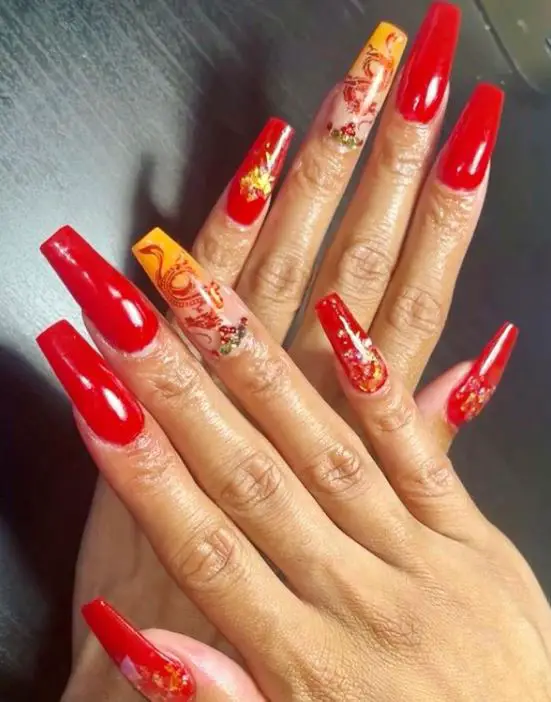 Image by @lavishnails_by_ash via Instagram
15. Long Coffin Nails with Red Roses
Long coffin nails with red roses on the middle fingernail. You can recreate this look by having your nail artist instead draw a painted rose pattern.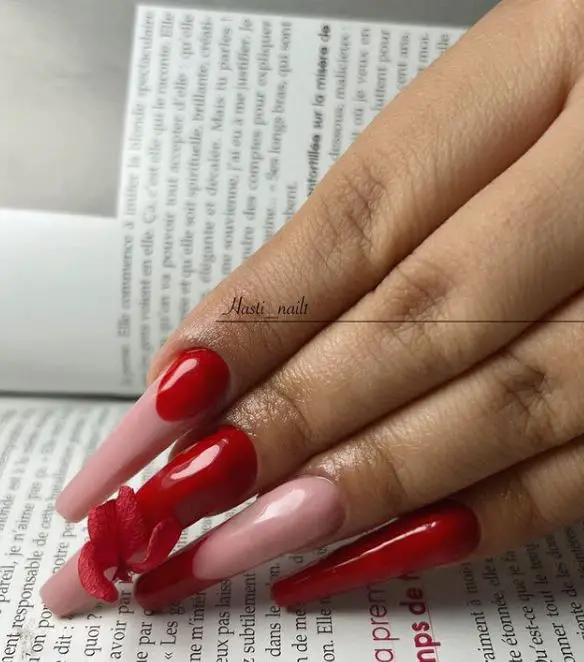 Image by @hasti_nail1 via Instagram
16. Red Coffin Nail Art
Gorgeous coffin nail art with a black, red, and white vertical and horizontal pattern on ring fingernail.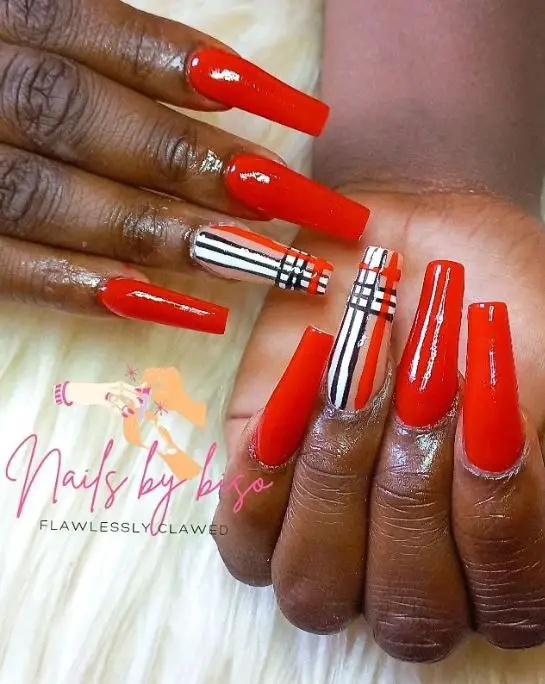 Image by @nails_by_biso via Instagram
17. Beautiful Matte Red Mani
Have a look at these fun red nails with simple matte nail designs. This shade is hot and pretty. You can wear this to a birthday party.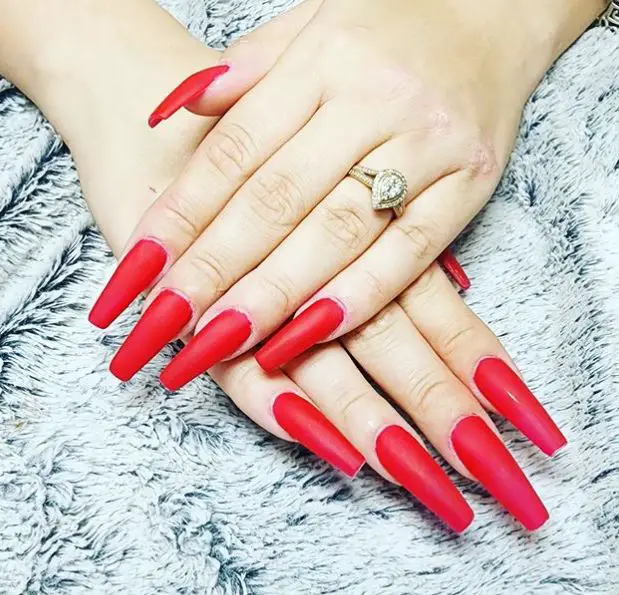 Image by @bossedupbeauty2340 via Instagram
18. Long Coffin Nails
This lovely nail set has jewel stones of different shapes and colors. The jewel designs add a touch of royalty to the nail design.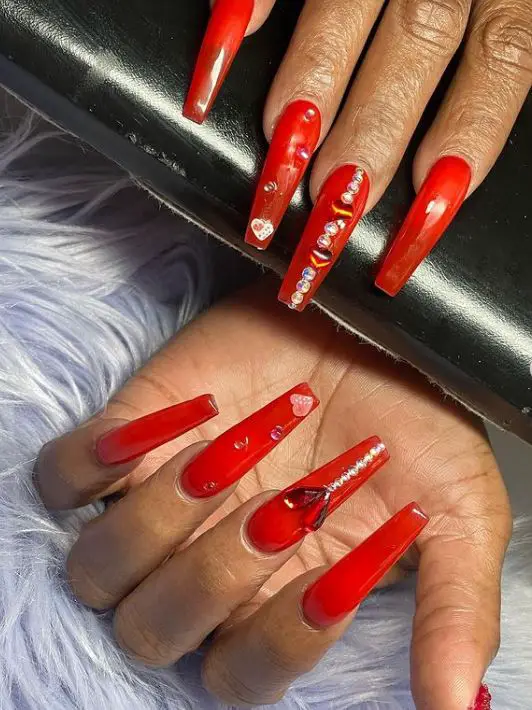 Image by @fancy_grippas_bychree via Instagram
19. Dark Red Coffin Nail Art
These dark shade designs have cute black and silver stone designs on the index nail. You can recreate the design on the index nail to suit your style. The whole look is simple and beautiful.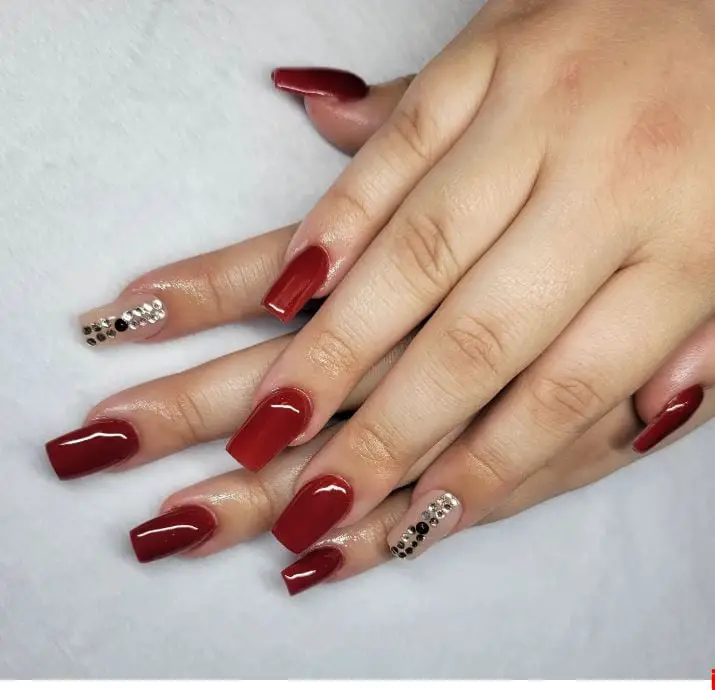 Image by @marineida_nail_creations via Instagram
20. Short Nails With French Tips
With cute French tips, a flower pattern on the middle finger, and silver stones on the accent nails, this design is perfect for summer.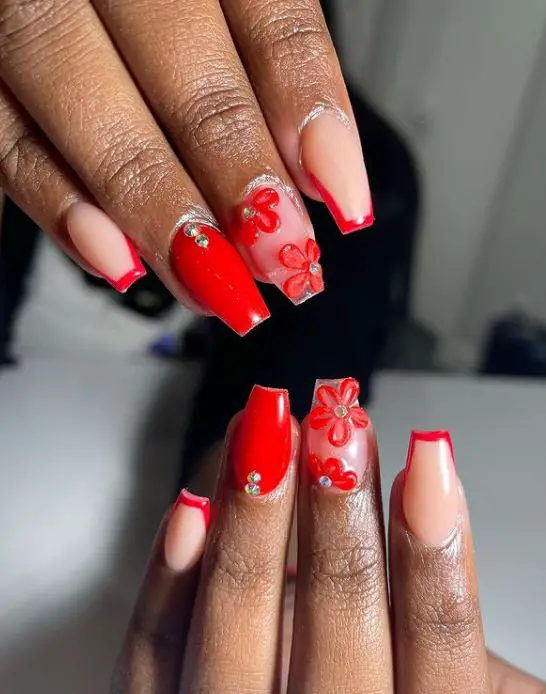 Image by @nailsbyelmo via Instagram
21. Stylish Scream Nails
Here's the popular scream nail design in red. The screaming face design looks so fab. If you're thinking of trying something a bit daring, this is it.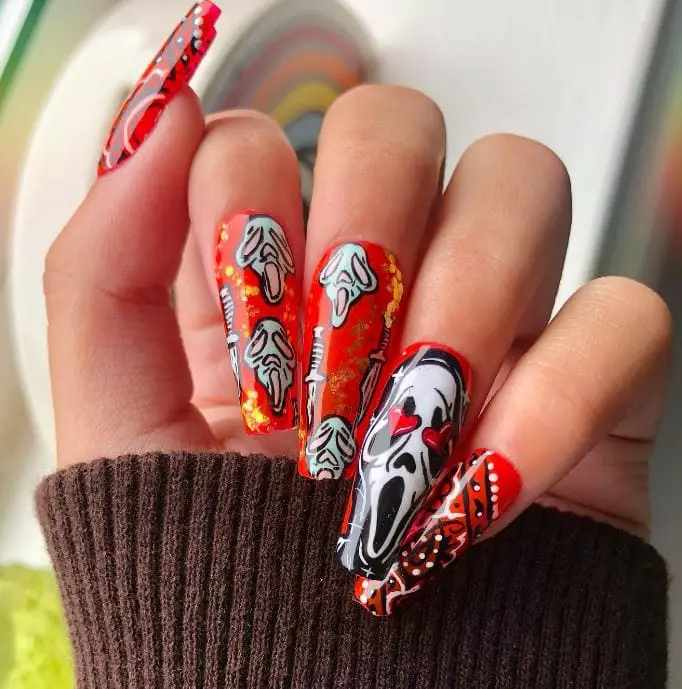 Image by @jaz_does_nails via Instagram
22. Short Red Coffin Nails
These glossy nails with black art on the index nail look great. You can always switch up the black swirl designs to suit your style.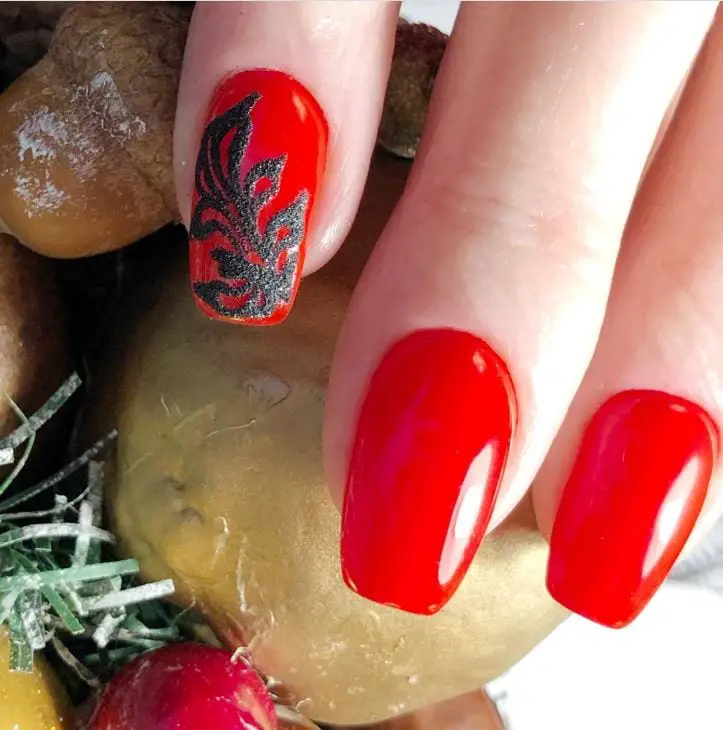 Image by @zapili_nails via Instagram
23. Golden Glitter Nails
Classy nails with golden glitter designs on the middle and ring fingernails look so good. The glitters add a touch of luxury to the nails. Perfect for a valentine's day date.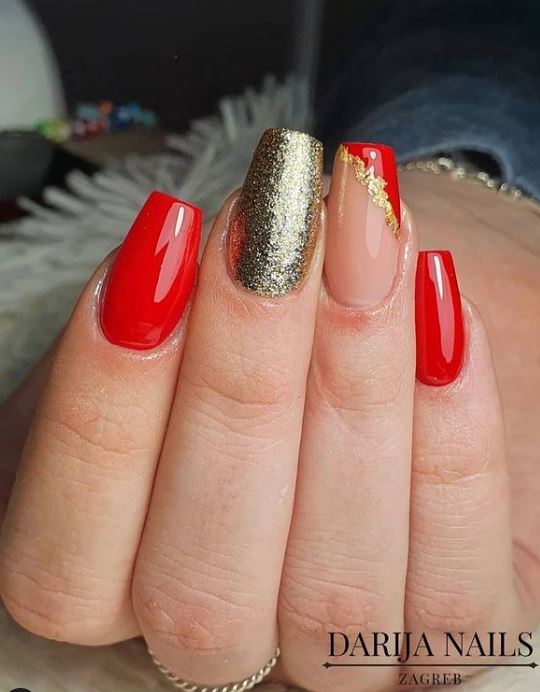 Image by @darija.nails.zagreb via Instagram
24. Acrylic Coffin Nail Design
I am a huge fan of daring red shades. If you're like me, you'll love this. The design has glitter and silver stones close to the nail cuticle on the index finger. The amazing combination of nude and red glitter polish on the middle finger forms an astonishing ombre that I can't stop admiring.
Image by @nails_in_ireland via Instagram
25. Leopard Print Nail Pattern
This leopard print design pops. You can replace the leopard prints with a heart design or something more cute and subtle. You can also add color splashes on the accent nails to make them bright enough for summer.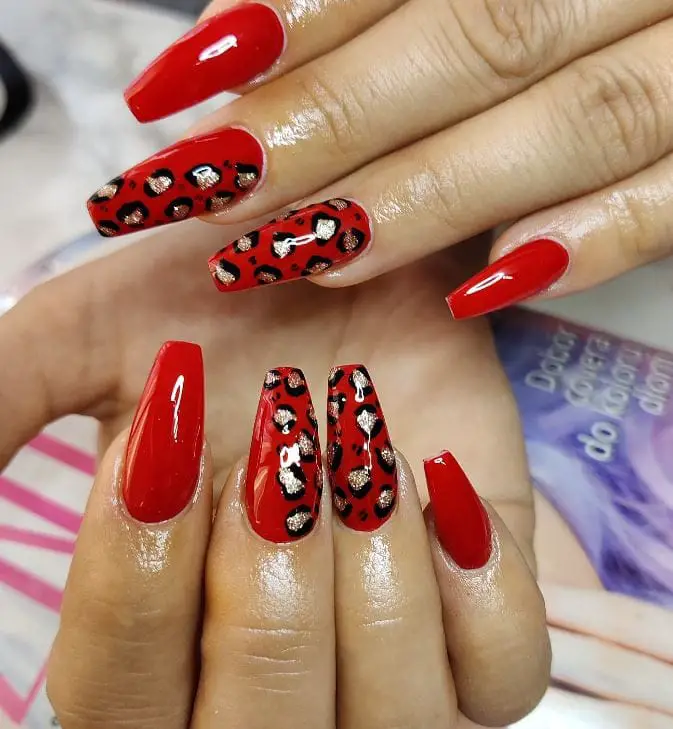 Image by @lashes_nails_marta_redditch via Instagram
I'm sure you've been blown away by these unique, lovely, and artistic red coffin nail designs. You can wear your favorite designs all year round. Red nails have a way of adding extra glow and fun when done for Christmas, new year, or Valentine's day. Hope you enjoy trying out the designs.