You can add colorful rhinestones to your plain nails or any monochrome nail art to give the look a subtle sparkle.
Simple matte nails can be transformed into a magical set by adding Swarovski crystals.
For me, ombre nails with small rhinestones are a holy grail. If the ombre nail art is formed by 2 or 3 pastel colors, then I'm definitely getting it done.
If you're here, you are in search of amazing nails with rhinestones. Here are 52 exquisite nail designs to get you going:
Rhinestone Nails For Inspiration
Pink Rhinestone Nail art
1. Pink Fantasy Nails
This light polish is filled with a lot of bling. It has a few small rhinestones at the base of the design with light glitters that make the design look surreal.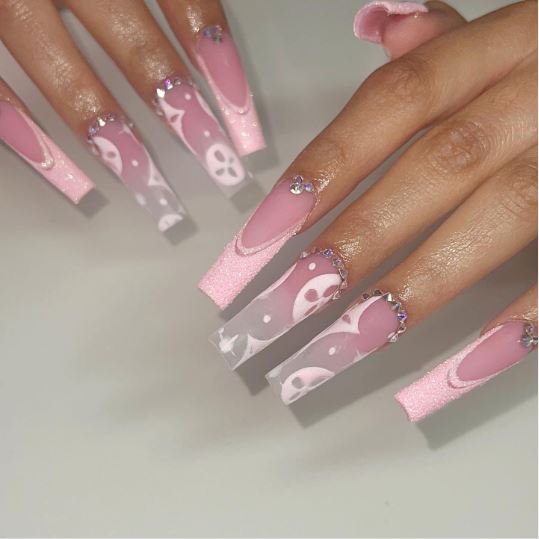 Image by @acrylicsbyfatima via Instagram
2. 3D Pink Nails With Rhinestones
If you're a fan of sparkles and glitter, this is design will be like a dream come true. The 3D petals are made to perfection, with rhinestones in the middle, and glitter at the tip, forming amazing Frenchies.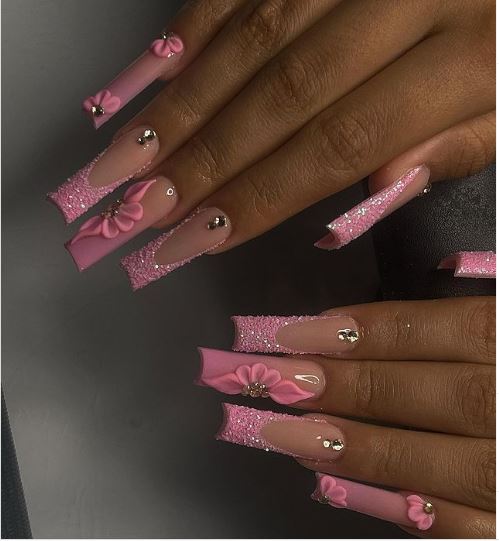 Image by @nailsxcass via Instagram
3. Coral Nail Art With Rhinestones
This is a minimal look with 3D flowers and tiny rhinestones at the base of the ombre. What I love most about this look is the glitter-filled, transparent nails on one finger.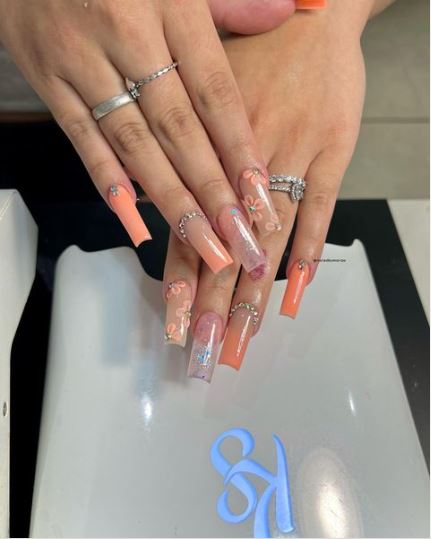 Image by @nailedbymariaa via Instagram
4. Pink Matte Nails
These matte coffin nails with rhinestones are out of this world. The rhinestone accent nail on the middle finger is completely filled with stones, making the matte nails fit for a baddie. Pair with nice jewelry like the ring here to complete the chic look.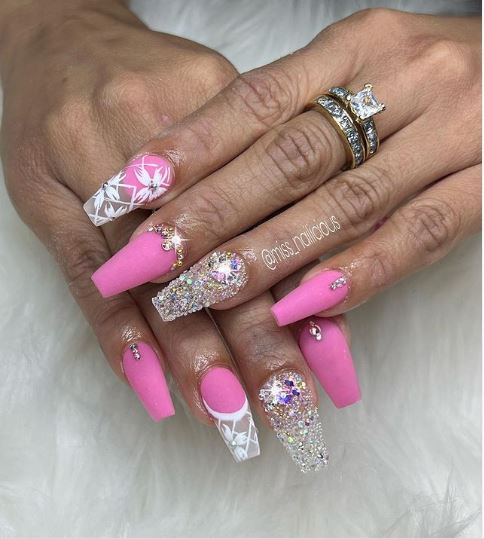 Image by @miss_nailicious via Instagram
5. Baby Pink Nails
The whole design of the elegant manicure is a great choice. With a sparkle, the square acrylic with 3D flowers and petals blends interestingly with the silver rhinestones.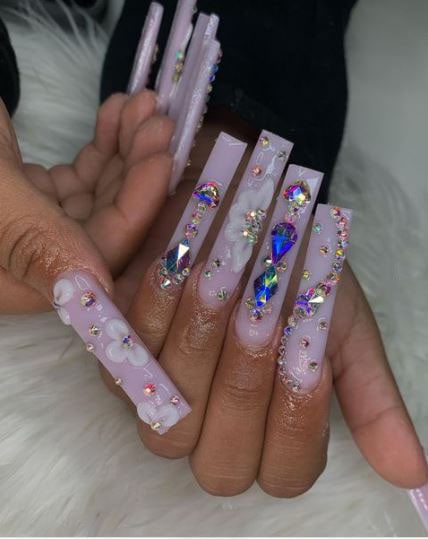 Image by @icedbym via Instagram
6. Baby Pink With Glitter Gel
Light nail polish has the ability to have you looking classy and this one, with a rhinestone accent nail is no different. I love how easily the pink blends with the glitter. This polish is perfect for a special occasion.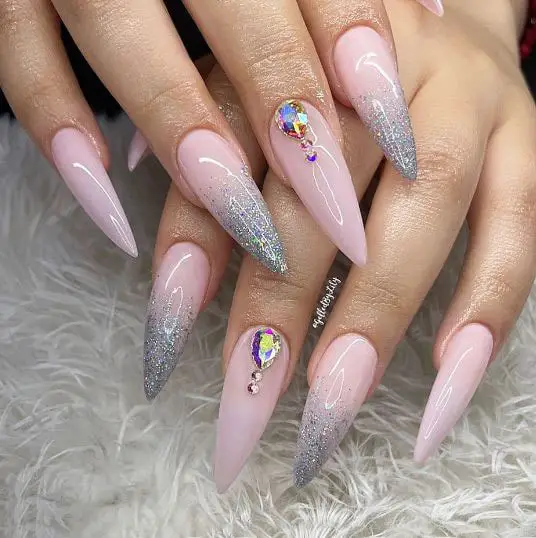 Image by @gelledbylily via Instagram
7. Flowers and Bling
This rhinestone nail art is perfection. You can choose to get yours done with a darker color like blue or grey to tone down the attention it will bring.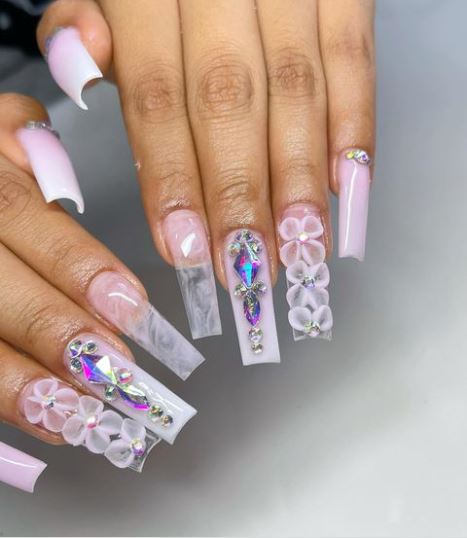 Image by @nails_bydreaa via Instagram
8. Pink Freestyle
Love how the vibrant pink creates an awesome look? Me too. The long nails with marbles on the ring fingers look exquisite and gives off a baddie vibe.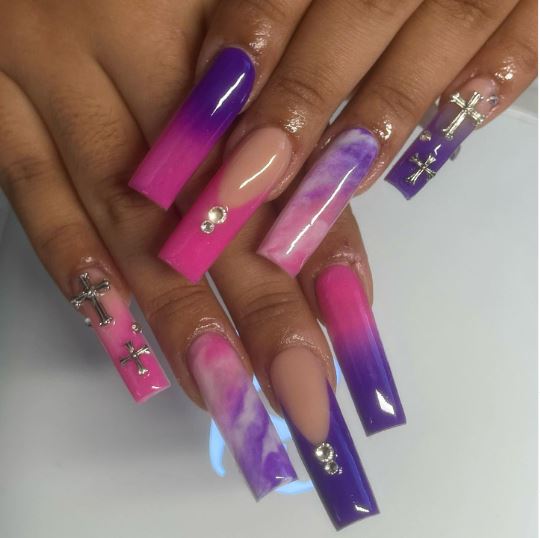 Image by @5tarnails via Instagram
9. Stiletto Nails and Butterfly
These stiletto nails look charming, probably due to the cute butterfly charms, glitter, and pink rhinestones used to beautify the nails.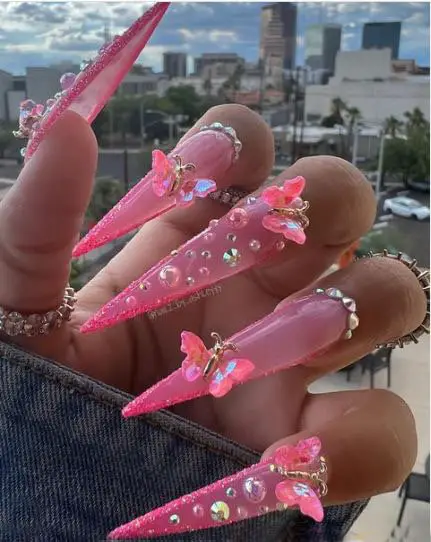 Image by @nailpromagazine via Instagram
10. Pink With Silver Nails
With silver nails and 3D art, you'll think this looks just perfect. The rhinestone added on the middle finger takes it from basic to brilliant in a flash.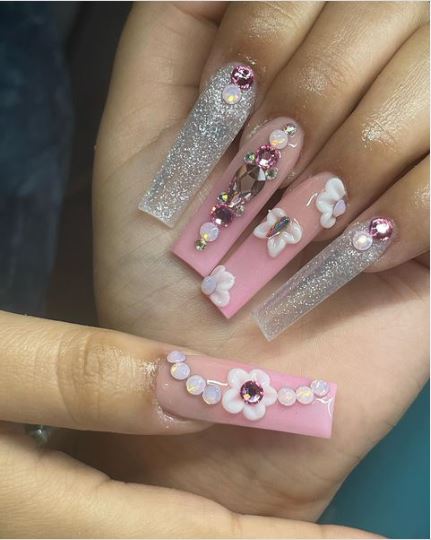 Image by @nailedbymiriam via Instagram
Nude/Beige Shades With Rhinestones
11. Nude and Green French Manicure
With cute butterfly and diamond charms, this design is spectacular and will suit a special occasion perfectly. The rhinestones are added in just the right places to give a shiny appearance to the already astonishing nail art.
Image by @nailsbylailah via Instagram
12. Nude and White tips
Crocodile nails are back and it's becoming a trend. This features a croc tip with a rhinestone accent nail art design on the ring finger that brightens up the whole manicure.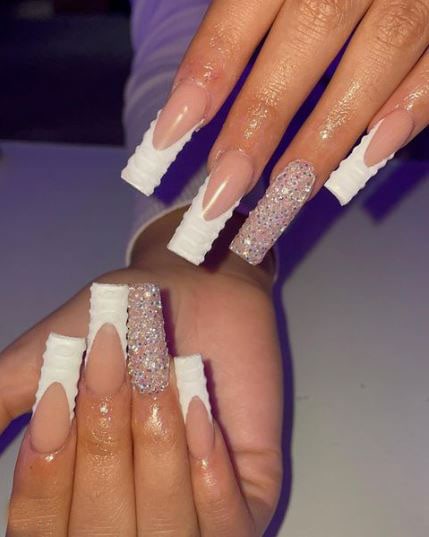 Image by @clawsbyylea via Instagram
13. Glitters and Flower Design
This design has most of its rhinestones on the middle finger. The other nails are enchanting with ivory V-tips, a 3D flower design, and a sugaring effect.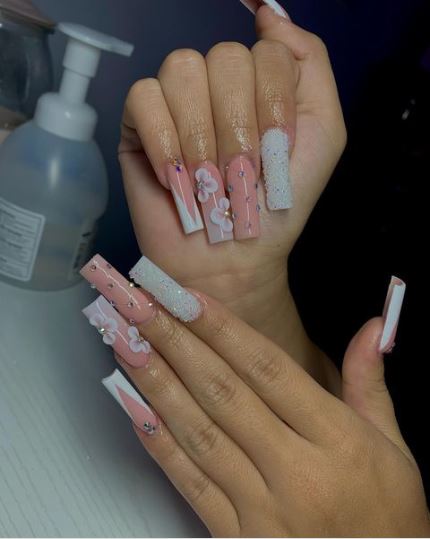 Image by @_nailedby_j via Instagram
14. Croc Nails with Rhinestone
The shape of this rhinestone is stunning, with the hint of crocodile pattern on the index finger which makes the look slightly edgy.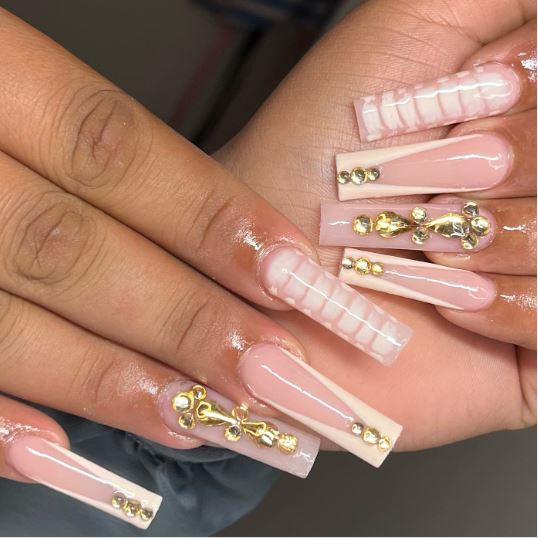 Image by @nailzbymaggs via Instagram
15. Cute Butterfly
It will take an expert to create a design as perfect as this is. The elegant combination of nude nail polish and white is an excellent choice that brings the design to life. I love the different designs on the other fingers with the rhinestone on the index nail.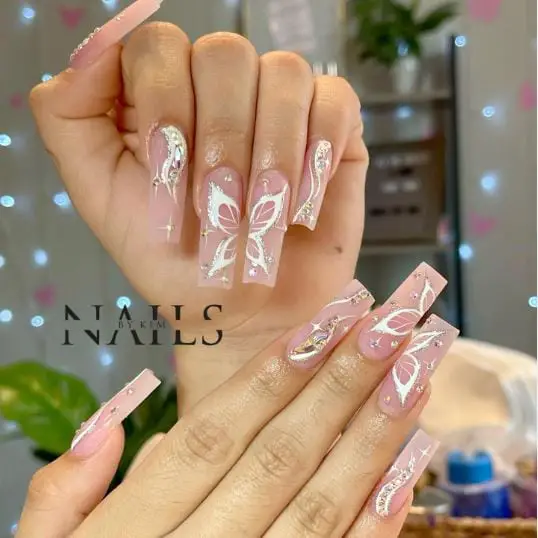 Image by @nailsby_kiim via Instagram
16. Adorable Pastel Colors
No doubt pastel colors are the 'it' nail colors now. This nail art design is done with pink tips and Swarovski rhinestones to give it a magical glow.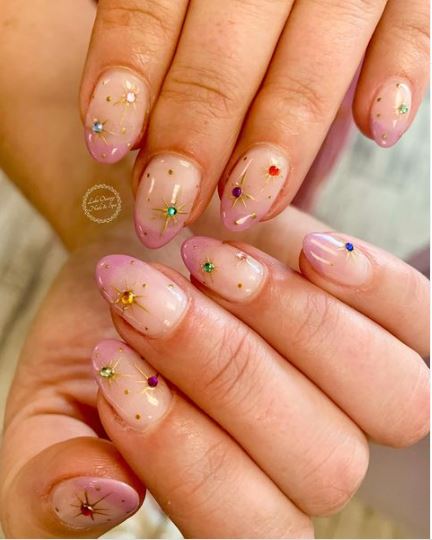 Image by @lakeoswegonails via Instagram
17. Dreamy Beige
One look at these stiletto nails and what comes to mind is high class. This is due to the crystal rhinestone combination on one nail which makes the whole manicure captivating and gorgeous.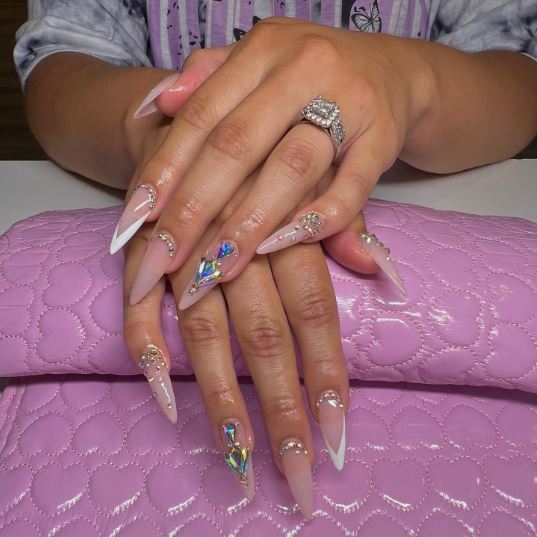 Image by @julietammua via Instagram
18. Salmon Nails With Rhinestones
Transparent, cloudy nails have a dreamy appearance. Here, the plain nail design is brightened up by silver rhinestones.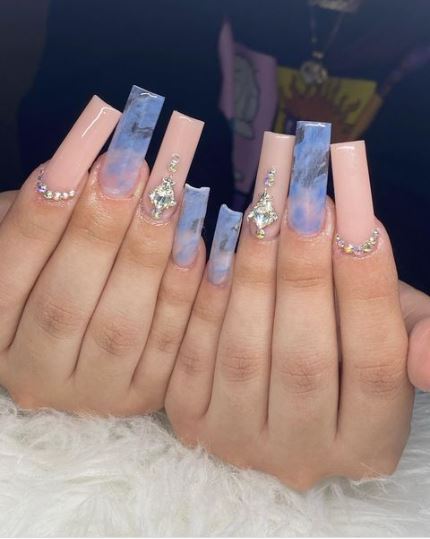 Image by @nailsbymelz__ via Instagram
19. Blue V-Tips
This long manicure is sparkly and extra. Ideal if you want to make a statement that will keep people talking long after you are gone.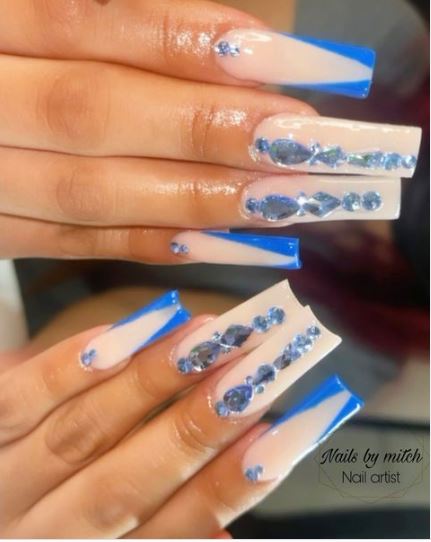 Image by @nails_by_mitch via Instagram
20. Moonshine French Manicure
Glam up with this contrasting nail design of black and moonshine. I like the combination of white dots forming floral designs on the black tip.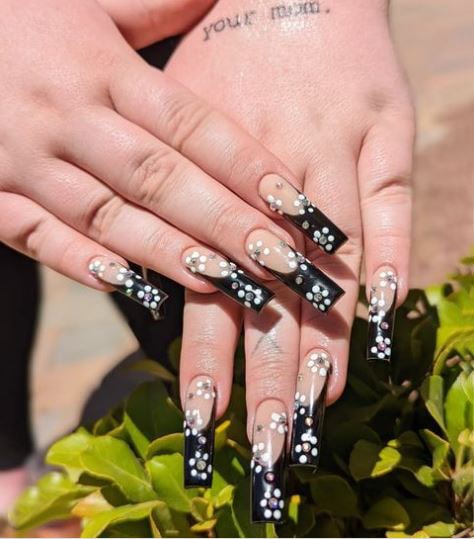 Image by @nailzbysusann via Instagram
21. Purple V-Tips
Purple glitter gel is used to create stunning nail designs with petals and rhinestones nails on the middle finger.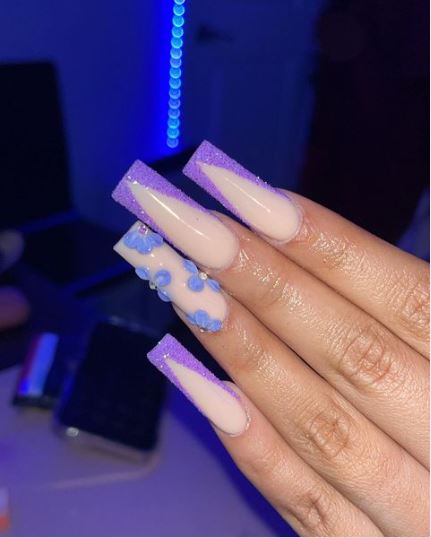 Image by @__nails.by.per1a via Instagram
22. Thin French Manicure
This light-color nail art has rainbow color tips I am obsessed with. The manicures are enhanced by the rhinestones used to decorate the otherwise subtle nail art.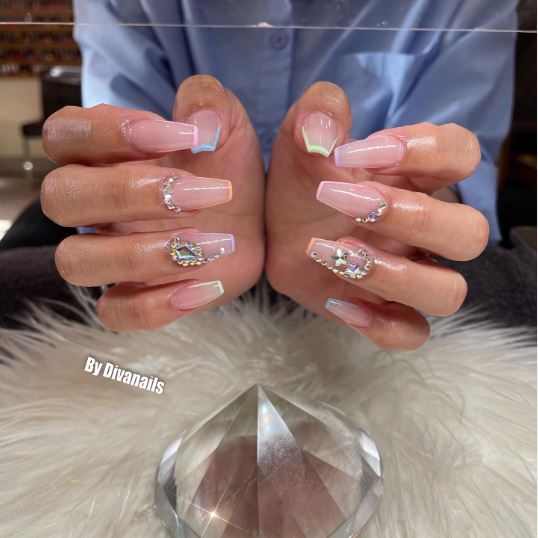 Image by @divanails.spa via Instagram
23. Beige with Green Rhinestone Nail Art
Green rhinestones are sexy and unique. The fresh nail is classic with a subtle sparkle.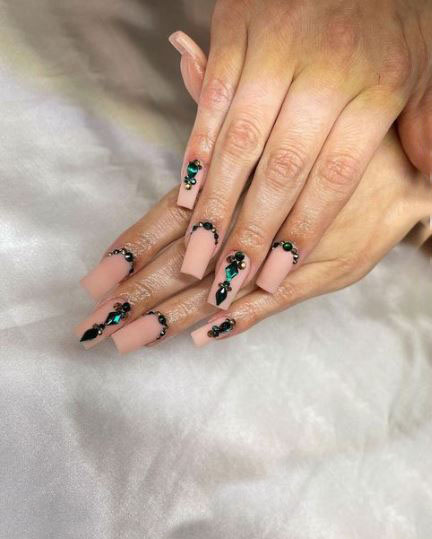 Image by @montagenailsupplies1 via Instagram
24. Colorful Rhinestone Nail Art
Don't you just love how pretty these nails are due to the exquisite rhinestone added? The stones enrich the nails, making them sparkle and pop.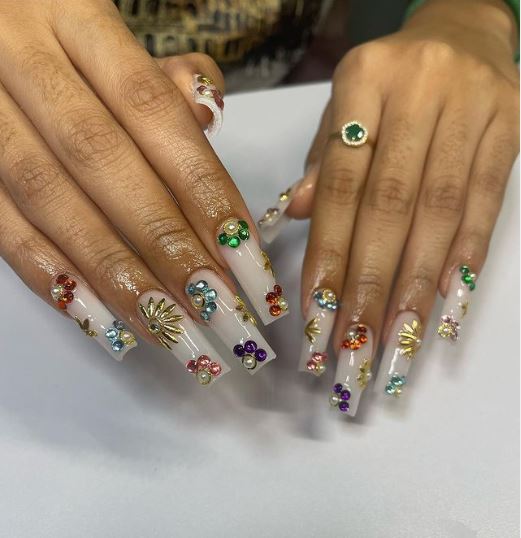 Image by @cheyennenailedit via Instagram
25. Butterfly Rhinestone Nail Art
I have never seen a matte nail that isn't a stunner. The rhinestone here is placed with care to form a flawless butterfly.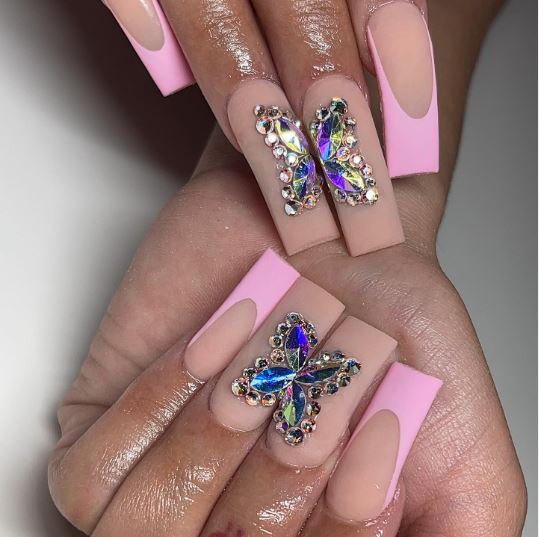 Image by @sitlalib via Instagram
26. Beige With Iridescent Rhinestones
It doesn't get more elegant than these medium nails. I love how the rhinestones are arranged on the two nails, creating a look fit for prom or graduation.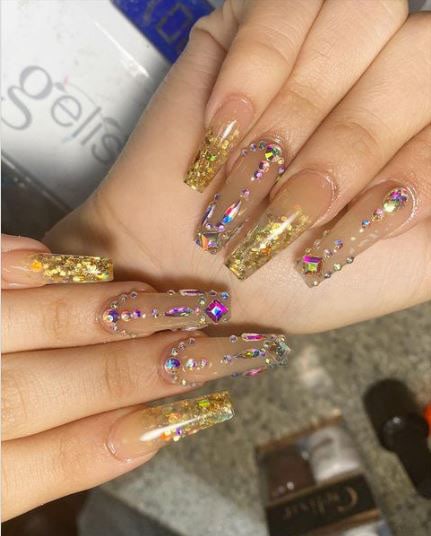 Image by @itszizinails via Instagram
Blue Rhinestone Nail Art
27. Sky Blue Square Nails
Sky blue nails are so serene and charming. Here, the nail art is designed with 3d flowers and small rhinestones with gold decals to switch up the otherwise silvery nail art.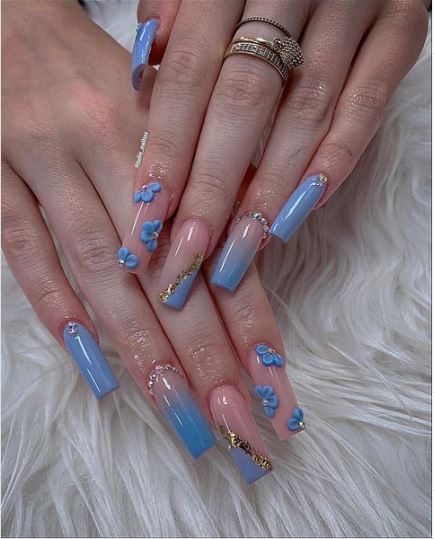 Image by @julie_nailsss via Instagram
28. Blue Rhinestones
This nail has gentle tones apart from the royal blue rhinestones added to make the nails pop.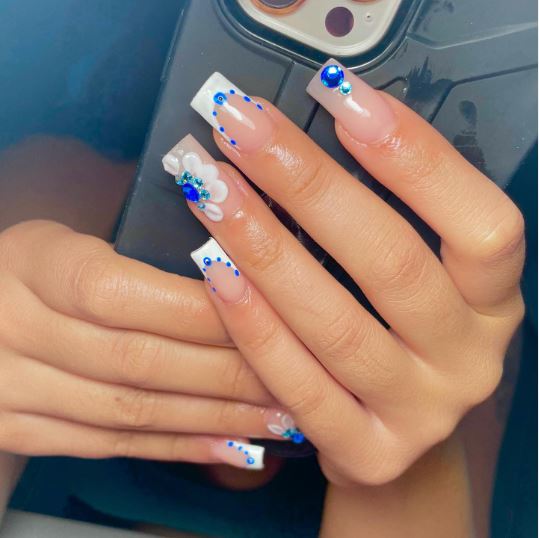 Image by @nailz.byadii via Instagram
29. Light Blue Rhinestone Nail Art
I'll definitely recreate this luxurious nail design for my next nail appointment. I love how the light color and rhinestones are combined to form a creative design that I just can't get enough
Image by @nailedbyesme via Instagram
Green Rhinestone Nail Art Designs
30. Tinker Bell Vibes
Green Swarovski crystals are so gorgeous. Here, green rhinestones with butterfly crystals are used on the nails to create a look fit for fans of Tinkerbell.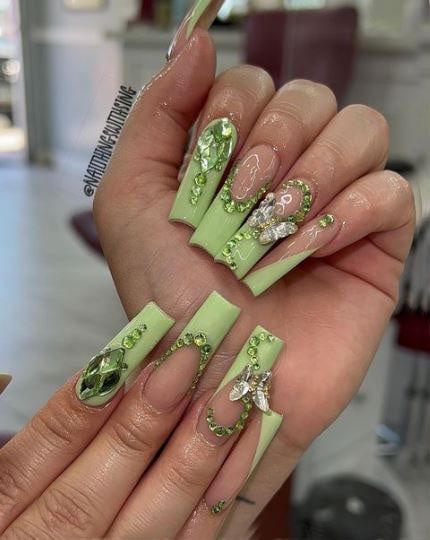 Image by @nailthingswithsing via Instagram
31. Green Marble Nails
The color scheme of this rhinestone nail gives a good overall impression and is perfect for any special occasion.
Image by @nailzbychikis via Instagram
32. Neon Freestyle
These feminine nails are elegant and classic. The rhinestones are placed in a great position in relation to the 3D flowers on the nails.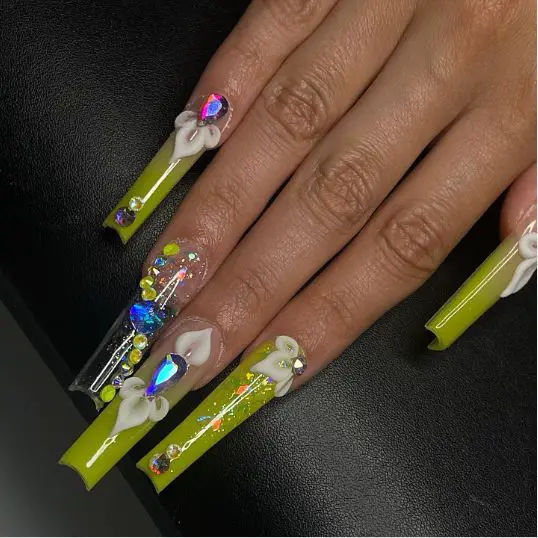 Image by @nailsxcass via Instagram
33. Neon Green Rhinestone Nail Art
I love how the rhinestones look on these long almond nails. This is a fun look that has a high-fashion appearance.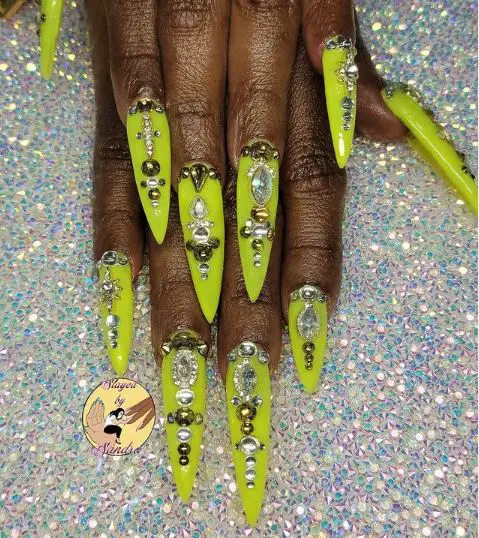 Image by @slayedby.sandra via Instagram
Ombre Nails With Rhinestones
34. Nude Shade
Ombre nail art design is always magnificent and this is not short of that. The simple nail art looks gorgeous with the silver rhinestones on the fingers. This gives it a delicate glow suitable for a wedding.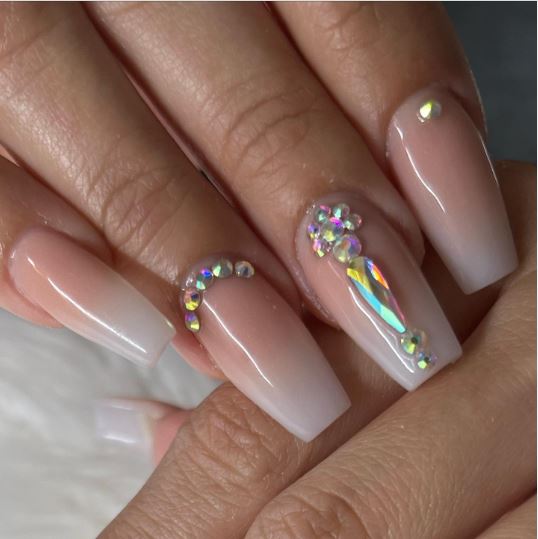 Image by @anniefier26 via Instagram
35. Extreme Rhinestones Filled Nails
If you are not a daring baddie, this is not for you. These extra-long nails are a beauty to behold. The unique slant style of the nail is bold and the rhinestones give it an extra shine that is very chic.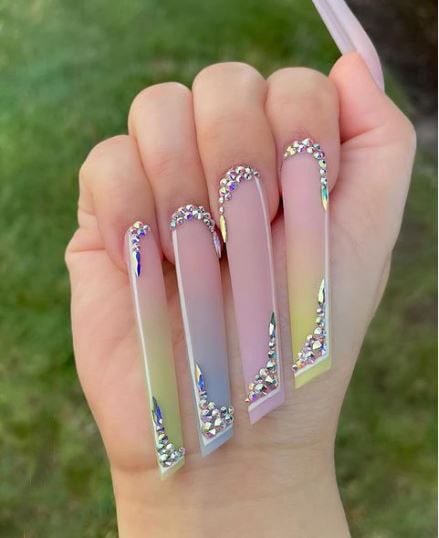 Image by @eric_basicacrylic via Instagram
36. Orange Ombre
Dazzle with these ombre designs that are quite subtle apart from the large crystal rhinestone on the ring finger.
Image by @acrylicsbyfatima via Instagram
37. Gold Rhinestone Nail Art
Aside from the rhinestone goodness and gold heavenly sparkle going on in this nail, I love the transparent nail on the little finger with rhinestones and gold glitz.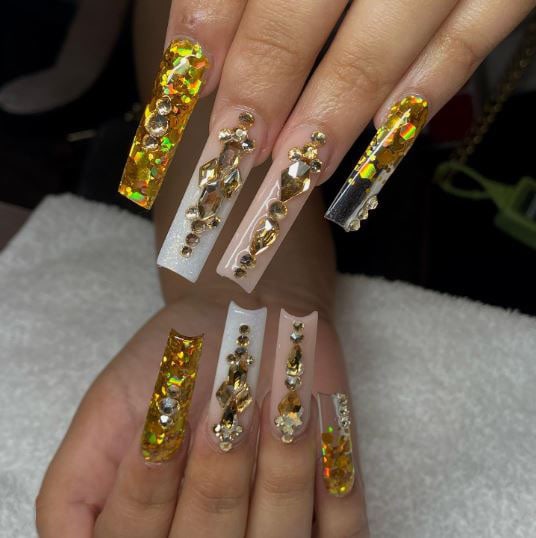 Image by @nailz.by.annie via Instagram
38. Peachy Rhinestone Nails
These flawless almond nails have a natural look. The rhinestone accent nail on the middle finger is elegant, creating a design ideal for a wedding or special occasion.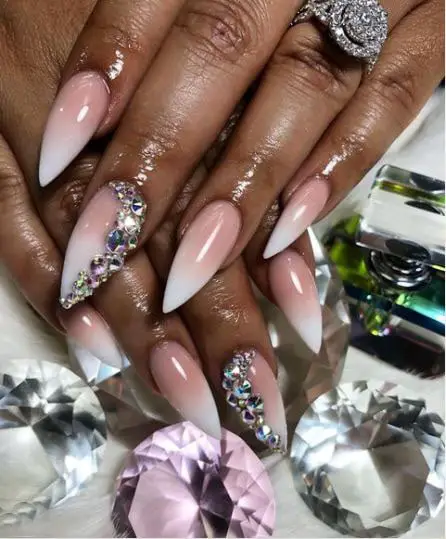 Image by @iamflawless_nails via Instagram
Red Rhinestone Nail Art Designs
39. Dark Nails
If you need glamorous nail art, this is what you should get. The nail is long, with gold rhinestones on two fingernails which glams up the whole look.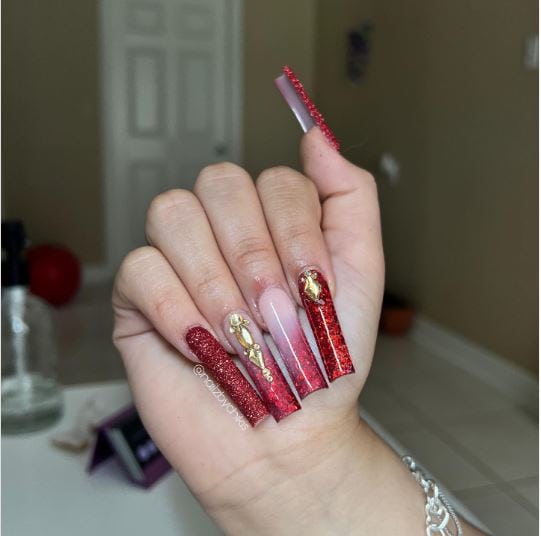 Image by @nailzbychikis via Instagram
40. Red and Orange Nails
I love the beautiful shine of these nail designs. The rhinestones and glitter blend together to create a flattering look. The little finger is ombre and has a single crystal rhinestone.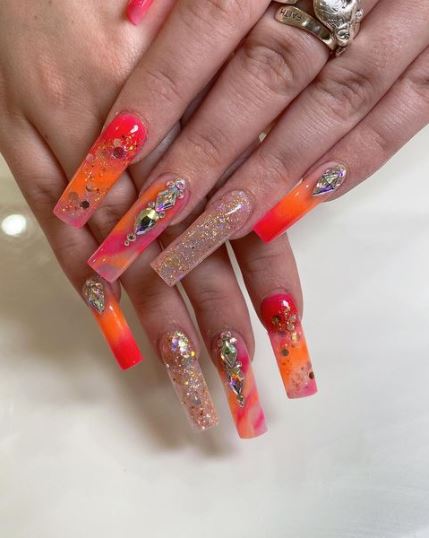 Image by @polished_nails_of_knoxville_tn via Instagram
41. Short Nails With Square Acrylic
This nail has a nice length, and you can achieve the nail look with natural nails if you maintain them for long enough. The white petal and rhinestones add an angelic appearance to this look.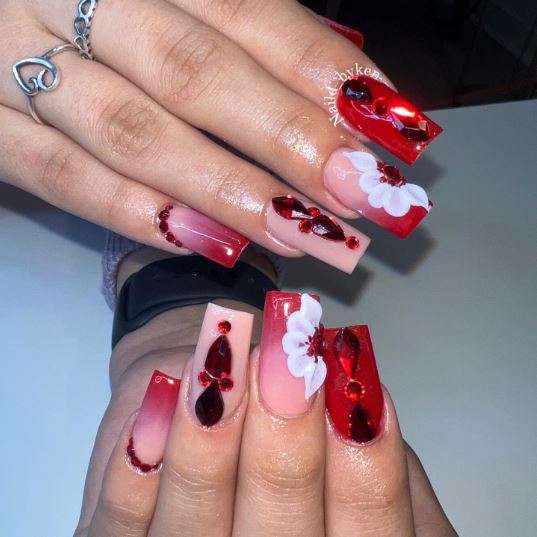 Image by @naild_byken via Instagram
42. Dragon Fruit Red Rhinestone Nail Art
Stiletto nails always look amazing and this is no different. The elegant nail art stands out to create a sophisticated finish.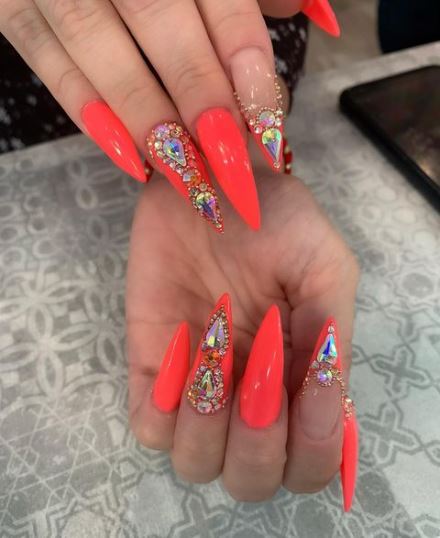 Image by @paint_nails_studio via Instagram
43. Transparent Nails With Red Rhinestones
Notice how the colors combine to create this design that is beyond imagination? I love the classic design of the nail. Save this to elevate your look for your next appointment.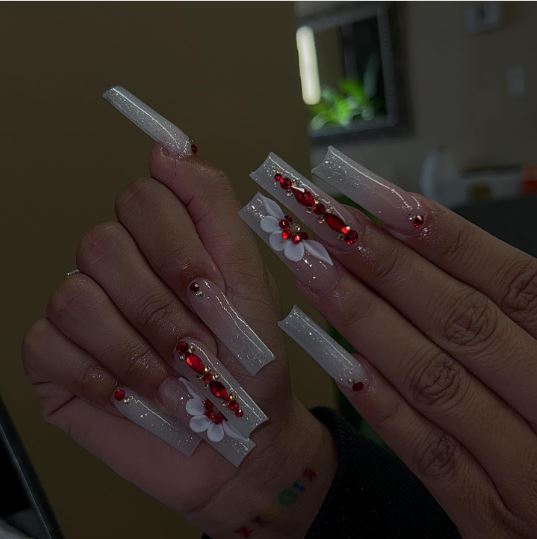 Image by @nailsbylisbethh via Instagram
Yellow Rhinestone Nail Art
44. Yellow Glitter Gel
Nail designs with glitter and rhinestones work well together to create a stunning sparkle. Here, these glitter-filled nails with shiny gel look brighter than daisies and are a lovely idea for summer.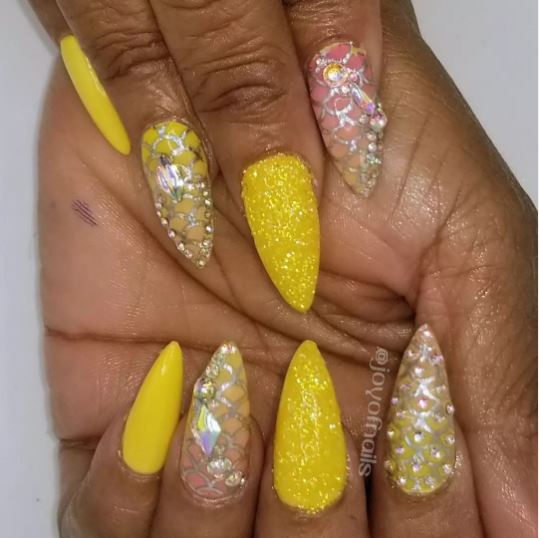 Image by @joyofnails via Instagram
45. Bright Yellow Cosmo Nails
It doesn't get any brighter than yellow and white combined. This nail art design is worth keeping for summer nail inspiration.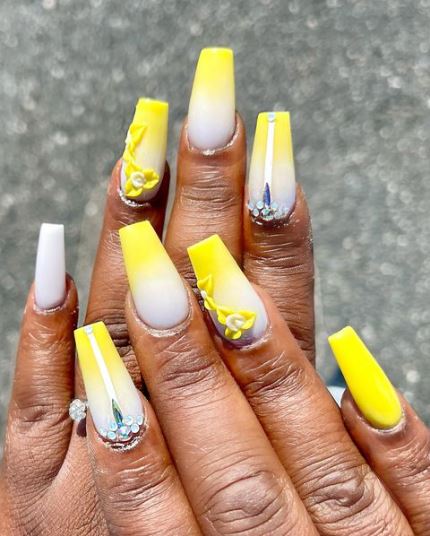 Image by @nailsbypho via Instagram
Brown Rhinestone Nail Art Design
46. Coffee Mable
The marble effect of this charming brown rhinestone nail art reminds me of coffee. The vibrant shade of the rhinestone makes the color of the nails pop. I prefer mine with matte nails to make the brown look more chic.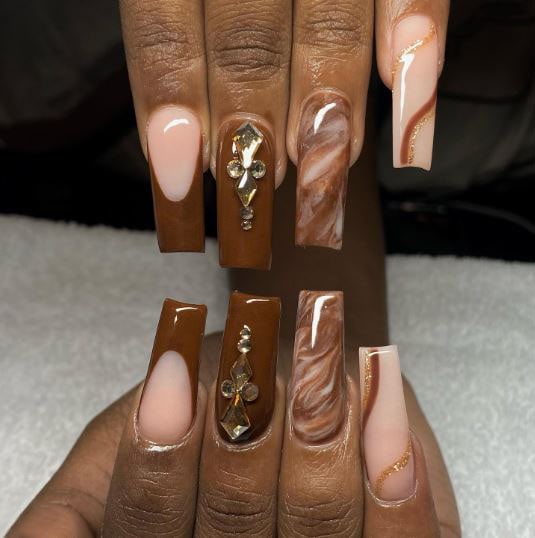 Image by @nailz.by.annie via Instagram
47. Cocoa Brown Rhinestone Nail Art Design
Despite the length, this is a simple nail set with matching rhinestones on 2 fingers.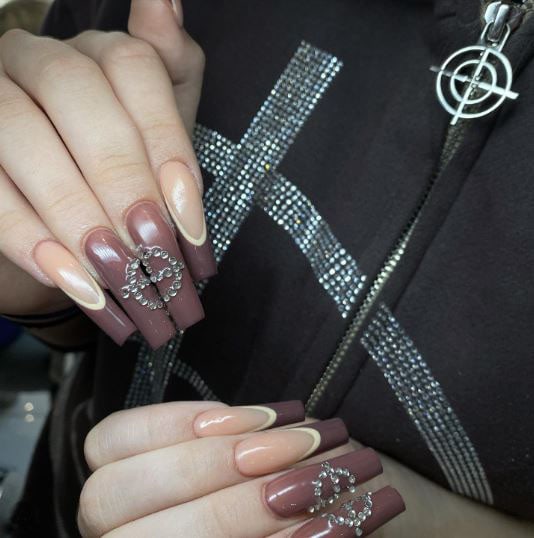 Image by @neondrip_x via Instagram
Black/Grey Rhinestone Nail Art Design
48. Black Jelly Rhinestone Nail Art Design
I love the clear acrylic used here with the black jelly-like swirls and tiny rhinestones to decorate the design. Wear your rings or any other accessory to get a chic look with this design.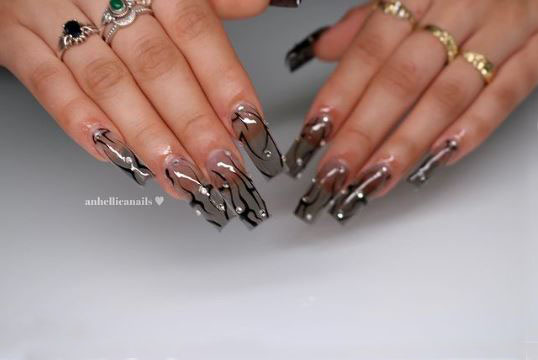 Image by @anhellicanails via Instagram
Other Nails With Rhinestones
49. Cosmo Nails With Rhinestones
This is the cutest manicure I've come across, with an awesome purple combination and a rhinestone accent nail art on each ring finger.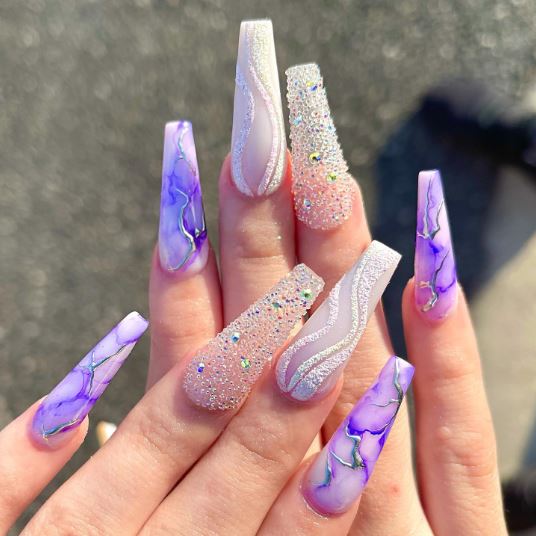 Image by @nailsbypho via Instagram
50. White Long Nails With Rhinestones
White is timeless. Here, the white polish is brought to life with this awesome rhinestone nail. You can wear this in combination with darker outfits.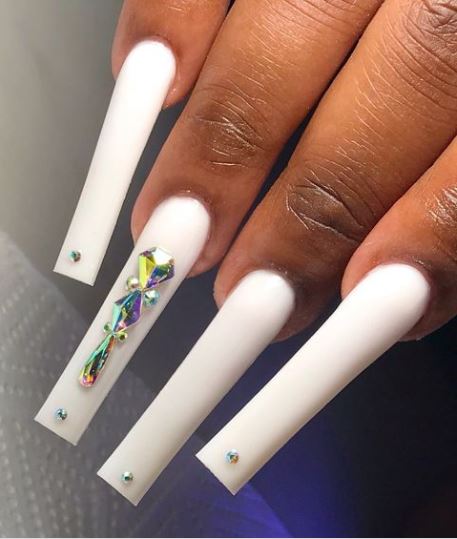 Image by @my_beauty_emporium_sa via Instagram
51. Fuchsia Rhinestone Nail Art Design
The colorful rhinestones used in this rhinestone nail art are fun and beautiful. The shell nails are created carefully to give the design a natural look. Not sure you can recreate this with your natural nails though.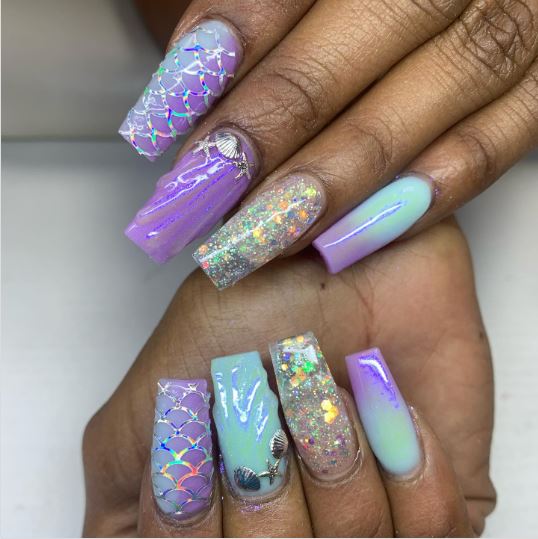 Image by @nailzbynina_ via Instagram
52. Buchona Nails
Show that you are high class and glamorous with this rhinestone nail art decorated with gold rhinestones.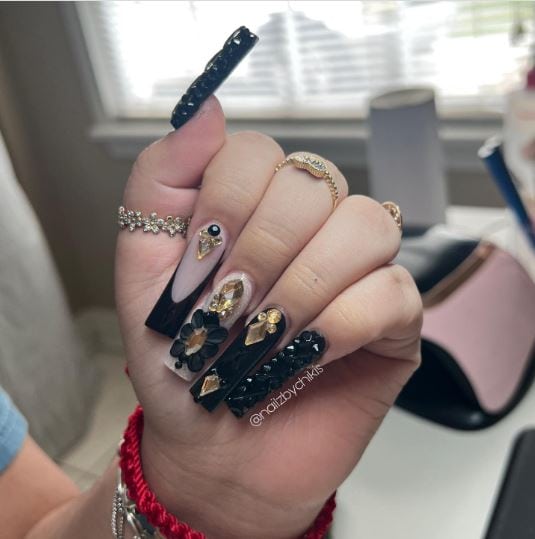 Image by @nailzbychikis via Instagram
Rhinestones are an amazing and trendy nail accessory. If you want your nails to stand out, applying rhinestones is the most efficient way to achieve that. Find your favorite rhinestone nail art, screenshot it, and take it to the salon for your next nail appointment.