Short acrylic nails are a modified version of your natural nails. You can decide to get a subtle design on your acrylic nails with pastel colors and simple swirls. Or you can go with the brighter looks done with neon nail polish, for a more statement-making look.
Whenever I get short acrylic nails done, I tend to have them painted with neutral nail polish like beige, grey, or baby pink to make them look like my natural nails.
Whether you're into more subtle designs or loud ones, you're sure to find a nail design here that resonates with your personality. Keep scrolling for inspiration.
Short Acrylic Nail Ideas For You
1. Cute Blue Butterfly Nails
Butterflies symbolize creativity, joy, nature, beauty, and growth. I love the shade of light blue used, as well as the transparent and crystal clear polish used on the middle fingernail and accent nail.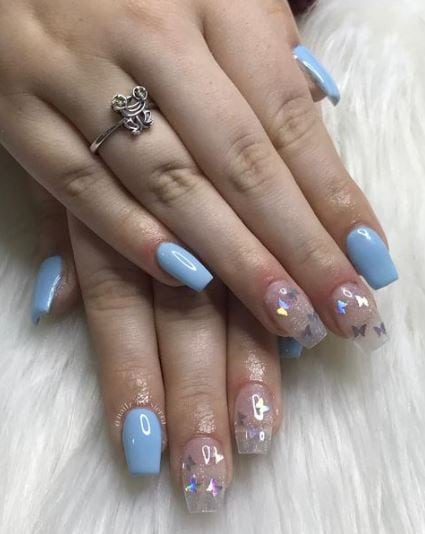 Image by @nailz_by_sierra via Instagram
2. Short Nude Acrylic Nails
If you want to keep it simple yet classy, these shiny and glossy nude acrylic nails will get the job done.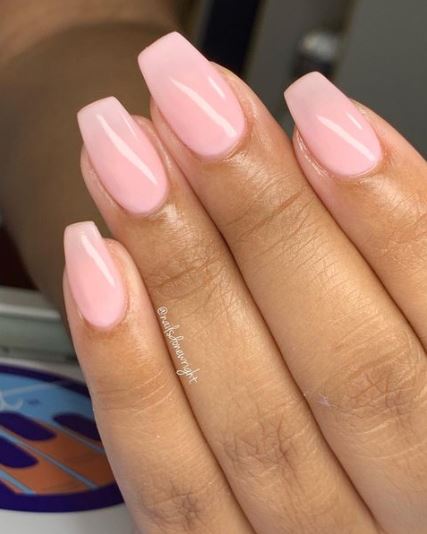 Image by @nailsdonewright via Instagram
3. Cute White Acrylic Nails
These short white acrylic nails look simple, lovely, and refreshing. The cuticles look healthy and well-kept too.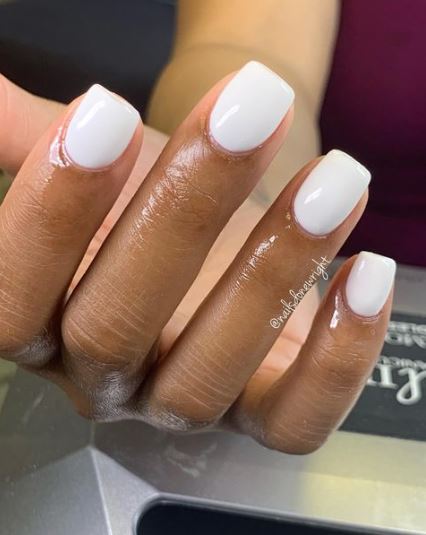 Image by @nailsdonewright via Instagram
4. Colorful French Tip Nails
If you're having a hard time choosing one of your favorite colors for your next design, you can use all of them in a creative way like this nail art right here. It has a lovely combination of pink, turquoise, teal, and orange tips on simple nude nail polish.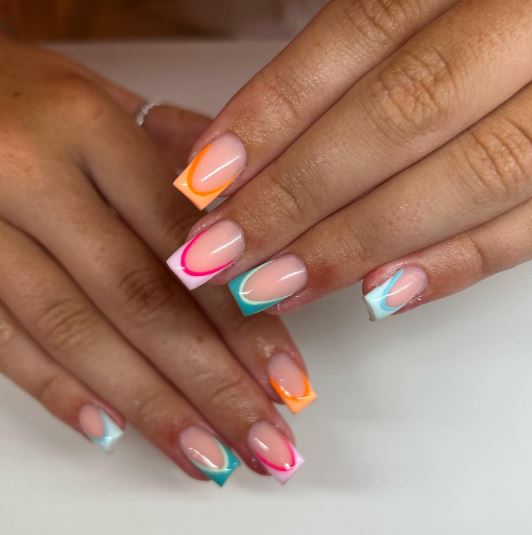 Image by @nailsbymadi___ via Instagram
5. Stylish Almond Nails
Combining dark colors with a bright or neutral color always comes out well. In this nail art, navy blue is combined with white and yellow. Two accent nails are added at the center with pretty swirls of white, yellow, and navy blue.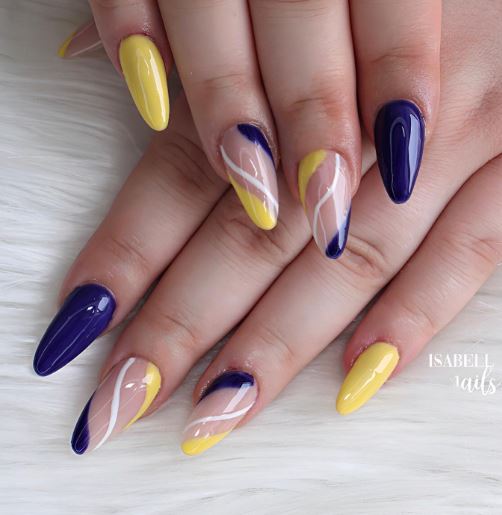 Image by @isabell.nails.bs via Instagram
6. White French Tip Manicure
French tip manicures always look stunning. Here the short acrylic nails are square with a nude base and the prettiest patterned white tips.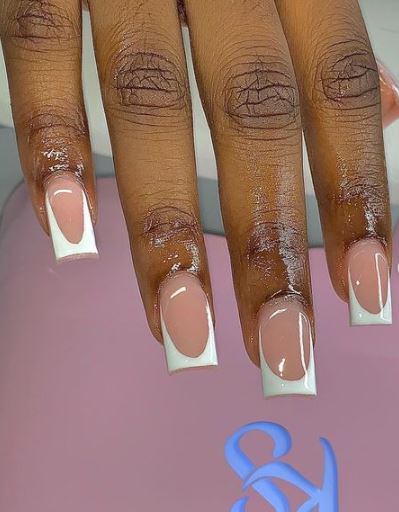 Image by @chanailseffect via Instagram
7. Cute Short Acrylic Nails
Nude nails remain a forever classic. In this cute short acrylic nail design, the french tips are coated with bright polish and flowers on the nude base coat. The short yellow acrylic nails are clean and gorgeous.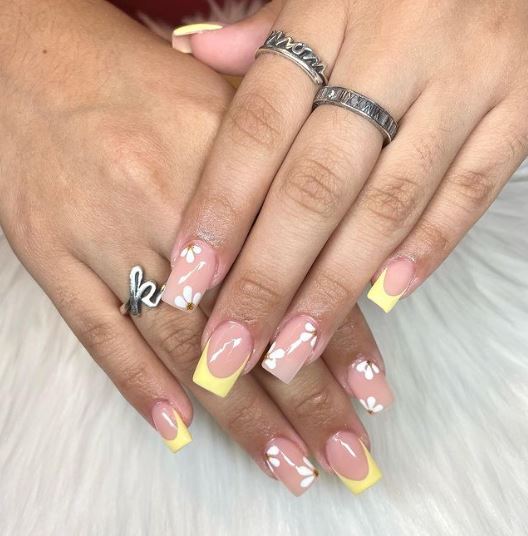 Image by @hairlauranails via Instagram
8. Light Pink Acrylic Nails
These short acrylic nails are painted with very light colors that make the whole design look pretty and dreamy. It has a mix of light pink, light blue, and white flowers.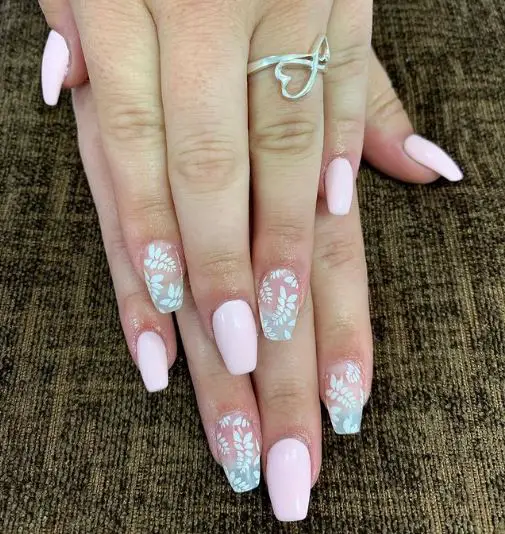 Image by @paolab.nailartist via Instagram
9. Colorful Round Nails
Light colors give a subtle, playful look to your appearance. This nail art is a great choice for summertime. It has different designs on different fingernails including smiley faces, hearts, sunflowers, clouds, and cherries. These combine seamlessly to give a fun and stunning finish.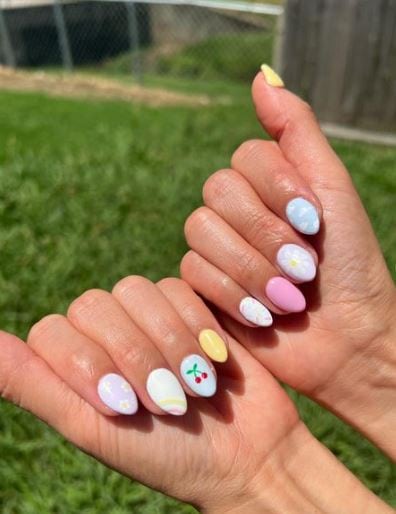 Image by @nailsby_maiyer via Instagram
10. Classic French Manicure
The nude ombre design has some sugaring generously applied to the ring fingernail. Two nails have white tips which add the elegance that comes with a french manicure to the nail design. This nail design is a classic and is sure to keep you looking prettier than ever for a special occasion.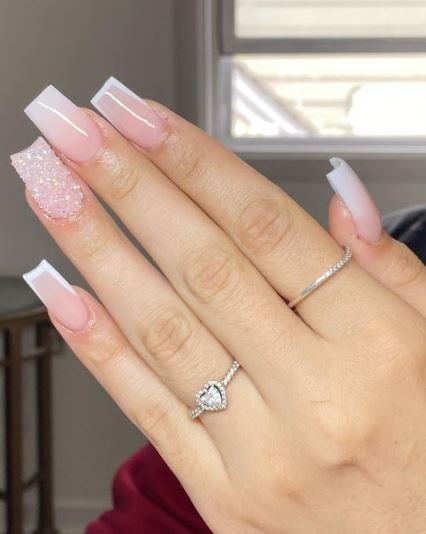 Image by @_nailsbynix via Instagram
11. Square Nude Acrylic Nails
A deeper shade of nude is used here to create this simple yet stunning nail design. Small flowers are drawn on two fingernails, adding spring vibes to the nails. What I love most about this nail design is the shade of nude used which looks like natural nails.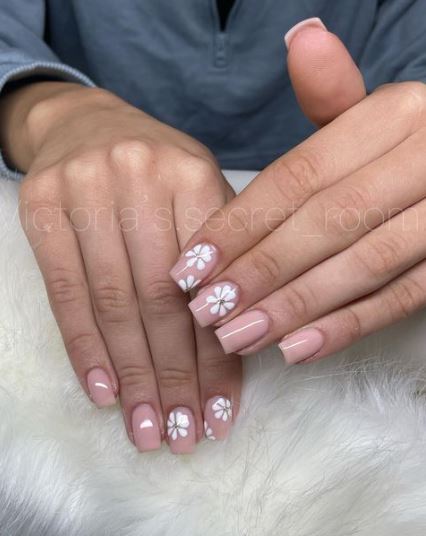 Image by @victorias.secret_room via Instagram
12. Short Purple Acrylic Nails
French tips have been one of the most common beauty trends in the manicure world for a while now. They add a modern, sophisticated feeling to your nails and look perfect on all nail shapes.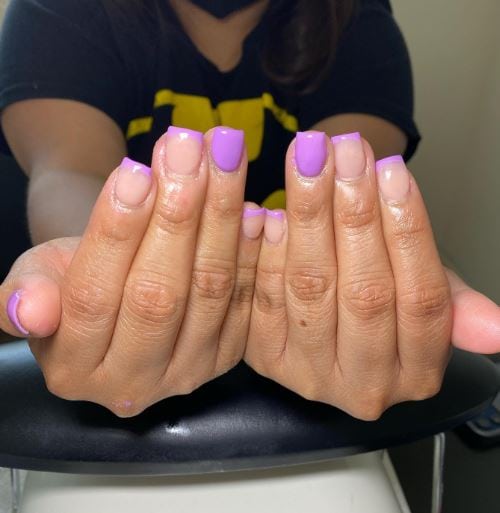 Image by @nailsbydaniela__ via Instagram
13. Mustard Yellow and Nude Nails
This nail design is super gorgeous. Nude and mustard yellow blend in a splendid way to give the nail art a majestic feel. The 3D flower and rhinestones are placed in a unique pattern forming a nail art that is a pure pleasure to have at your fingertips.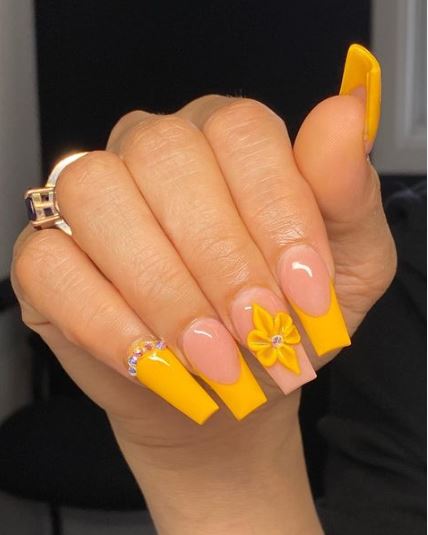 Image by @_nailsbynix via Instagram
14. Cute Short Acrylic Nails
This short acrylic nail art has a nude base with light blue color swirls on one hand and emerald green on the other. The pattern of the swirls is creative and artistic. It adds a subtle glow to your day.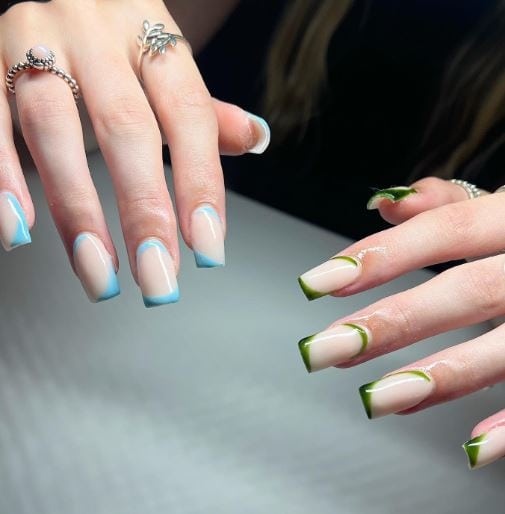 Image by @nails_bymillx via Instagram
15. Stylish Spring Pastels
Pastel nails combine soft colors, creating magic in the process. These pastel nails combine light blue and a light shade of purple called lilac. The accent nail has a mix of blue, lilac, orange, yellow, white, and black in a smokey style effect.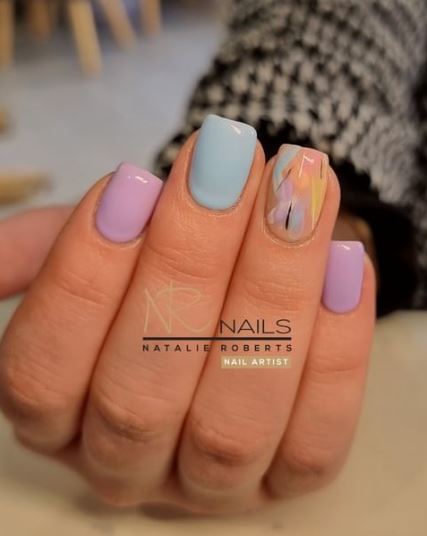 Image by @nrnails_1 via Instagram
16. Clean White Classic French Manicure
White is a timeless classic that will match any outfit you choose to pair it with. This french manicure takes a unique twist due to the addition of a neat, curved line beneath the tips of the Frenchies.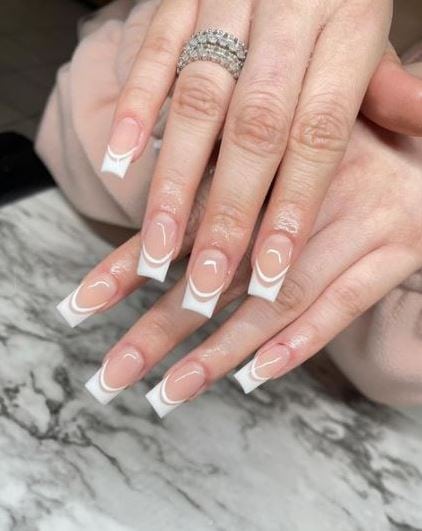 Image by @iiselarodriguez via Instagram
17. Rainbow Frenchies
Pink, purple, green, blue, and yellow are used at the tips of this nude french manicure for a cute look. The french tips are slightly V-shaped. Rock acrylic nails like this with your monochrome outfits to express your fun personality.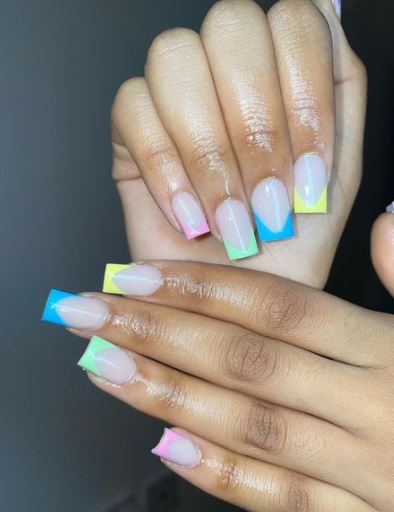 Image by @thenailhutldn via Instagram
18. Dark Nude Short Acrylic Nails
These pretty nails are just what you've been looking for. The design is simple, incredibly easy to do, and elegant. I like how the light, soft colors are added in a flattering and creative way.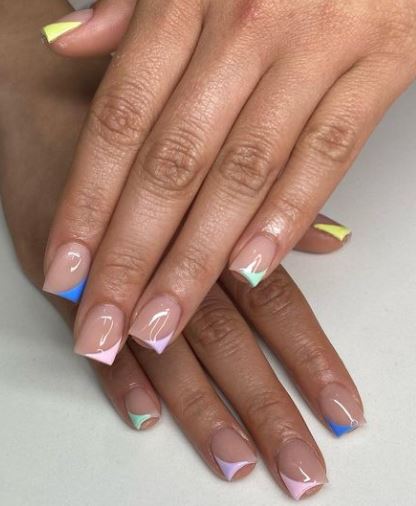 Image by @_nailsbynix via Instagram
19. Short Lemon and Gold Acrylics
Nude nails are always cute, regardless of the design. They are versatile and can be worn all year round, regardless of the season. This nude manicure has creative lemon, white and gold glitter designs.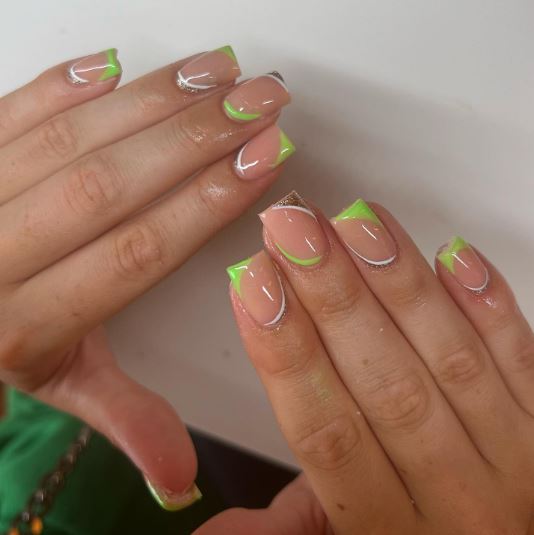 Image by @nailsbymadi___ via Instagram
20. Amazing Short Acrylic Nail Design
Decorate your short acrylic nails with interesting features to add a twist. These fashionable nude french nails with butterflies are designed in such a way that each wing of the butterfly painting is on separate fingers. This is creativity at its peak.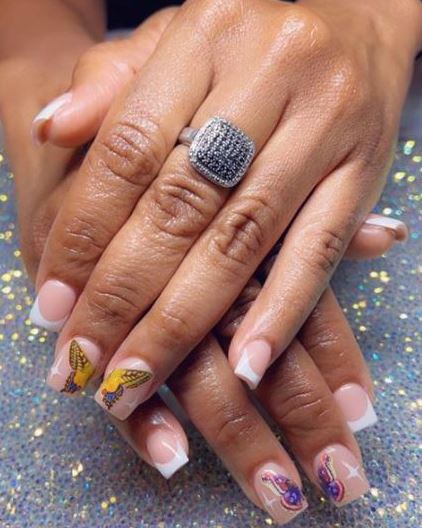 Image by @nails_by_keniao via Instagram
21. Fabulous Blue Nails
Did you know that you can add a fabric pattern to your acrylic nail art? This fabulous manicure is the proof. The middle finger nail has a unique tie-dye design on the nude base nail polish.
I love how the rhinestones are on the tips of the accent nails. The silver glitter on the index fingernail makes the design sparkle.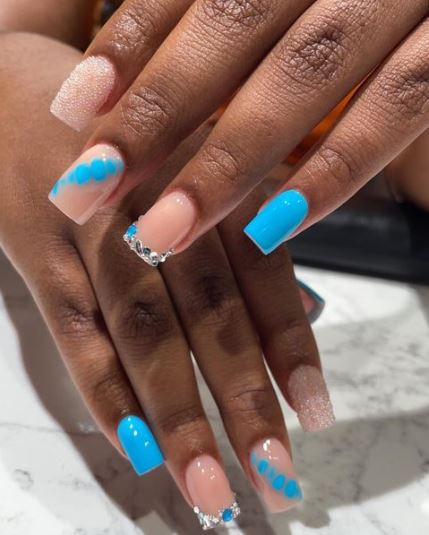 Image by @donny.does.nails via Instagram
22. Short Pink Acrylic Nails
Pink nails often add a bright, feminine feel to your glam and this soft pink shade is no exception. The bold, realistic hello kitten designs on the short pink acrylic nails are one of a kind. The tips of the nails are painted with white nail polish.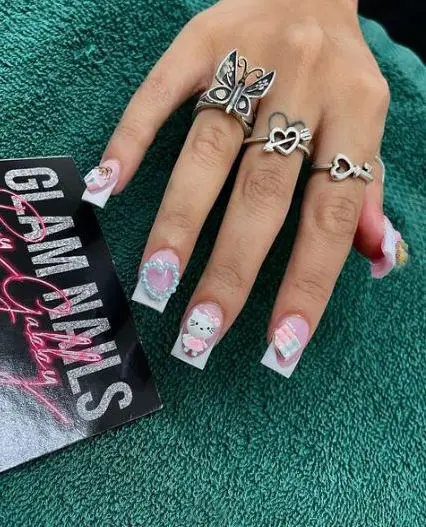 Image by @glamnailsbygabby via Instagram
23. Short Coffin Acrylics
Coffin-shaped acrylic nails are probably the cutest nail shape for short acrylic nails. This nail design is unique due to the white ombre design and the silver rhinestones that make the manicure pop.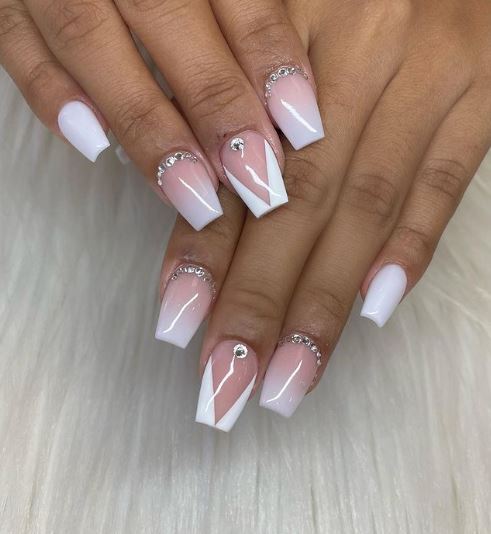 Image by @beautynails_brows via Instagram
24. Hot Marble Nail Designs
This nail design is larva hot. It's a cute way to show your daring and fiery personality. You can get this nail design with different colors if you are not a fan of red.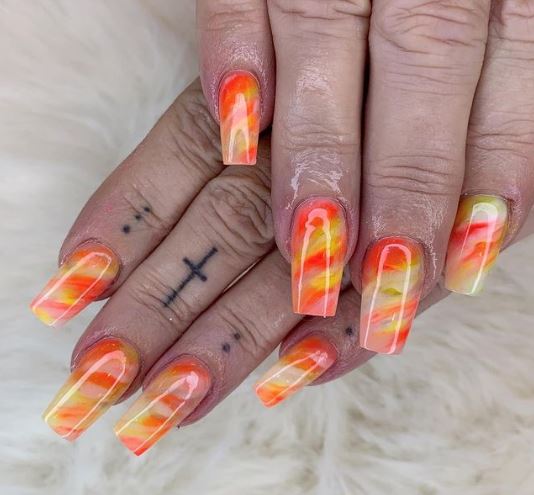 Image by @88nailspahalifax via Instagram
25. Short Blue Nails With Pink Butterfly
A lovely shade of blue is featured in these short acrylic nails. The short nails also have pink butterflies and white dots drawn on the ring fingers giving an extra cute nail art look.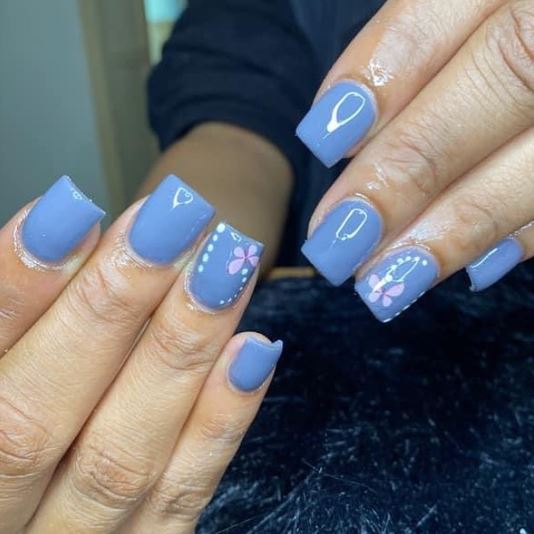 Image by @niksnailstudio via Instagram
26. White Trendy Short Acrylic Nails
Short acrylics are no doubt a classic choice. These short acrylic nails have a simple look with loose silver glitter on the accent nail. The colorful glitter adds a little sparkle to the whole manicure.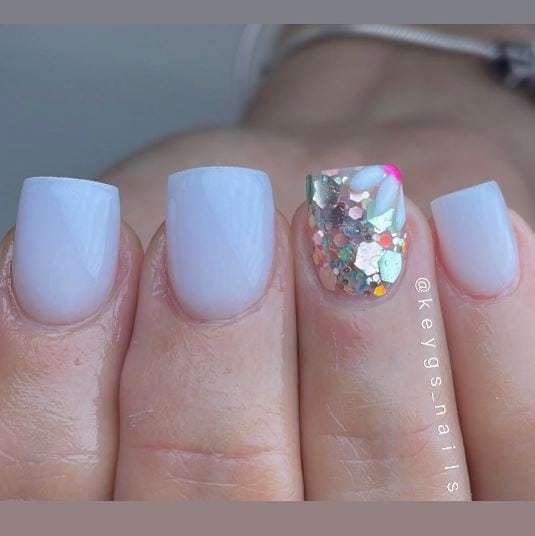 Image by @keygs_nails via Instagram
27. Short Acrylic Nail Designs
Elegance means stylish, neat, simple, unique, and classy. That is what these short acrylic nails embody. The light color used is soft and subtle. The best part of this nail design is the chic nail art on the accent nails which have a splash of white, gold, and blue.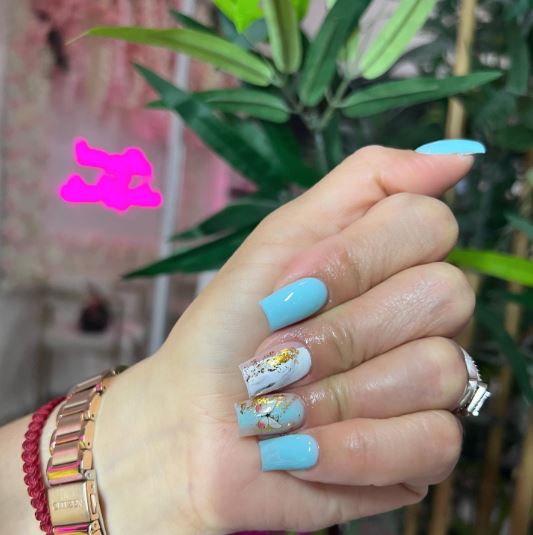 Image by @gh_nailss via Instagram
28. Simple Square Acrylic Nails
Square nail shapes are one of the best nail shapes for short acrylic nails. This design is simplicity at its peak. The simple coat of white nail shellac looks great and will go with several dark monochrome outfits.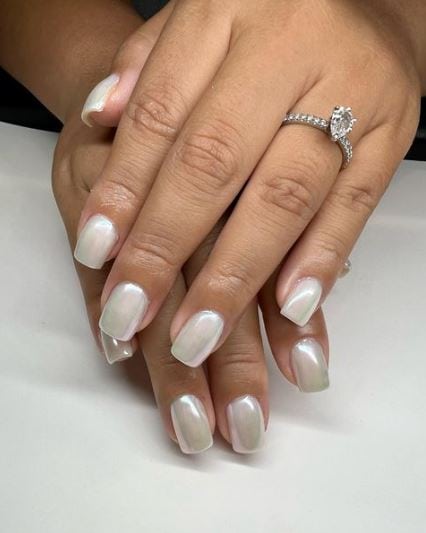 Image by @chromaglamstudio via Instagram
29. Elegant Almond Nails
This design has been done with a fun shade of brown and streaks of white. The design is unusual but cute.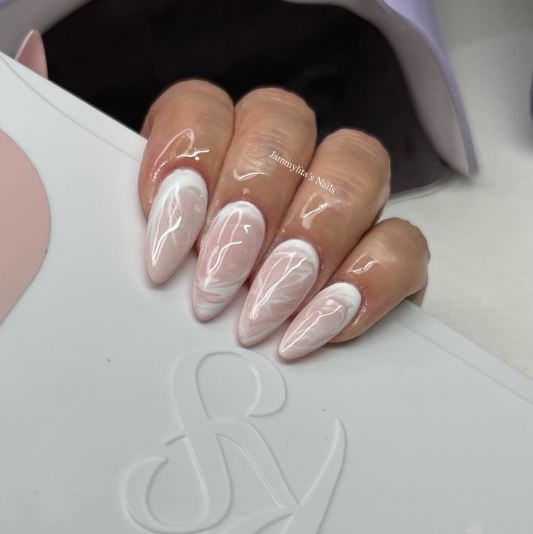 Image by @jammylitas_nails via Instagram
30. Short Emerald Green Nails
Emerald green is a rich, sophisticated, and luxe shade. This look is a simple and unique artistic nail design. You can wear these short acrylic nails to a wedding if green is the color code.
Image by @radiantnailart via Instagram
31. Bright Pink Short Acrylic Nails
These pink short acrylic nails look so fun. The nail designs have a combination of bright colors, with lines and dots on the accent nails. In my opinion, round short nails are more beautiful than round longer nails.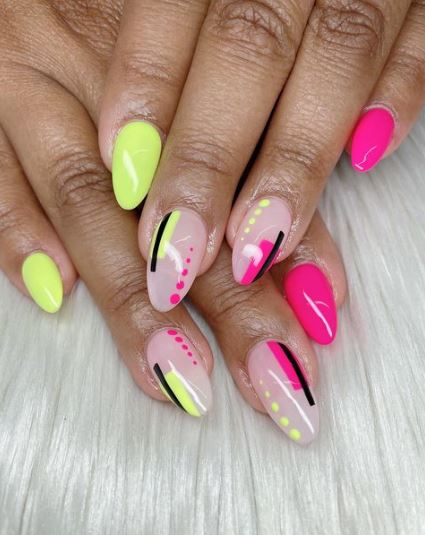 Image by @nailsbypin_ga and the.nail.nest via Instagram
32. Orange and Gold Glitter
This nail design is nothing short of amazing. The design is chic and has a classy vibe. The light orange and gold glitter lines on the nude base make the nails beautiful.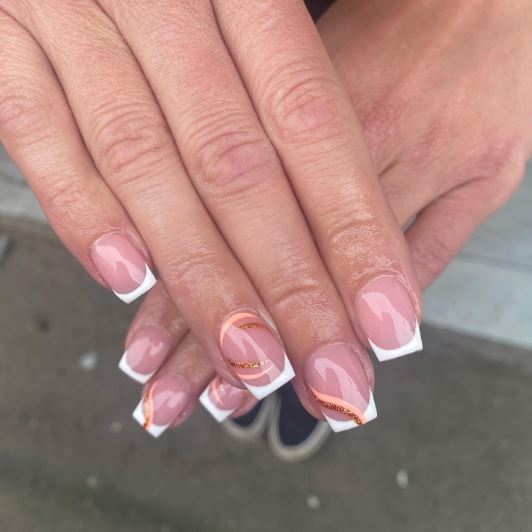 Image by @danae_demilition via Instagram
33. Black and White Short Acrylic Nails
Short nails are versatile and the possibilities are endless. This nail look has a bold checkered design on short natural nails. Black and white will complement any outfit perfectly.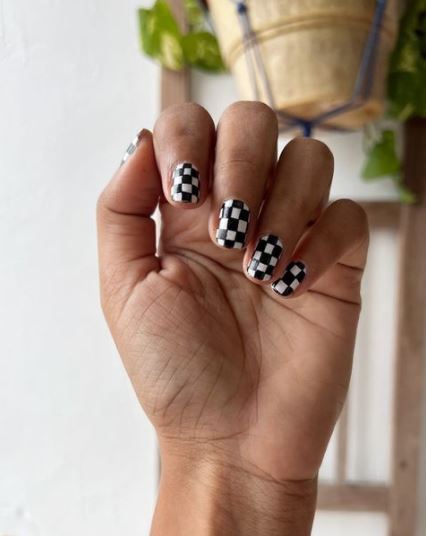 Image by @nail.artpreneur via Instagram
34. Loose Glitter Acrylic Nails
Dare to express yourself with different color shades and accessories when doing your manicure. The best part of this soft, timeless nail set is the loose glitter on the accent nail.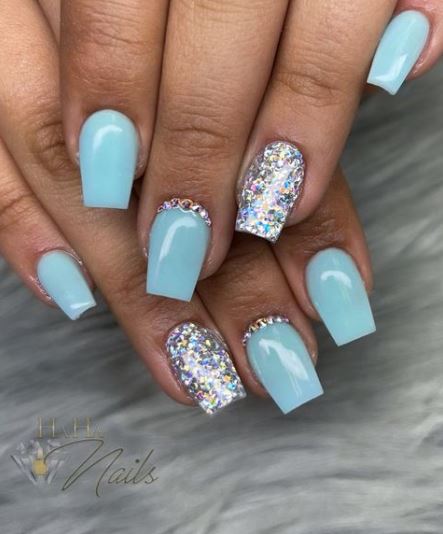 Image by @haha_nails_ via Instagram
35. Winnie The Poo Nail Art
There's no limit to what you can do with short acrylic nails. This nail design is unique and features pink designs on one hand and yellow on the other. A picture of Winnie the Pooh is drawn on one finger and a pink dupe of the image is drawn on the other hand. If you're a cartoon lover, this nail design will appeal to you.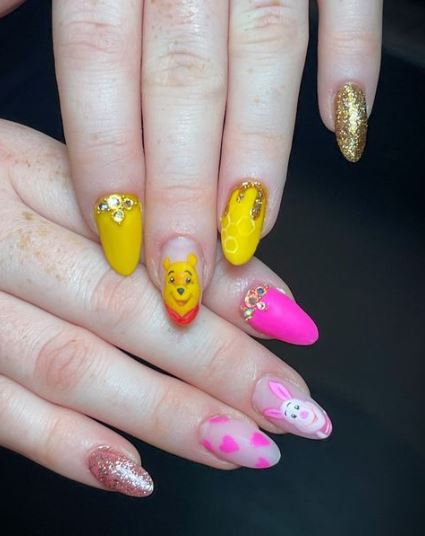 Image by @sejladoesnails via Instagram
36. Purple Short Acrylic Nail Art
Different shades of purple are used to create these short nails. The shades complement one another in an attractive way to create this charming nail look.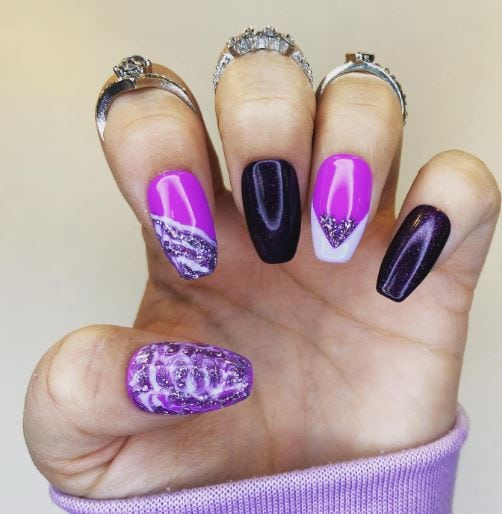 Image by @star.nailz via Instagram
37. Coffee Brown Acrylic Nails
These chic and pretty brown nails have a coffee-lover vibe if that's your thing.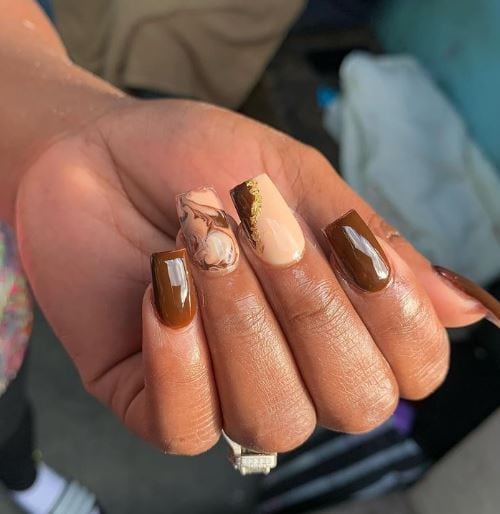 Image by @nails_by_shadreck via Instagram
38. Acrylic Nails With Leopard Print
Animal prints like giraffes, cheetahs, tigers, and leopard prints are great short-nail ideas that symbolize wealth and status. This features a horizontal and vertical leopard print design with a plain orange nail. This nail design will also look lovely with long nails.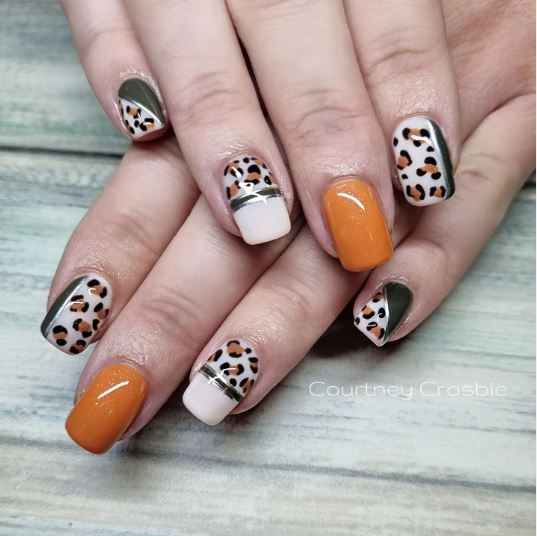 Image by @big_cee_little_cee via Instagram
39. Beautiful Nude Base Nails
Soft colors on nude soften your appearance in a very subtle way. The colors are used to create gentle swirls close to the tip of the acrylic nails. This design will sit well on stiletto-shaped nails.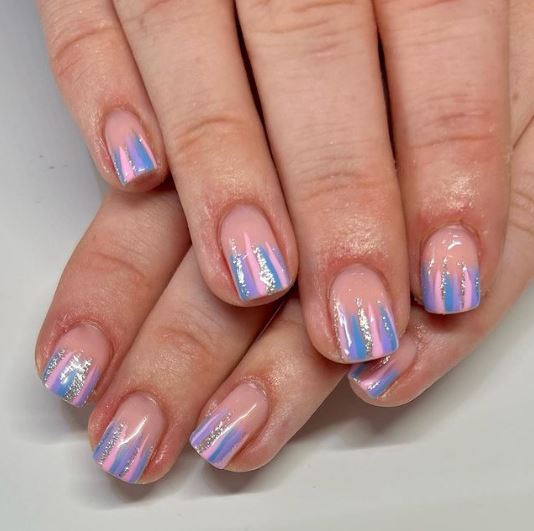 Image by @lusciousnb42 via Instagram
40. Short French Acrylic Nails
Of all the elegant designs on each nail, the black patches on each white tip make this design stand out. You can DIY this nail design and save yourself the long hours at the nail salon.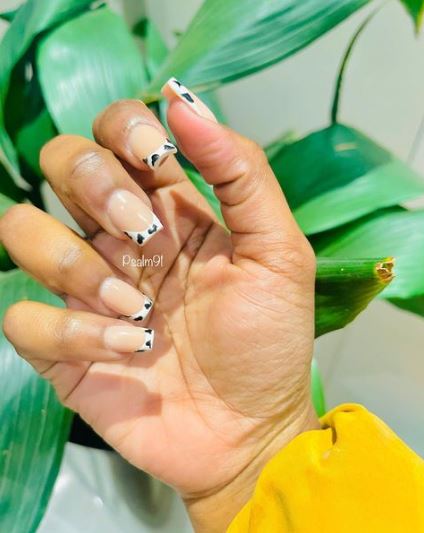 Image by @_psalm._91 via Instagram
41. Short Brown Acrylic Nails
You're going to feel and look confident with this unique short nail set. The shade of brown is cool. The shiny glitter and rhinestones of different shapes bring it to life.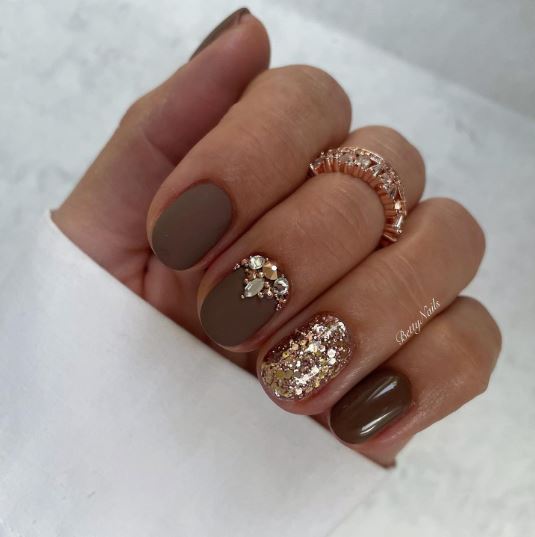 Image by @bettynails via Instagram
42. Short White and Nude Acrylic Nails
Express your creativity by getting different designs on each nail. Each nail design looks amazing, but those with the black heart and half-moon designs are a personal favorite.
Image by @naiils.feed via Instagram
43. Green and Lemon Short Acrylic Nails
In this nude nail design, lemon and green designs are donw on the glossy nude base. The lemon and green stripes are drawn by the sides, the tip, and close to the cuticles.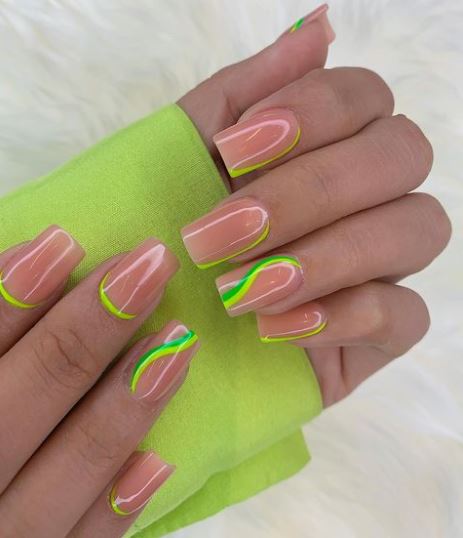 Image by @kimmynailsbeauty_dielsdorf via Instagram
44. Cute Short Acrylic Nails
The nails have a nude base with shiny chrome to form French tips.
Image by @tessthetech via Instagram
45. Simple Short Acrylic Nail Design
Light pink looks absolutely great on short acrylic nails. To keep your nails looking neat and fresh, ensure that you visit the salon to get a fill. Professional manicurists recommend 2-3 weeks, depending on how fast your nails grow.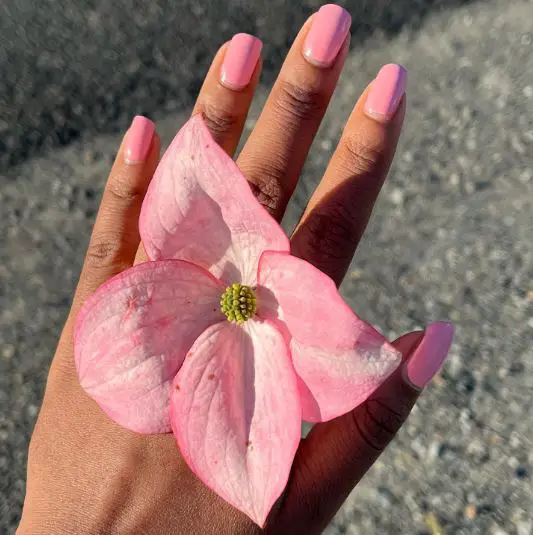 Image by @moniquevanrey via Instagram
46. Short Red Nails
For me, red is a fun, daring color. Red has that hot, daring, and striking effect. It's suitable for most events like weddings, housewarming parties, birthday parties, and prom, for a statement-making look.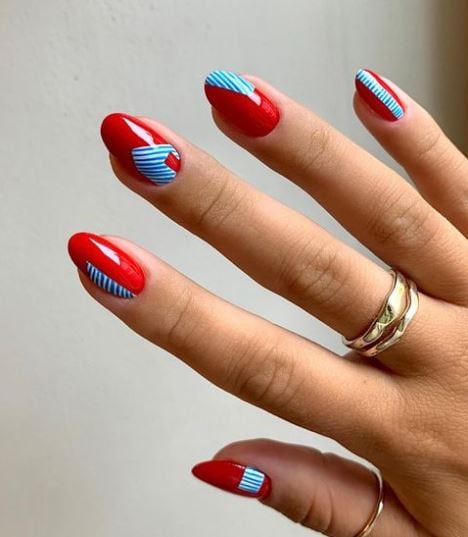 Image by @nails.by.oda via Instagram
47. Floral Short Acrylic Nails
Short acrylic nail ideas are inexhaustible. These short nails have a realistic sunflower design and rhinestones. The mani looks cute enough to lift your mood on a bad day.
Image by @nailsby_lyn via Instagram
48. Short Ombre Nails
The ombre effect on short nails exudes a beauty that is unique to ombre short nails. The nude-white progression looks elegant and the neatness portrays the skill of the nail artist.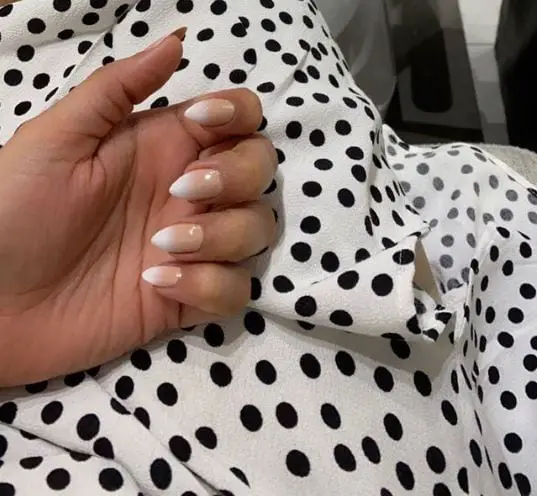 Image by @ohmynailskw via Instagram
49. Green Croc Nails
Croc nails have been hitting our timelines and I don't mind them one bit. The green croc nails have a mix of white, forming a tye-dye pattern at the tips of the nails. The ring fingernail has a bold crucifix accessory which makes this nail suitable for Easter celebrations.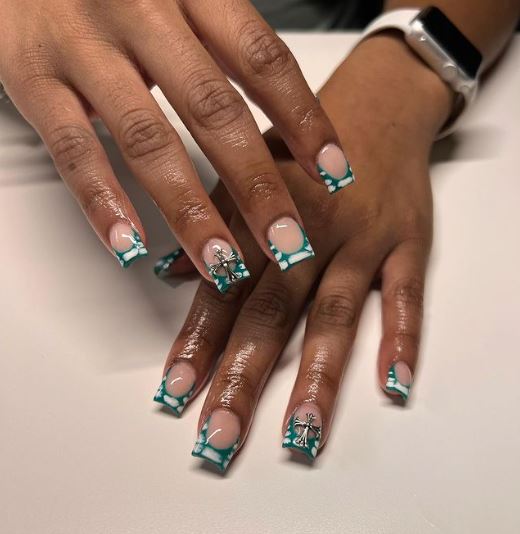 Image by @clawsby.kai via Instagram
50. Blue/Green Marble Acrylic Nails
Blue and green color polish are combined to form this cute marble nail effect. I suggest adding a gel topcoat to the nail if you would like it to shine better. Or you could sprinkle a little glitter for that extra shine.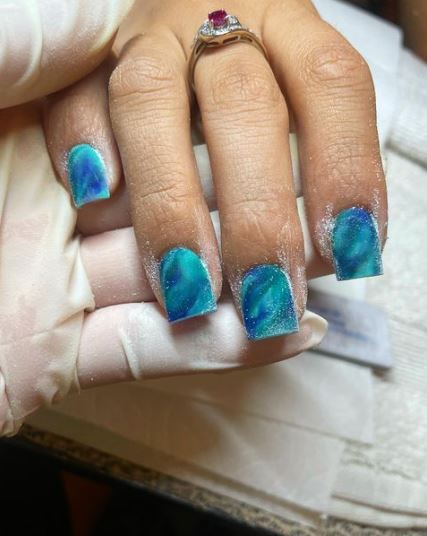 Image by @setsbykayla via Instagram
51. Short Navy Blue Nails
These short acrylic nail ideas have navy blue shellac on three fingers. The other two are coated with white and decorated with gold glitter lines, navy blue spots, and rhinestones.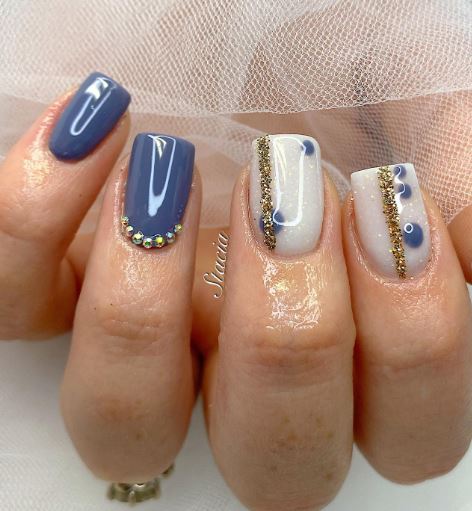 Image by @the_nails_room_at_stacias via Instagram
52. Cute Acrylic French Mani
The smooth finish of these short acrylic nail ideas is the major highlight of the nails for me. The glossy finish, the cute little hearts and lines on the accent fingernail make the art exceptional. Wouldn't be bad for modest wedding glam.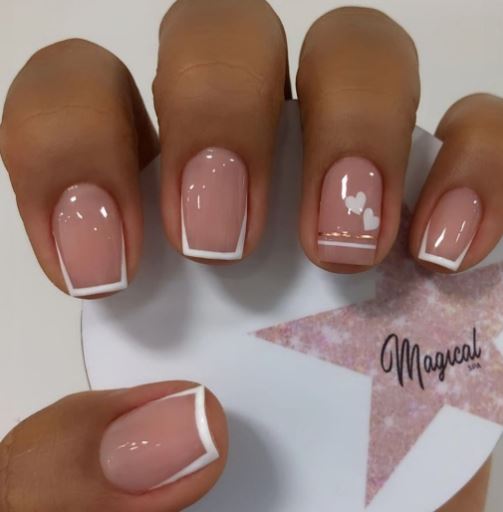 Image by @nails_magaziine via Instagram
53. Acrylic Holiday Nail Ideas
You can try out these short nail ideas to spice up your end-of-year look. Red signifies love and festivity, which makes the design suited for occasions like Christmas, wedding parties, and Valentine's Day. It has white and black swirls on the ring fingernail. A pink base with black and white at the tips and red nail polish on the other nails.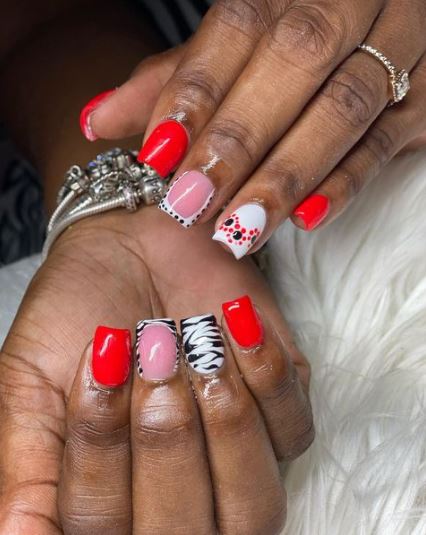 Image by @sabinabenskin via Instagram
54. Teal and Amber Nail Ideas
The teal and amber color is sure to add a nice shine to your nails. It has a fun and exciting vibe which makes it suitable for the summer holidays.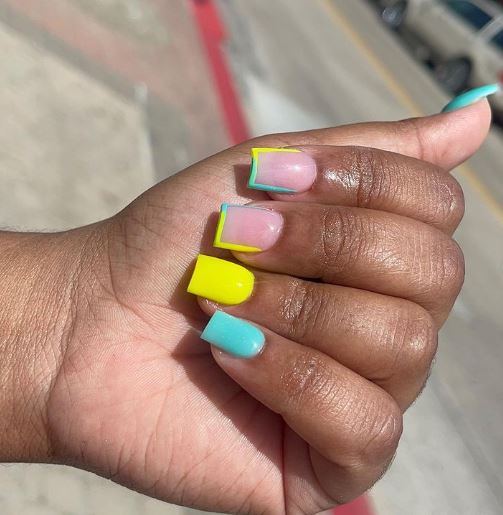 Image by @nomi.nails via Instagram
55. Dreamy Pink Talons
Who wouldn't want to rock these light color mani with a different design on each fingernail? I know I will. The little finger has a pale pink color and the two middle fingers have elegant leafy designs.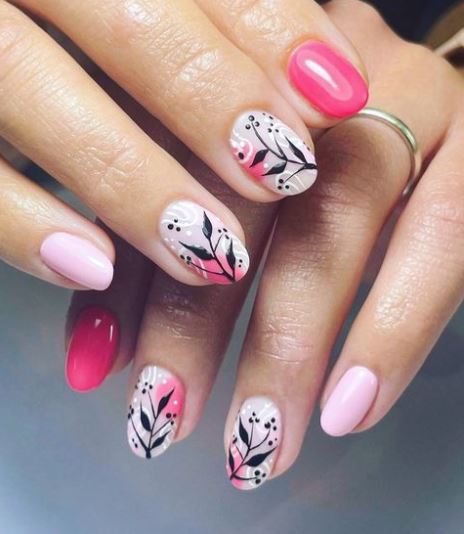 Image by @topnailshuyton via Instagram
56. Black Nails With Glitter
Black nails have a bold and daring look. To tone down the bold effect of black nails while enjoying the classy vibe, you can try out this black on porcelain mani. The glitter highlights lend some brilliance to the appearance.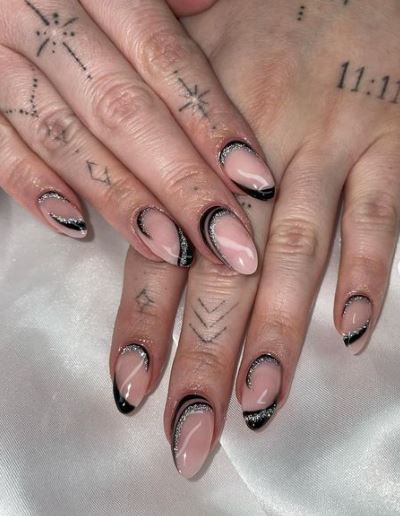 Image by @katdomynails via Instagram
57. Short White XO Mani
These white talons have hearts and XO designs, which signify hugs and kisses. What an interesting way to send love and light to everyone you meet.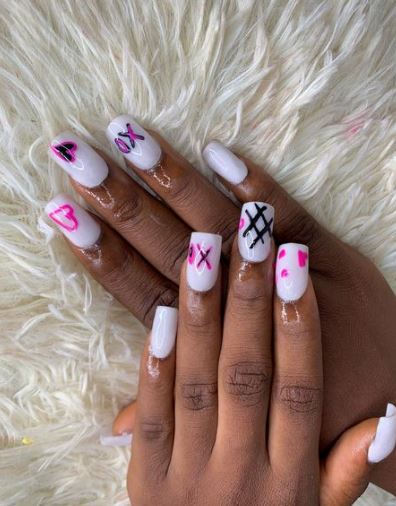 Image by @helmii_accessories via Instagram
58. Short Matte Claws
These orange matte claws have an abstract painting on the accent fingernail and an image of sunrise on the middle fingernail.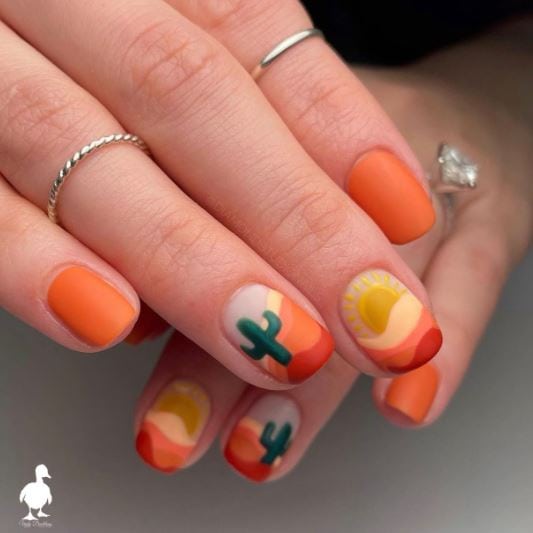 Image by @uglyducklingnails via Instagram
59. Lemonade Mani
Here's a hot orange lemonade design to add some warmth to your aura.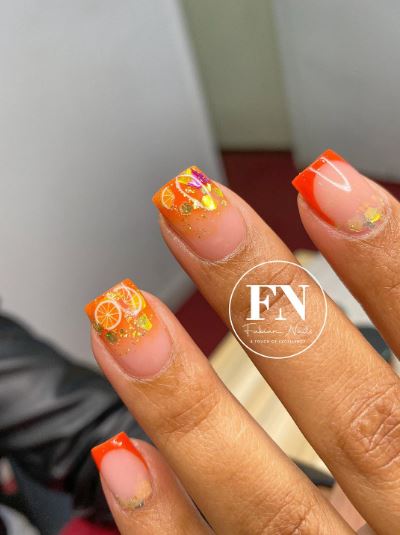 Image by @fabian.nails via Instagram
60. Cerulean Talons
Almond porcelain talons with easy cerulean designs. The shiny, glossy finish makes the mani more appealing.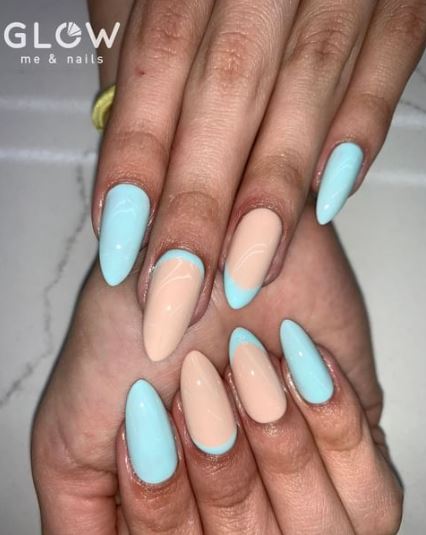 Image by @glowmenails via Instagram
61. Short Round Porcelain Claws
Porcelain claws with french pink, flame, azure, key lime, lollipop art, and glossy top shellac.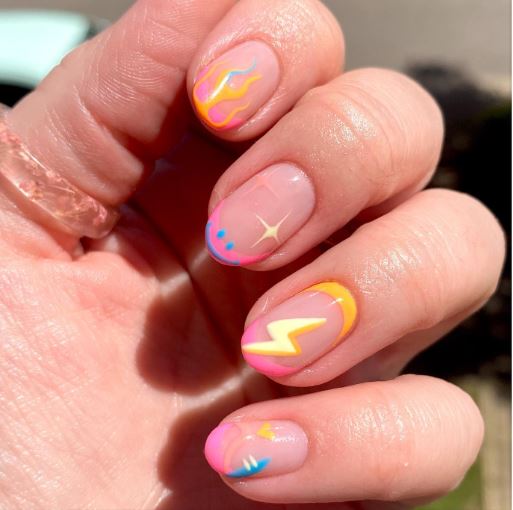 Image by @rltnailsandbeauty via Instagram
62. Round Rock Acrylic Nail Art
This artwork is exceptional. It has a drawing of a little leaf on thin stems. The shades are unusual too.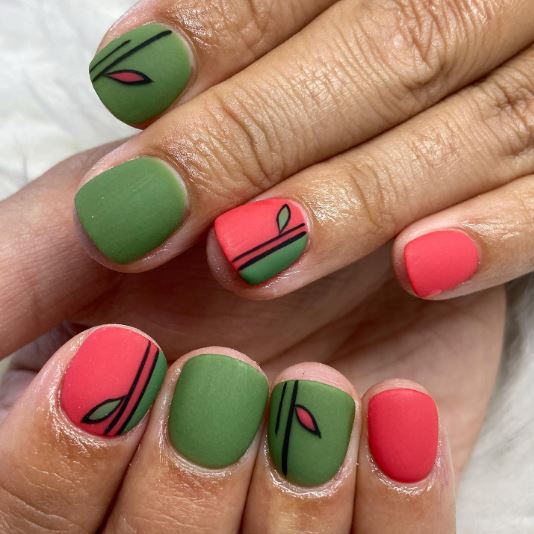 Image by @nailseuphoria.tx via Instagram
With these 62 beautiful nail ideas, you have to agree that short acrylic nails rock. Now make a choice and try out all your favorite nail ideas. Ensure that you go to a nail artist that is extra good to get a cute and clean manicure.