Spring is finally here after all the chills of winter. It is time to get those colorful nails done.
You could fix pastel nails if you would like to ease into spring with soft colors, or you could go all out and get neon rainbow nails done.
Whether you're looking for glamorous nails, or you are more low-key and prefer soft-colored nails, there is a nail design for everyone. Keep scrolling to find a design that suits you best.
Spring nail Ideas for inspiration
1. Nude Nails with Blue Spring Butterflies
This is the perfect nail art for you to get started with spring. It has nude and blue nails set off by gold decals and a blue butterfly accent nail in the middle finger.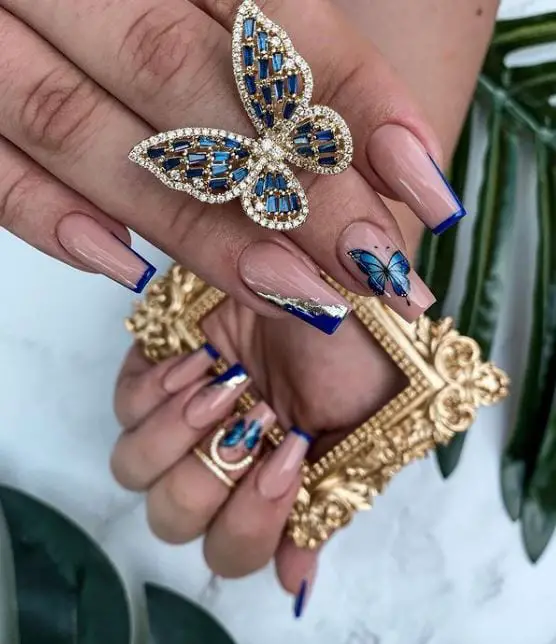 Image by @mzsofi__ via Instagram
2. Purple and Silver Spring Nails
Add glamour to your look by getting these short, square purple nails with silver-filled accents. The simple manicure helps create a look that has just the right amount of brightness for spring.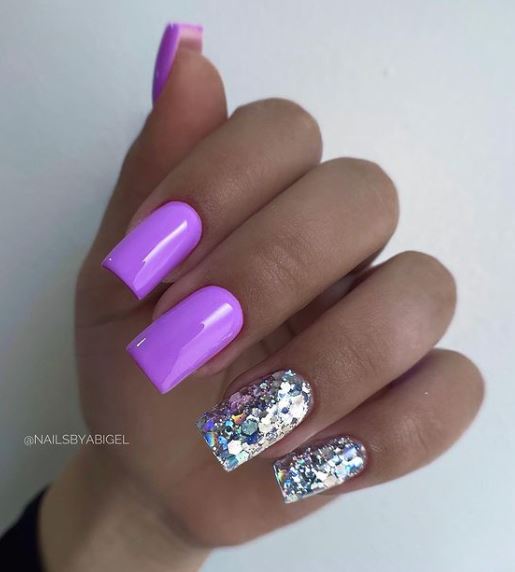 Image by @nailsbyabigel via Instagram
3. Nude Spring Nail Designs
Nude nails are a classic regardless of the shade or color it is combined with.
These astonishing nails feature light nude nail polish on most fingers and 2 accent nails with mint green tips and black swirls. You can decide to do yours without the black swirls or you could use brown swirls instead.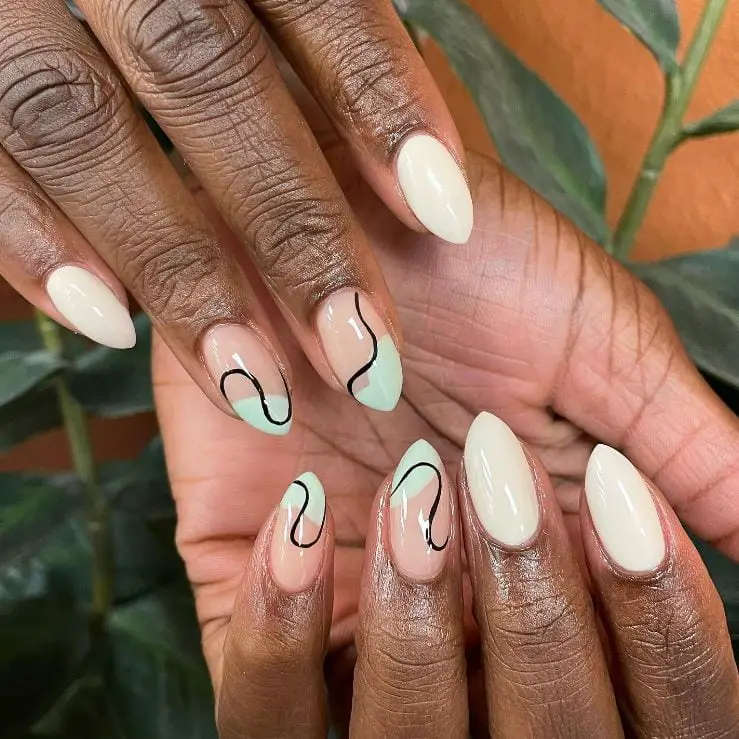 Image by @manicured_denver via Instagram
4. Pink Spring Nails
The play of dark and light pinks in these fun nails is absolutely stunning. The plain dark pink nails and 2 flowers filled accent nail screams spring.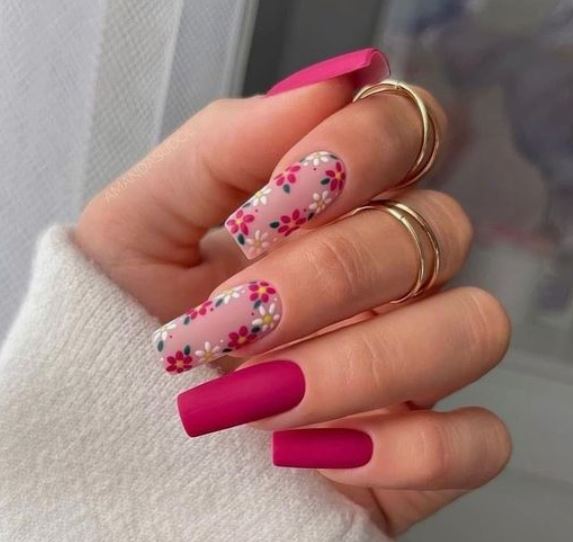 Image by @glitterglamnailsoakham via Pinterest
5. Classic French manicure
If you've got different pink nail polish at home, you can DIY this cute spring nail. I love the color gradient from purples to baby pinks.
The length and nude base are subtle and perfect for freshening up your look for spring.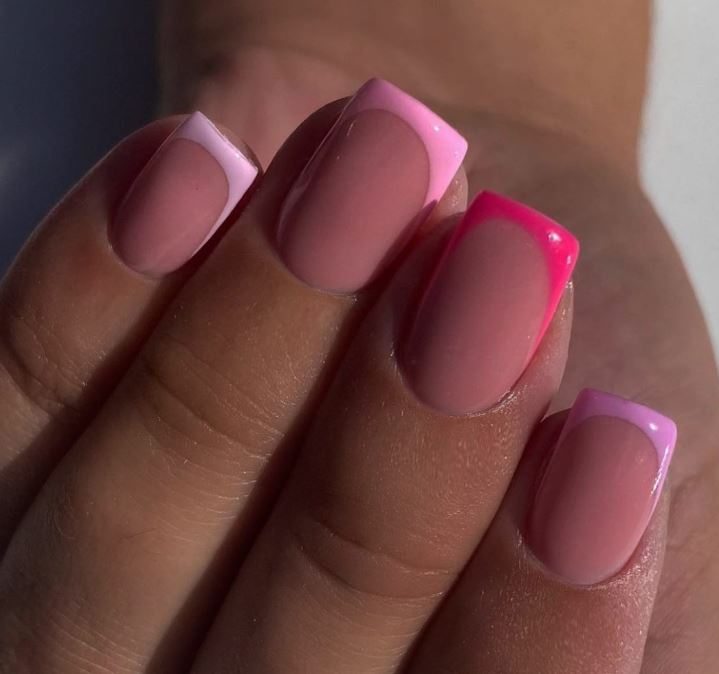 Image by @laurenfoynails via Instagram
6. Light Rainbow Spring Nails
When it comes to spring nails, you can't go wrong with flowers.
This matte rainbow ombre nail blends azure, green, yellow, and salmon nails to form a creative blend on each almond nail. The two accent nails with flowers are a great way to enhance the beauty of the nails.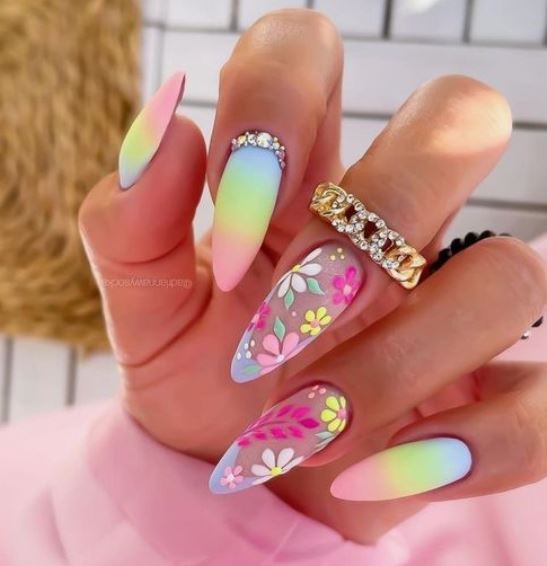 Image by @rvsatia via Pinterest
7. Light Orange Spring Nail Art
I love the style of this manicure because it looks effortlessly pretty. It is a plain nail art except for the accents with straight gold glitters in the middle which makes it slick.
Image by @Elnura_Iusipova via Instagram
8. Baby Blue Spring Nails
Don't you just admire the subtle soft colors used on these beautiful spring nails?
This is a perfect nail art to wear to a spring wedding especially if the wedding is held just after winter. The blue and pink blend seamlessly to create a charming look that I can't get enough of.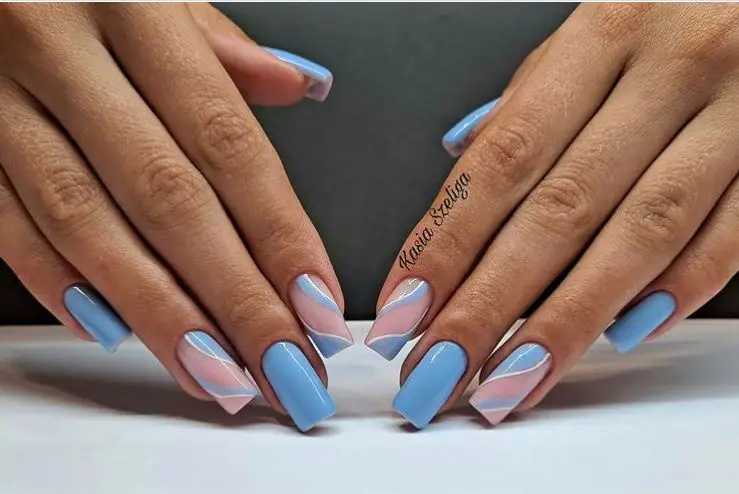 Image by @kasiasz.nails via Instagram
9. Reverse French Manicure
Take this as inspiration for your nail artist to get a stunning look.
The look features a nude base with varying colors of matte polish at the base and tip of the reverse french mani.
The play of colors here is nothing short of amazing and the nail art is suitable for both formal and informal occasions.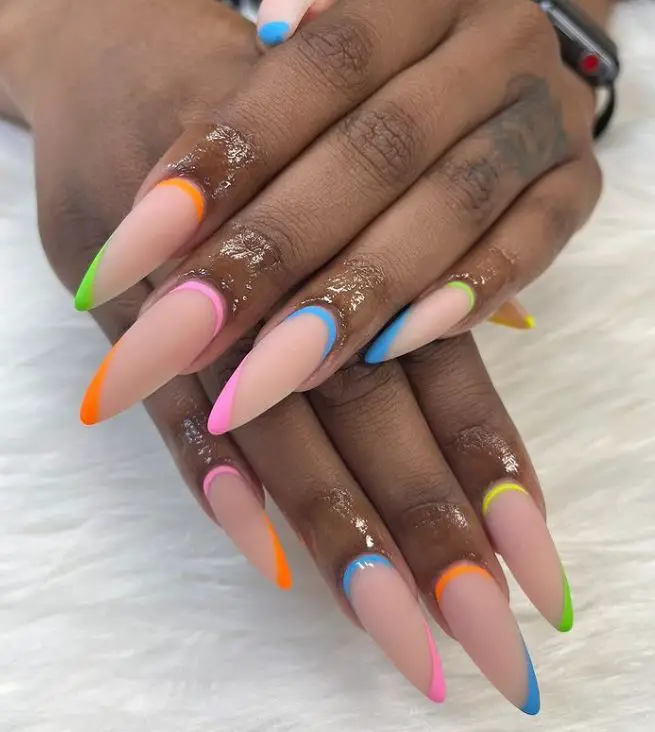 Image by @elleirahs via Instagram
10. Crepe Nails
Not a fan of acrylic nails? No worries, this is the nail design for you.
The blue and pink nails with slight gold decals and cute black flowers are the right amount of pretty for spring season and ideal for pairing with warm weather outfits.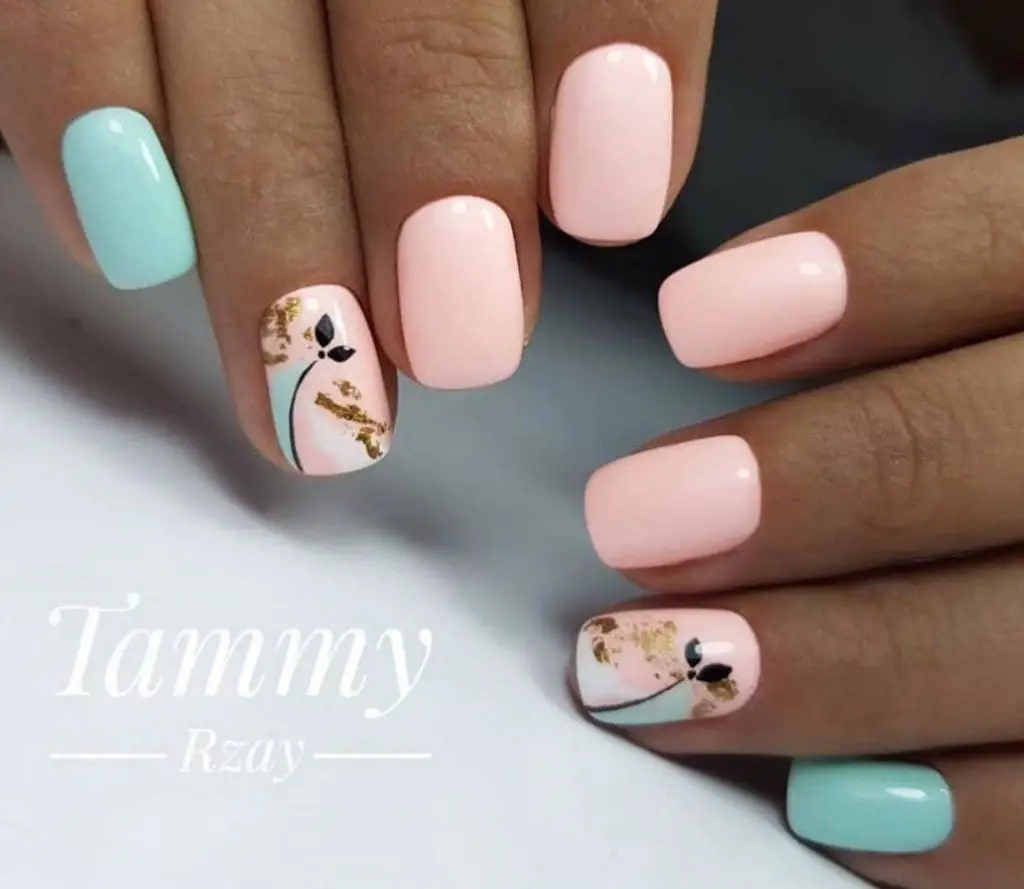 Image by @trishjensen1 via Pinterest
11. Nude French Tips Spring Nails
Achieve a glamorous look this spring with these stunning nude nails with beige french tips.
The minimal manicure is decorated with white flowers formed by dots. Those perfect dots have been made with a dotting tool to look seamless.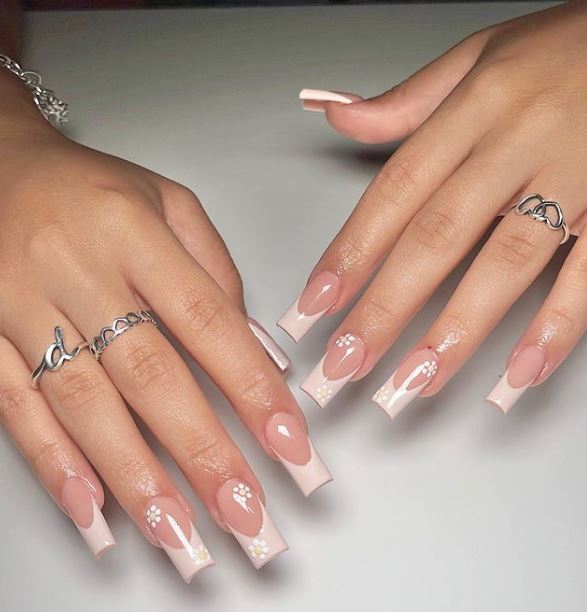 Image by @carolinaxnails via Instagram
12. Abstract Shapes French Manicure
The unique twist to this french mani is totally trendy and I'm loving it.
Inspired by pop stars, this look with nude pastel swirl nails is just right for the new season. You could add rhinestones if you want the nail designs to shine brighter.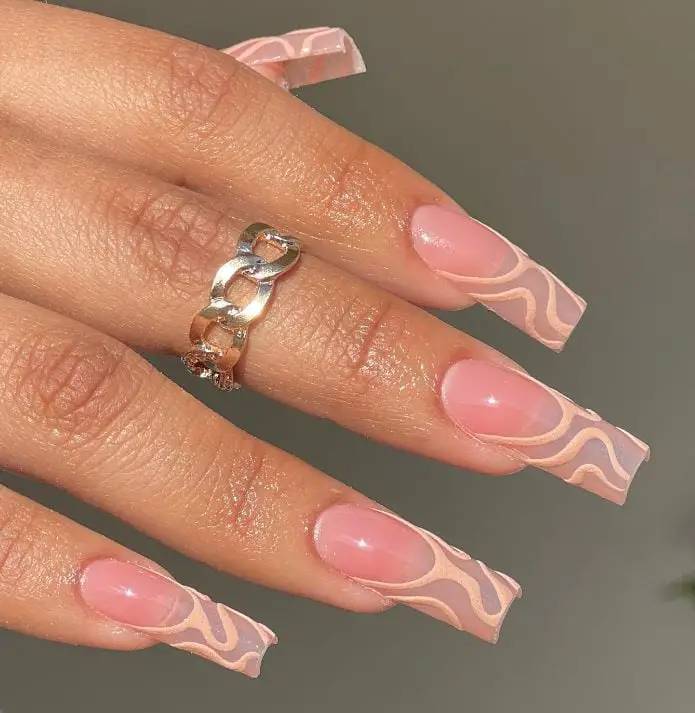 Image by @ps_nailss via Instagram
13. Pink and Orange Spring nails
Pastel nails and spring go hand in hand, which is why these french mani spring nails are chic and stylish for spring.
The index and thumb nails are Frenchies, while the others are a single shade of light orange and pink with swirls.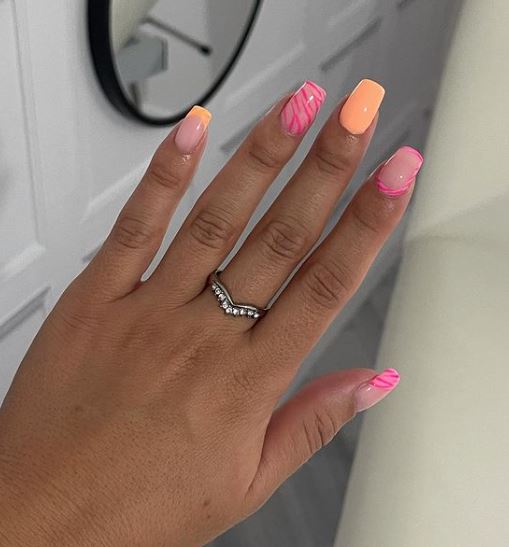 Image by @envybeautyexeter via Instagram
14. Light Pink Spring Nails
There is no reason to go crazy with colors especially if you are not a very big fan.
You could get a simple light pink nail polish to keep you looking lovely as you go about your daily adventures.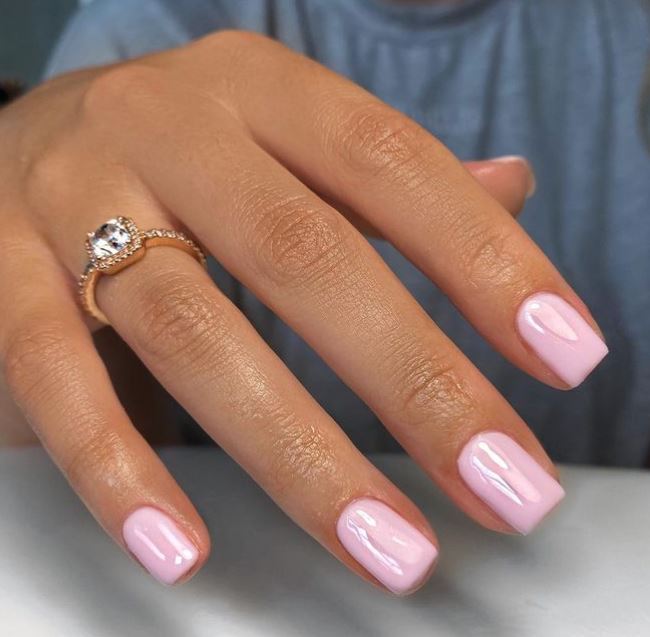 Image by @j.e.m_nails via Instagram
15. Light pink and Marble Effect French Tips
Pastel nails are among the top nail trends and most nail artists have got on board with them.
This is one of the best spring nail designs I've seen with a light base coat and ocean azure marble pastel french tips.
You can add gold decals to the tips of your spring nails to get that extra glow.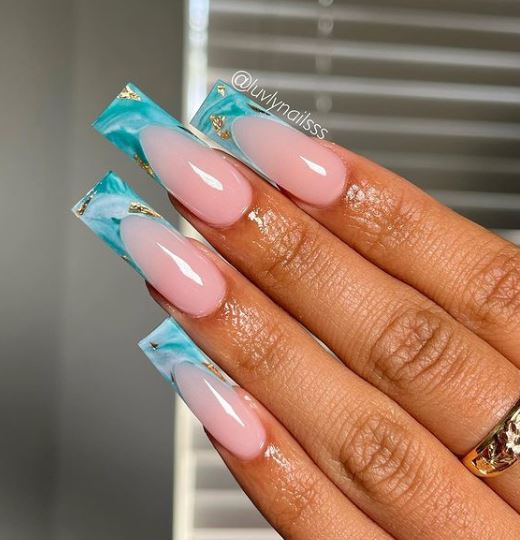 Image by @luvlynailsss via Instagram
16. Maroon Spring Nails
Maroon is a seasoned cousin to red that is not as bright or daring.
It's a personal favorite because it goes well with a lot of spring colors which makes pairing it with a spring outfit an easy task to do.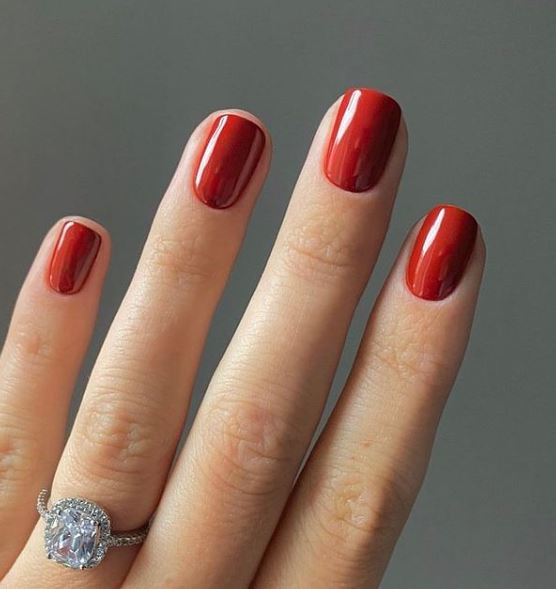 Image by @inbeautmag via Instagram
17. Lavender Spring Nails
I am probably not the only one that finds lavender nails comforting.
If you love lavender nails, this cute nail design with accent nails of lavender and black polka dots swirls will look really appealing. Take this picture as nail inspo to your nail artist to get this stunning nail art done.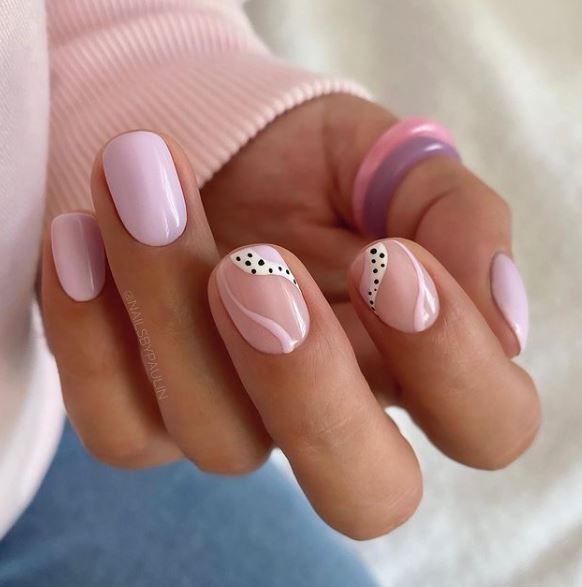 Image by @nailsbypaulin via Instagram
18. Extra Long Spring Nails
Don't want to ease into spring? Well, you can jump right in by getting these extra nails done.
Extra length, extra glitter, 3D flowers, and rhinestones, it's got everything to help you make a statement wherever you go. This is perfect for an exotic spring party.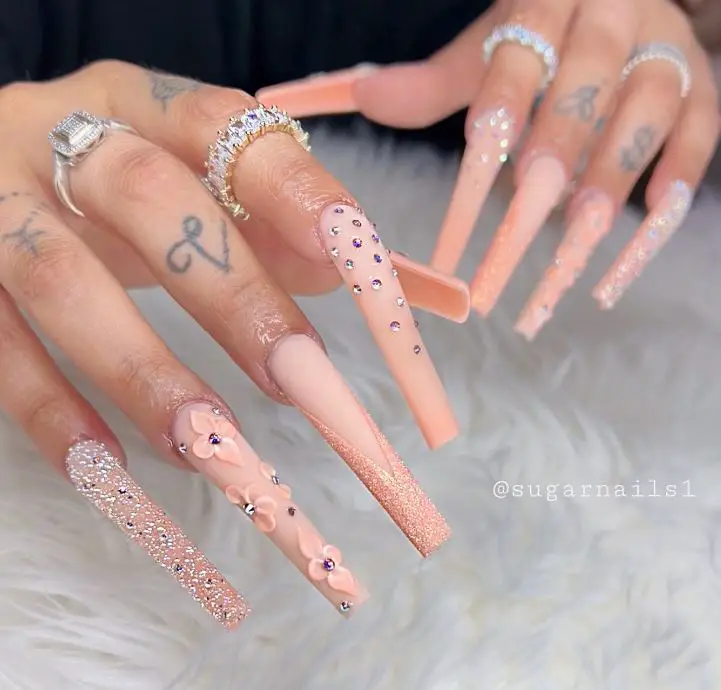 Image by @sugarnails1 via Instagram
19. V-tips French manicure
These 2 contrasting color shades blend in an interesting way in this nail art. The black polish combination with the beige looks modern and classic.
You can recreate this in your own way by using a different color or adding jewel rhinestones instead of the small stones used in the image.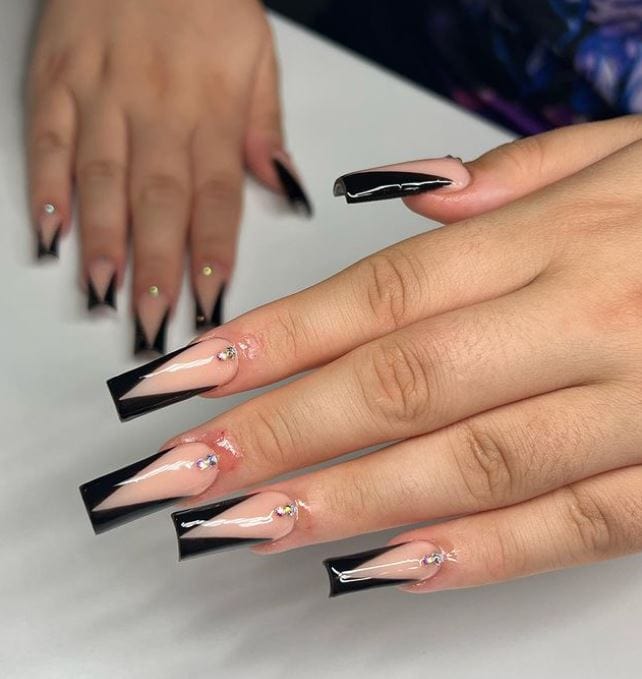 Image by @nailsbyalyssap via Instagram
20. Beige and Yellow Reverse French Mani Spring Nails
You will agree with me that reverse french manicure is becoming popular on TikTok and Instagram.
This is due to how it effortlessly enhances one's look. It is elegant to wear and the soft pairing of beige, pink and yellow here is nothing short of perfect.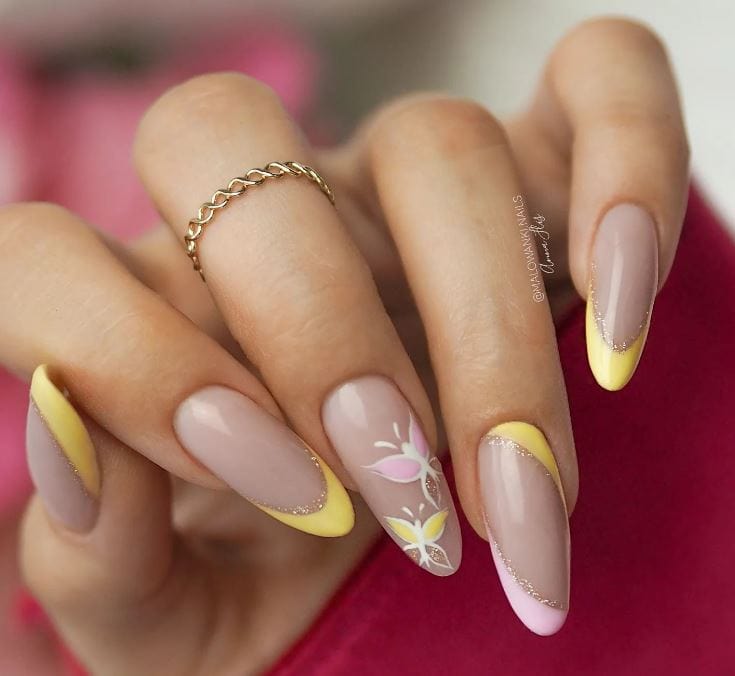 Image by @malowanki.nails via Instagram
21. Pink and Blue British Spring Nails
This nail art is unique because unlike most popular nails these days, its decoration is vertical instead of horizontal, creating a vibe I'm loving.
It is a simple design of pink polish, with blue vertical swirls added to 3 fingers to make the nail pop.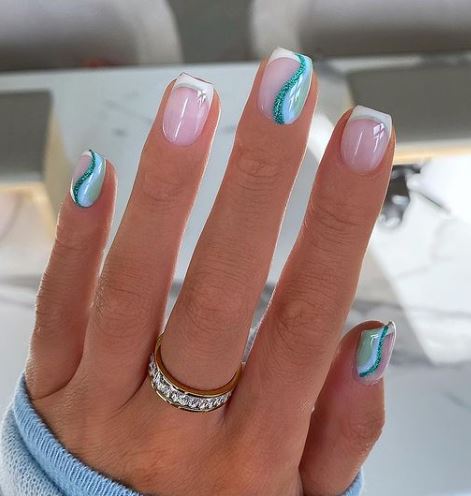 Image by @bysarah____ via Instagram
22. Beige and Florals Spring Nails
With just the right colors, this nail art is ideal for a fun spring. The pretty florals are drawn on a beige base and it's a reminder of the spring season approaching.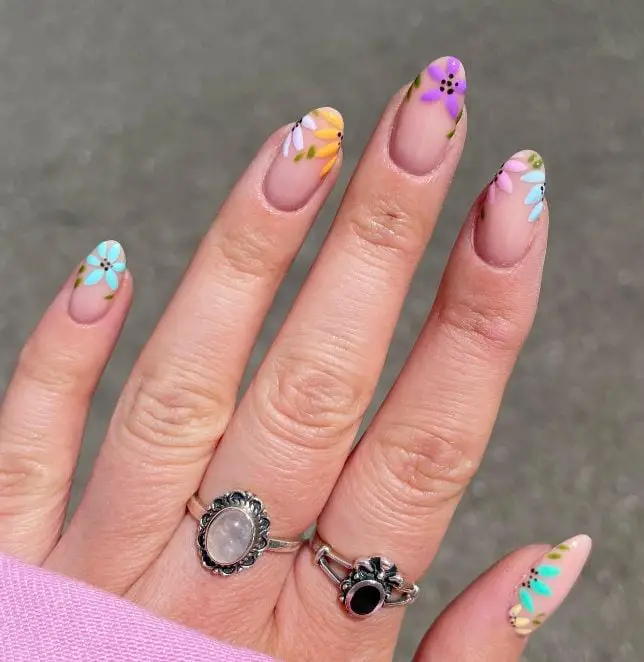 Image by @rachelsbeauty_ via Instagram
23. Navy and Beige French Mani
The clear topcoat used on this nude and blue tips acrylic nails gives it an amazing glow and appearance.
The metallic navy here is one of the prettiest shades of blue and it blends with the pastel color base paint of the nail in a captivating way.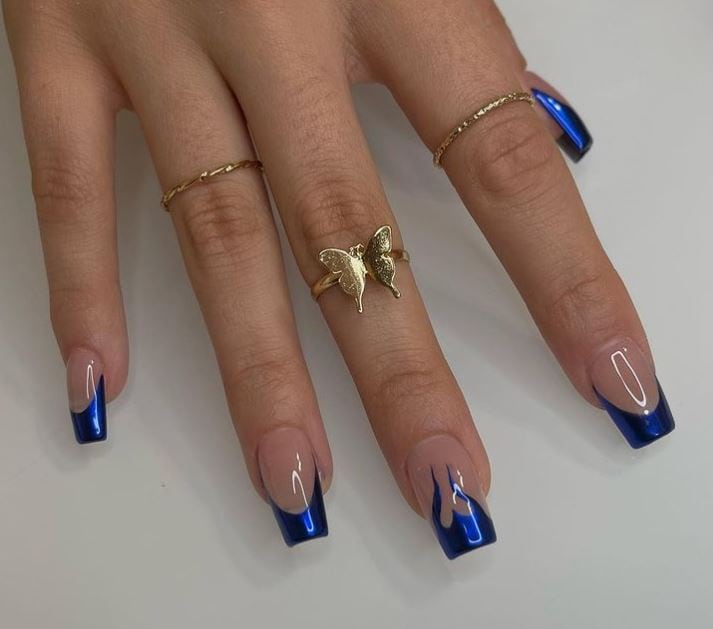 Image by @cosmicnailzz via Instagram
24. Ombre Spring Nails
Orange is a very nice color to choose for spring nails since it can be worn (especially in these pretty ombre nails) to match with different color outfits for spring.
You can wear these glam ombre nails to an evening event or any occasion you will like to shine during springtime.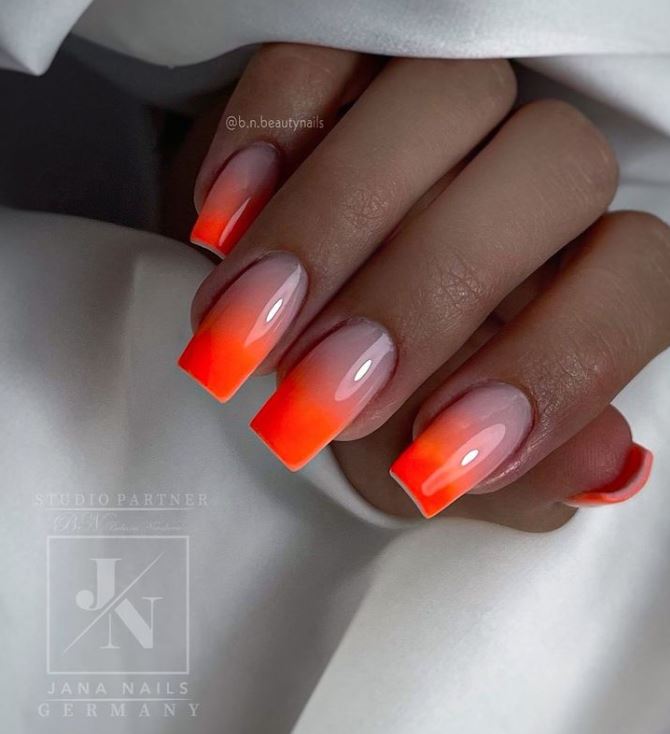 Image by @b.n.beautynails via Instagram
25. Deep Pink Frenchies
This pretty pink nail is simply stunning. It is easy to wear because it features similar soft colors applied with care.
My favorite feature of these spring nails is the dark pink tips with light pink swirls.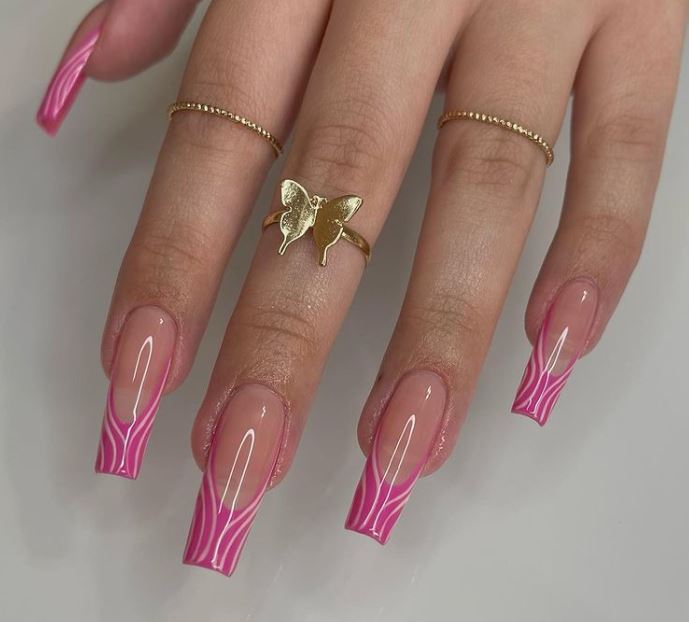 Image by @cosmicnailzz via Instagram
26. Cute Spring Nail Ideas
Don't you just love how the nails on the two hands differ in a fun way here?
One has beige nails with pink and orange tips while the other has blue tips with green faces instead of orange.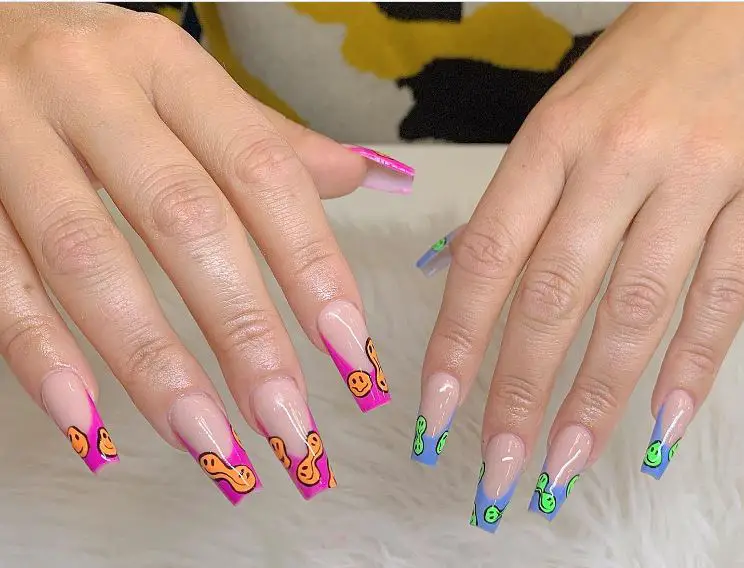 Image by @sara_tsan9 via Instagram
27. Sea Color Spring Nails
If you want a fun take on Easter nails, you should get this done. It is great for the season with glitter and pretty swirls.
I prefer this to be longer but it looks great if you are not a big fan of long nails.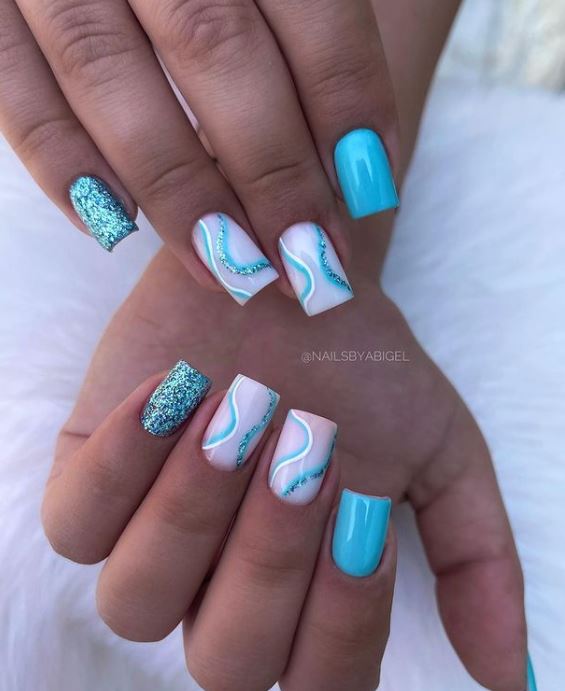 Image by @nailsbyabigel via Instagram
28. Turquoise Glitter Nails
Get this done if you need classy nails for a spring photo.
You should find a great nail artist to ensure that you get it done right. The butterflies on the pink base add a fun twist to the spring nails.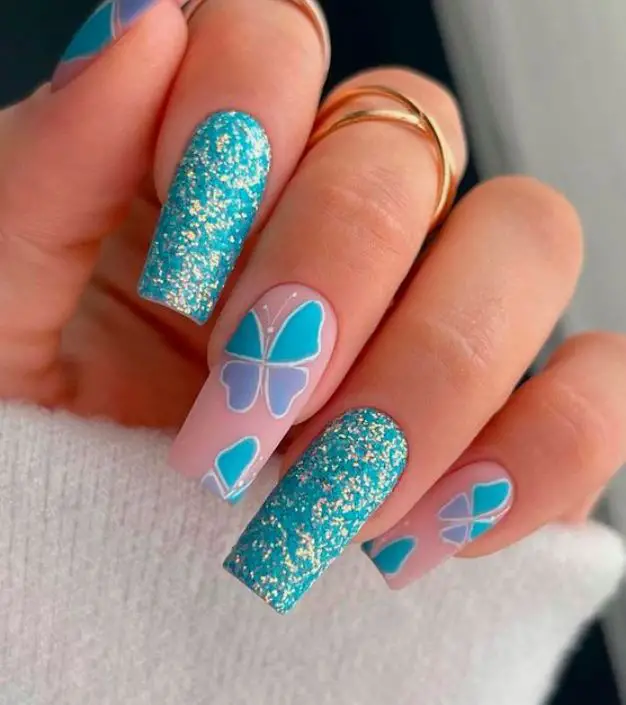 Image by @orange_516 via Pinterest
29. Subtle Rainbow Nails
This minimal mani is just how I like my spring nails.
It is all shades of pretty with a nice blend of colors to create a delicate yet eye-catching nail look that makes you dazzle in the sun.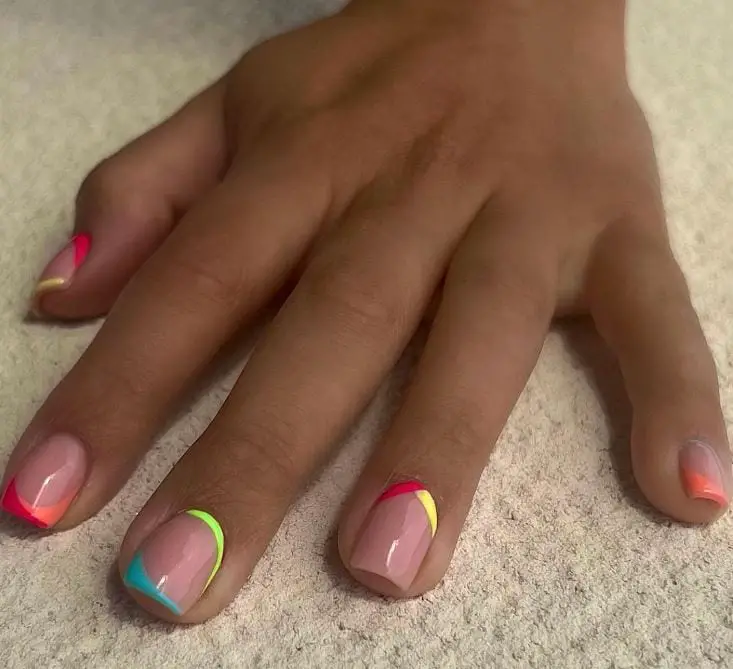 Image by @laurenfoynails via Instagram
30. Classic Nude, White, and Topcoat
White is timeless, and it can be worn perfectly in all seasons. Here, white is used on the tips of the nails. The nail is elevated by glitter and light orange lines on 2 nails.
This is an amazing nail for graduation to express your classy personality.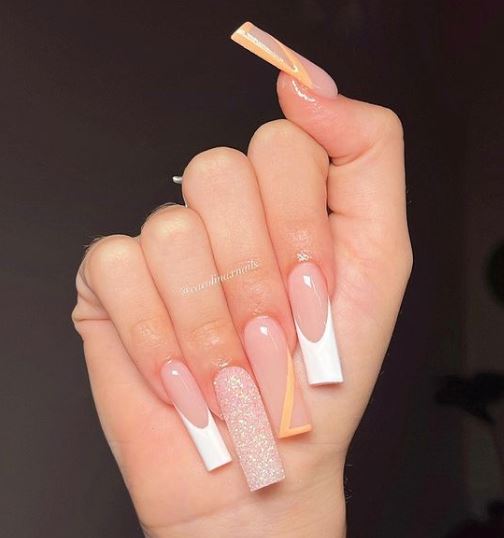 Image by @carolinaxnails via Instagram
31. Vintage Mauve
Need minimal and slick nails? Then you should get this done. It looks elegant and will be perfect for any occasion.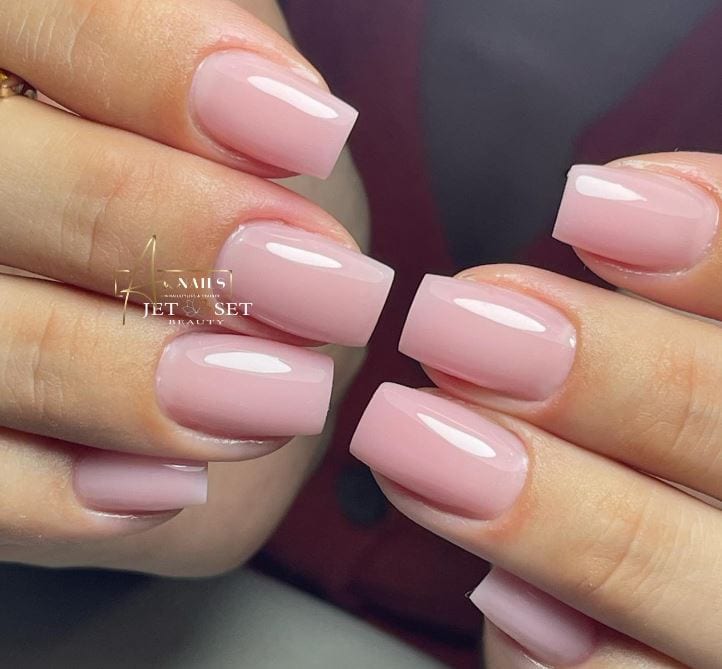 Image by @annailz via Instagram
32. Jewel Filled Spring Nails
Feel like you couldn't express your fiery nail personality throughout winter? Then you can break into spring with these exotic rhinestone-filled nails. The stones make the white tips of the nails glow.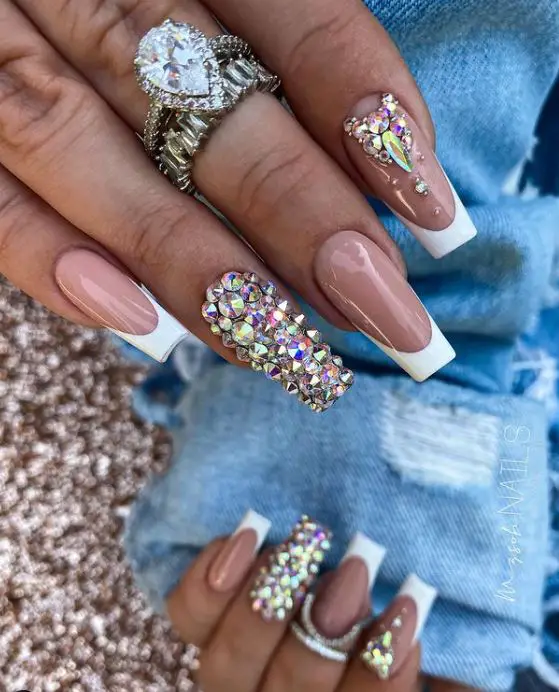 Image by @mzsofi__ via Instagram
33. Crocodile Nails
You should scroll past these pastels if you're not a daring baddie. These long nails will surely brighten up your mood.
You could add an accent nail covered in glitter if you want to shine brighter.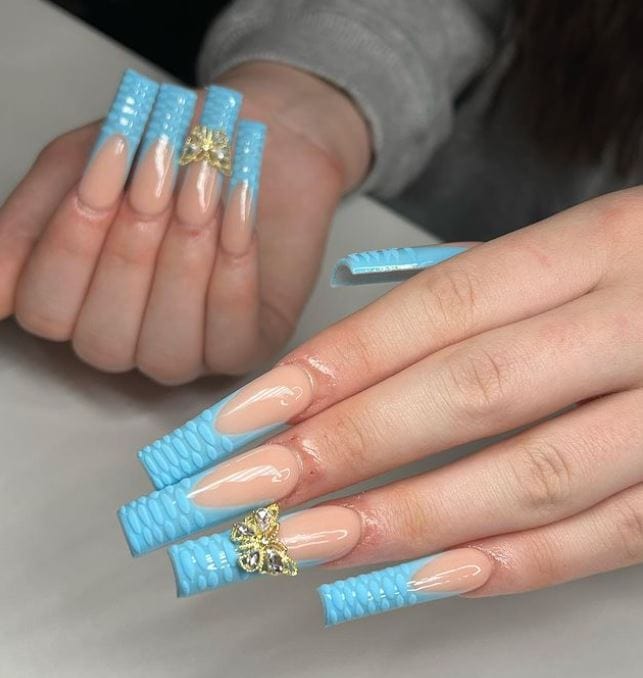 Image by @nailsbyalyssap via Instagram
34. Swirls Spring Nails
I am obsessed with the perfect swirls on these nails. The nail artist seamlessly blends the two colors, resulting in a dreamy finish.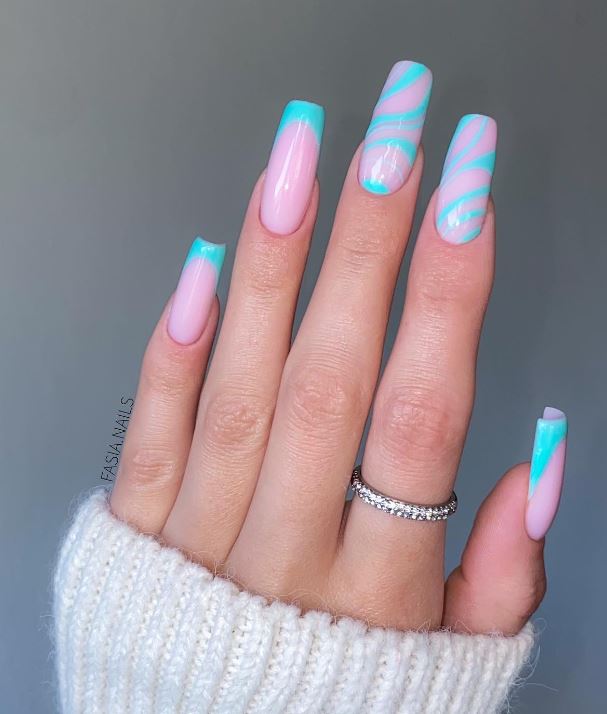 Image by @fasia.nails via Instagram
35. Matte Frenchies
You should replicate these smiley matte nails if you want to try something unique. This will also look great in a different color.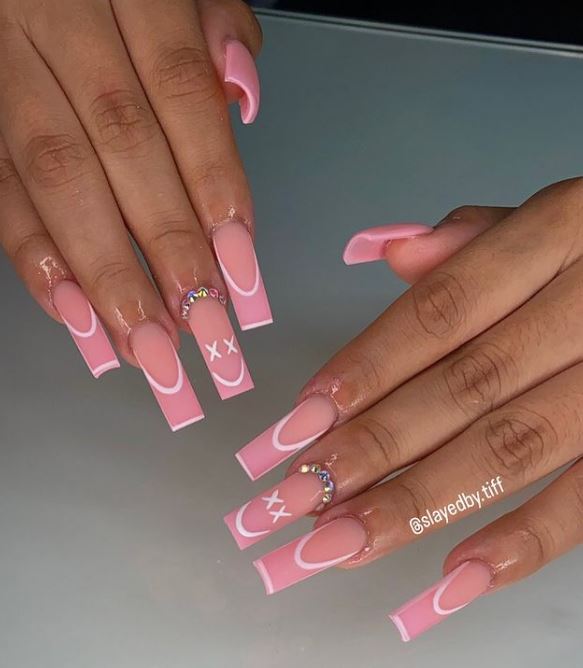 Image by @slayedby.tiff via Instagram
36. Neon Almond Spring Nails
Enhance your favorite monochrome outfit with these neon nails. The green and yellow make a statement in these stunning nails.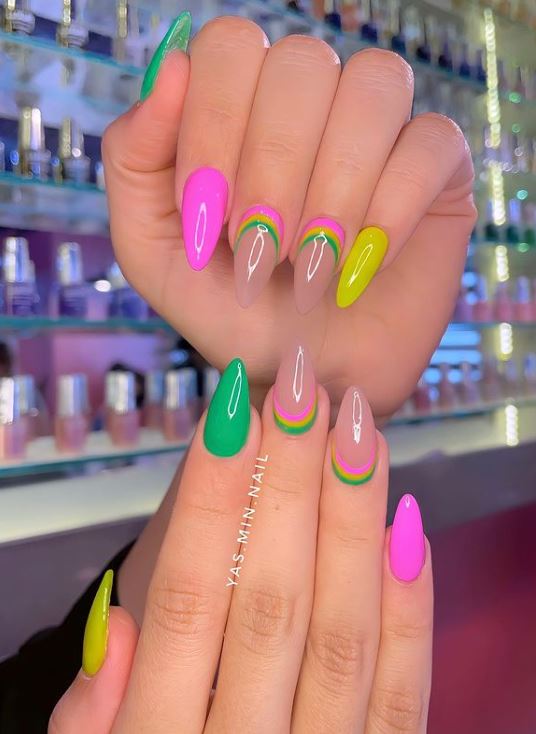 Image by @yas.min.nail via Instagram
37. Purple and White Florals
The best part of these alluring nails is the purple and white flowers that scream spring. You can attempt this in green if you prefer a darker shade.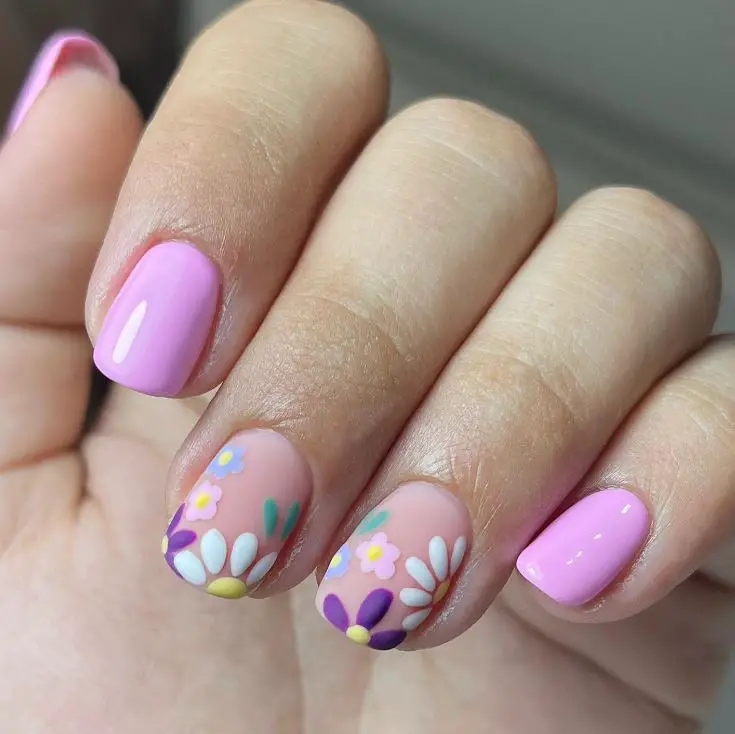 Image by @beautyhaven_byjodie via Instagram
38. Yellow Spring Nails
Step out looking bright as a daisy with these appealing yellow and white nails.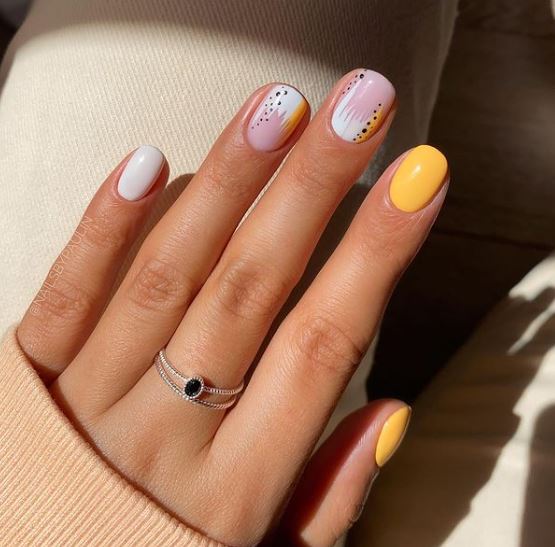 Image by @nailsbypaulin via Instagram
39. Monochrome Nails
These stiletto nails are a delicious baddie option for spring. It has a seductive high-fashion look and will be alluring in a photo.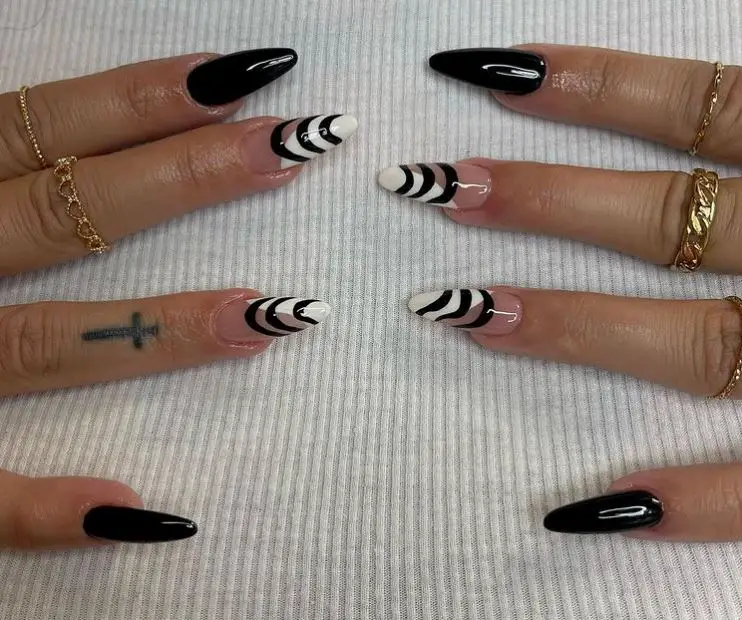 Image by @cosmicnailzz via Instagram
40. Baby Blue Manicure
Bring this nail design to life to elevate your daily look from basic to brilliant. It is created with a brilliant mix of pastels to create a delightful look. The nail will look nice in any photo.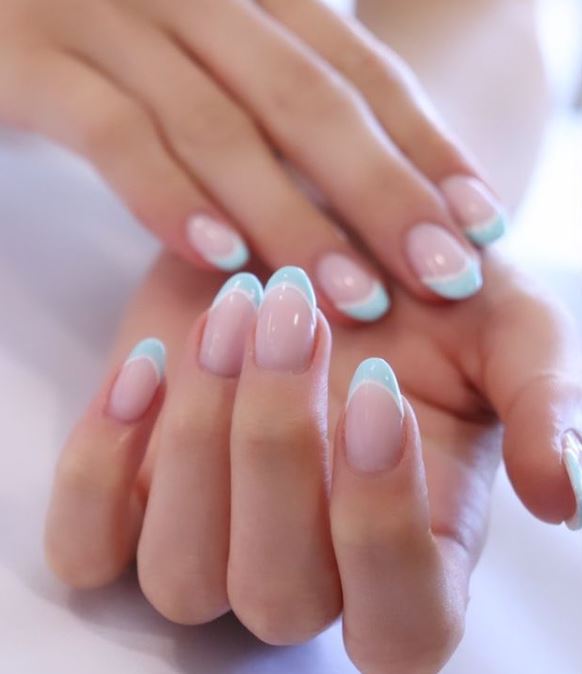 Image by @suelanailbeautysalon via Instagram
41. Lilac Daisies
Lilac is a lovely color for spring because it is soft and will match a lot of outfits. The daisies are added to enhance the nail look. You can get this for casual glam for spring.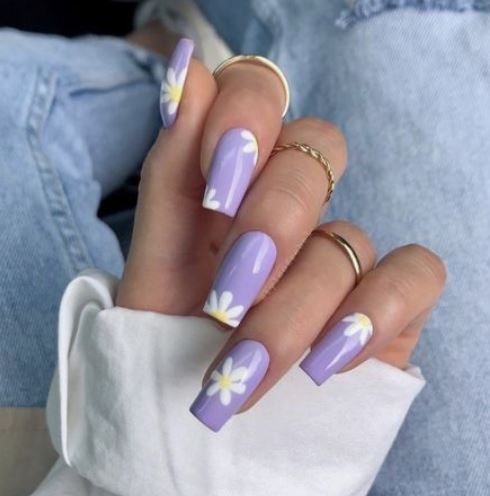 Image by @suyapat via Pinterest
42. Mint Green Spring Nails
These mint green nails with 3D flowers are perfect to enhance your look and outfit. It can be worn for any occasion due to the softness of the tone.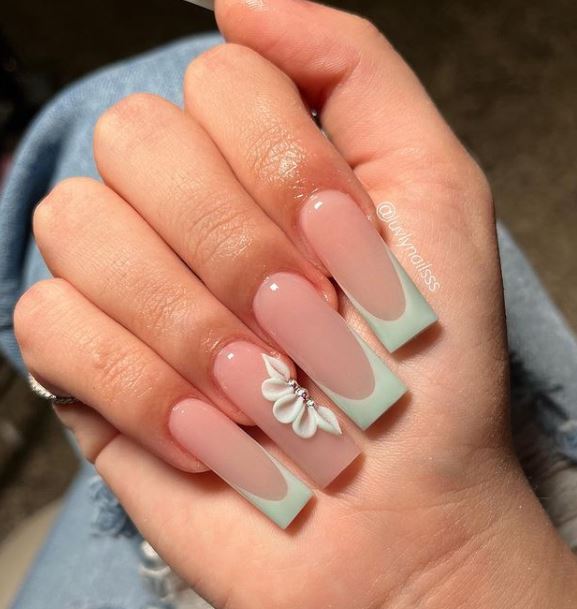 Image by @luvlynailsss via Instagram
43. Heart and Sunset
Step out looking bright with this crazy fun nail set. I love how the shape and sunset motifs of the nails make it look fun.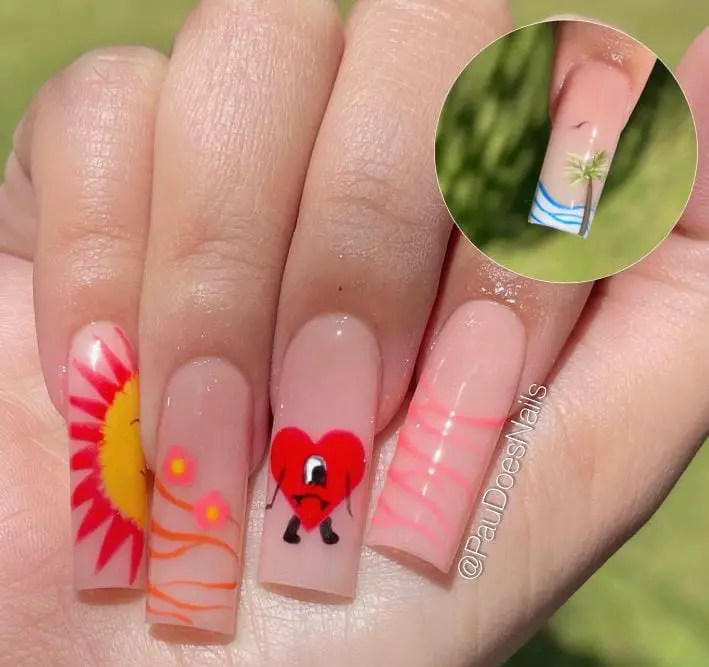 Image by @paudoesnails via Instagram
44. Turquoise Nails
Dots, swirls, and gold decals. These fashion nails are all you need to create a glam look.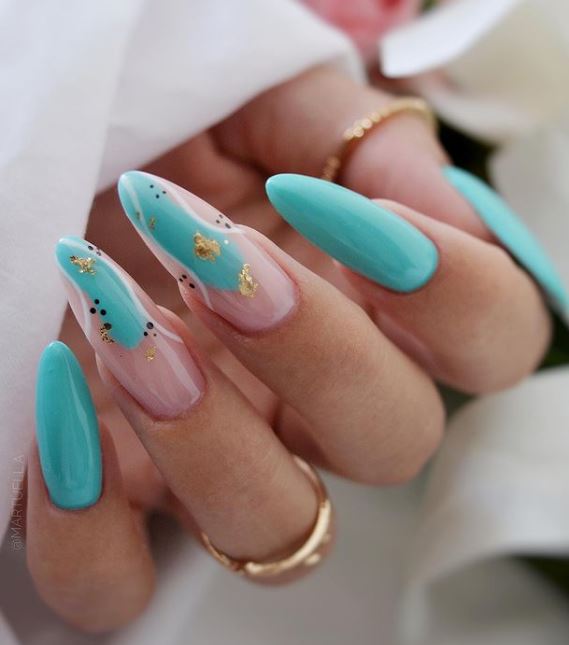 Image by @martuell.a via Instagram
45. Flames Spring Nails
The purple flame and tips of these nails are a beauty to behold. This nail is great for a spring party.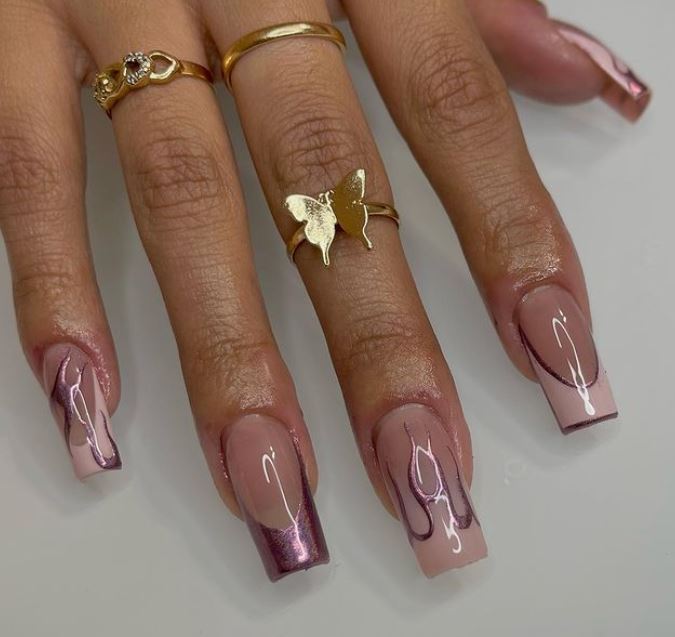 Image by @cosmicnailzz via Instagram
46. Orange Spring Nails
Go all out with these orange tip nails with flowers on each finger. A shiny topcoat is used to coat the nails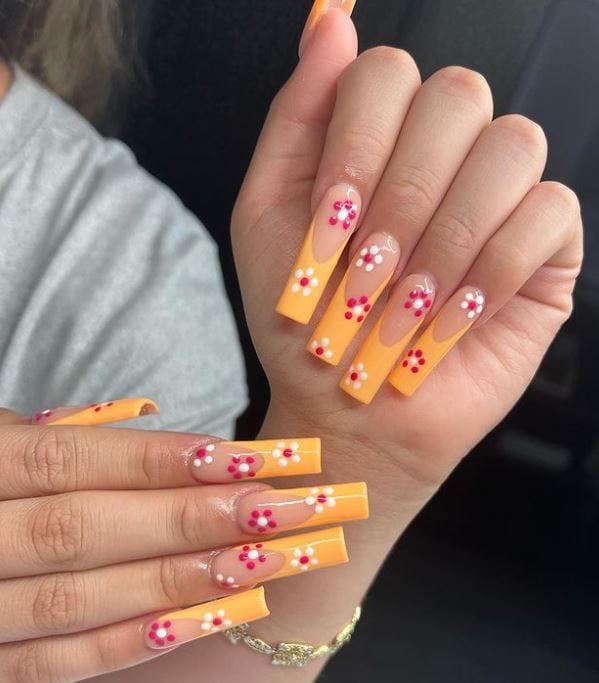 Image by @nailsbyalyssap via Instagram
47. Magical Spring Nails
These magical nails are stunning. You can dazzle if you have a spring wedding coming up. The 3D petals, small stones, and clouds nail make it elegant and suitable for a wedding.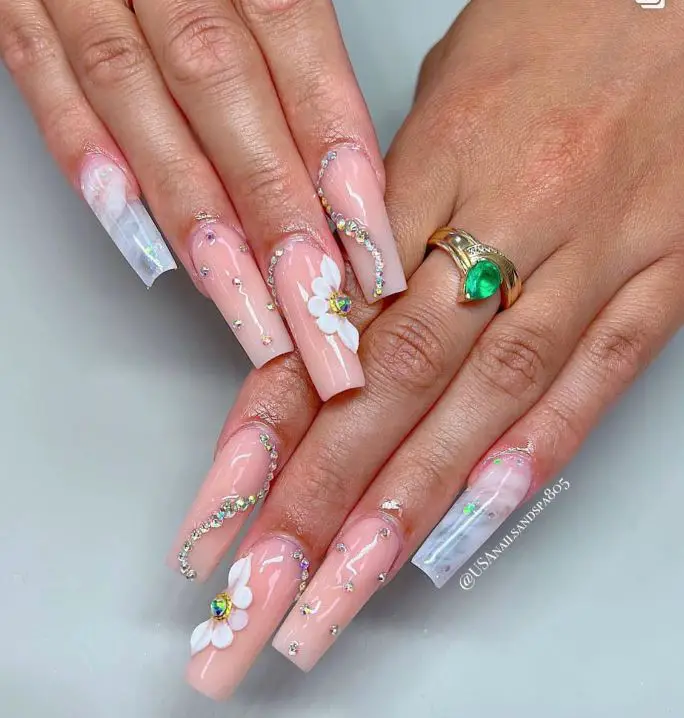 Image by @pinkie.nails_bymisa via Instagram
48. V-tips Nails
V-tips and jewels: show me a badder combination. These nails will pair perfectly with a monochrome outfit due to how bright it is.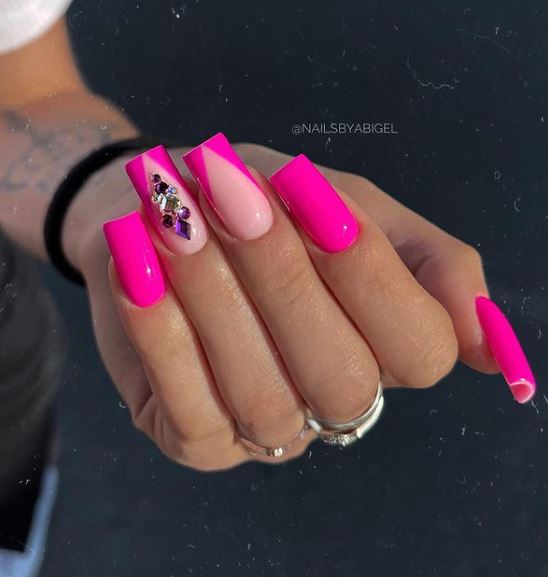 Image by @nailsbyabigel via Instagram
49. Jewels and Petals
This enchanting nail looks like it was created in nail heaven. It has iridescent jewels that create sparkles that are sure to have you basking in non-stop compliments wherever you go.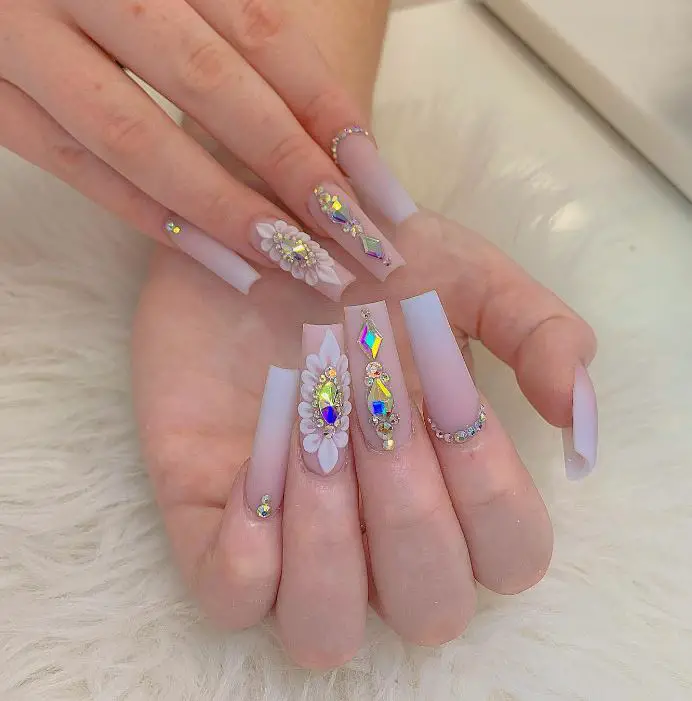 Image by @sara_tsan9 via Instagram
50. Lilac Smileys
The smiley accents added to this nail are fun. The eyes on the white accent look like it was done with a dotting tool. Get this to add a cute touch to your nails.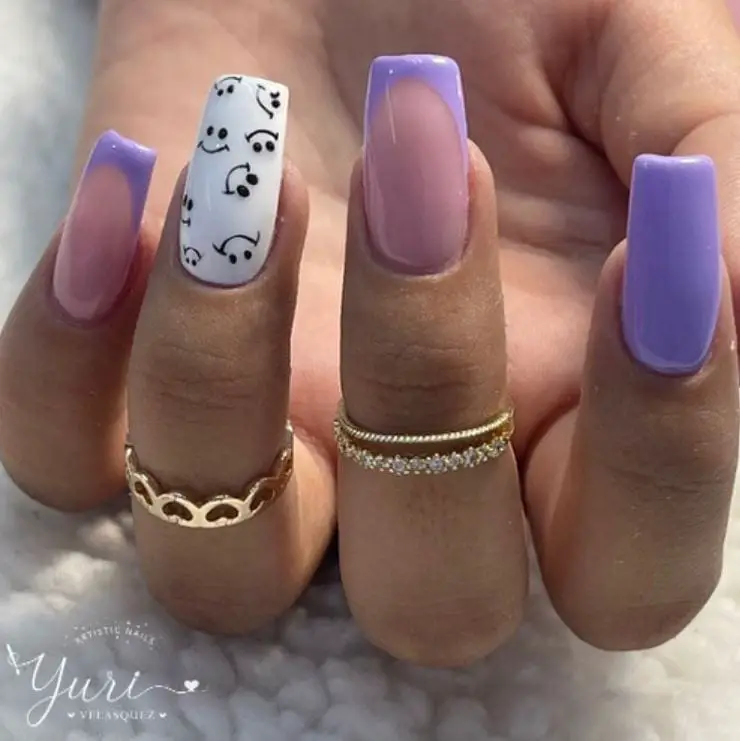 Image by @yurivelasquez_an via Instagram
51. Royalty
This look is fit for royalty. If you need a high fashion and expensive look or want to stand out in the crowd, you should get these breathtaking nails done.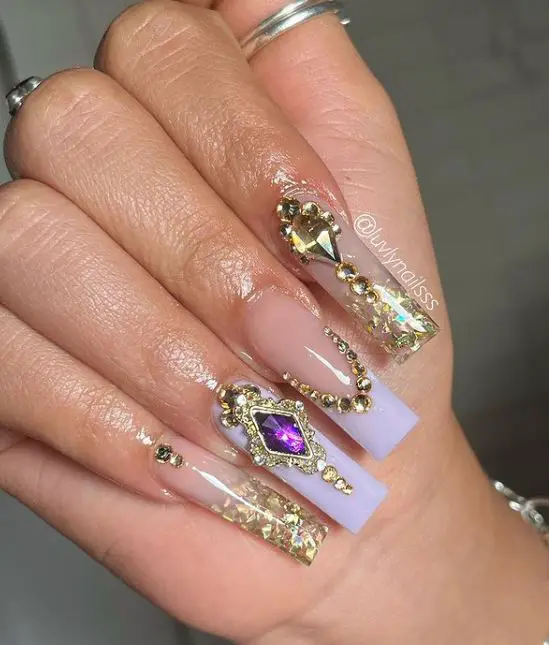 Image by @luvlynailsss via Instagram
52. Mint Frosting Nails
This minimal mani is a deliciously feminine option if you want to glow on the low. Glitter can be used to achieve a similar look as the decals.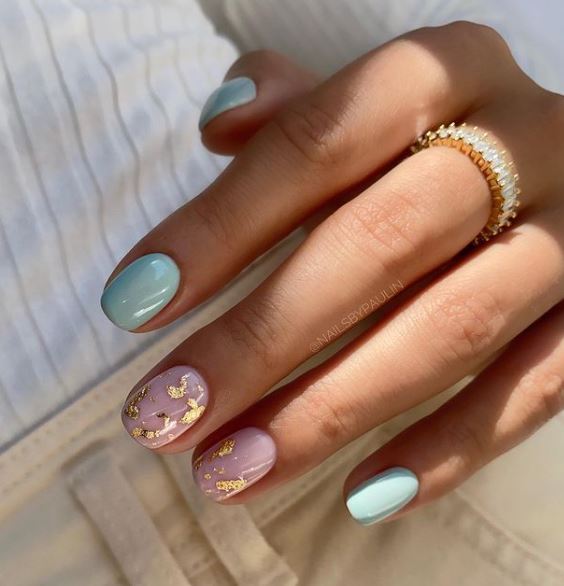 Image by @nailsbypaulin via Instagram
53. Rainbow Spring Nails
You can never go wrong with rainbow nails. The charming ombre rainbow will go with any outfit from dark to shiny.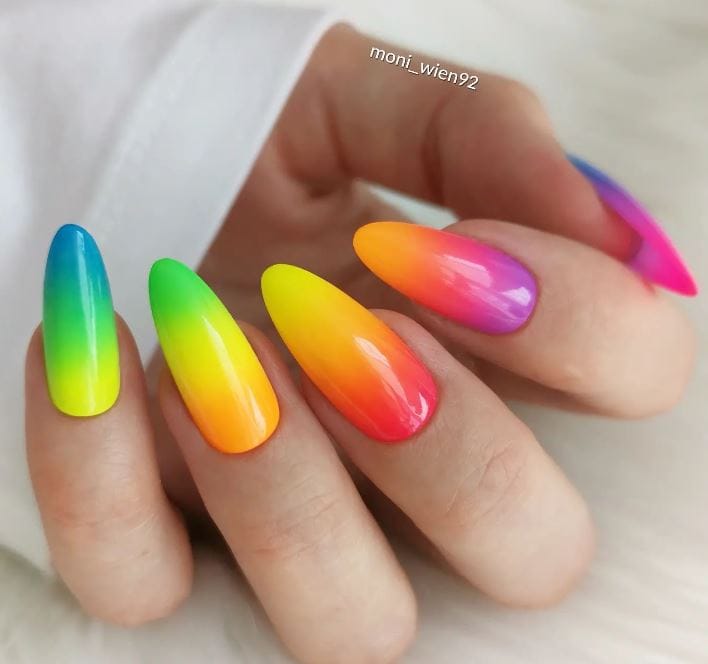 Image by @moni_wien92 via Instagram
54. Yellow and Wheat
This subtle nail look will have you in a good mood for spring. You should get this done to switch up your look and get all revved up for spring.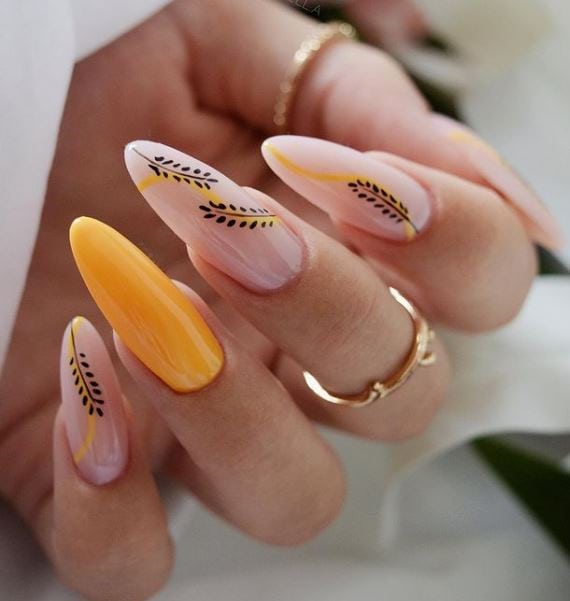 Image by @martuell.a via Instagram
These are just a few amazing spring nails you can refer to for inspiration. Just pick your favorite and enjoy your spring.