Getting a turquoise blue manicure is sure to brighten up your summer. What I love most about turquoise blue nails is how it makes you stand out regardless of your skin color.
To keep your turquoise mani beautiful and exciting, you can add rhinestones, creative art, and other bright colors. For example, getting a mix of turquoise and teal nails. Adding glitter is also a great way to enhance the look of your turquoise nails.
To ensure that you don't run out of options for turquoise nails, here is a list of 55 creative and elegant turquoise nails curated just for you.
55 Stunning Turquoise Nail Designs
1. Turquoise Nails with Heart Design
These turquoise nails have some teal and white color combination with gold stones and a heart design on the third nail.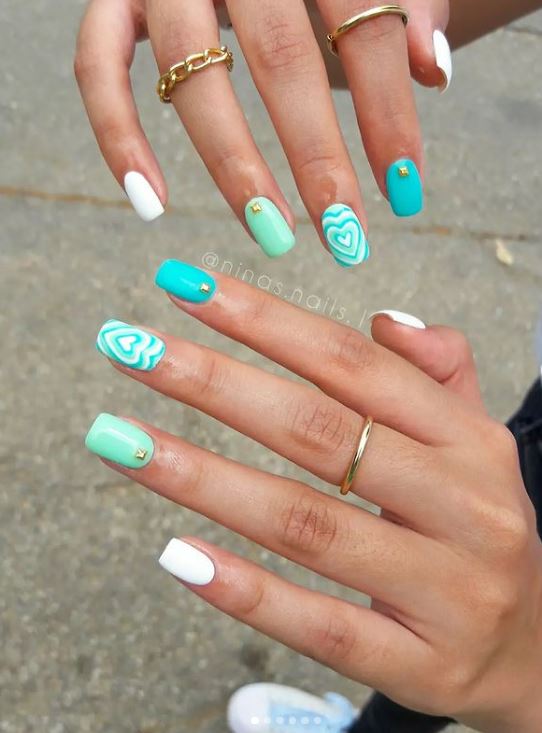 Image by @ninas.nails.1 via Instagram
2. Long Turquoise Coffin Nails
Cute coffin nails with pretty rhinestones plus nude and turquoise blue with smokey effect on the ring finger nail.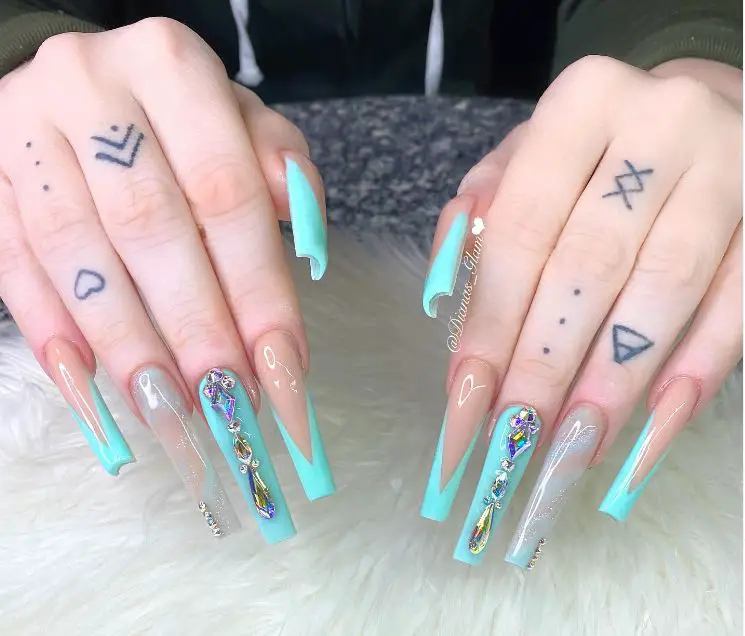 Image by @dianas_glam via Instagram
3. Almond Turquoise Nails
These almond nails with floral ocean design and turquoise nail polish are lovely. The turquoise nail art is mature, chic, and girly.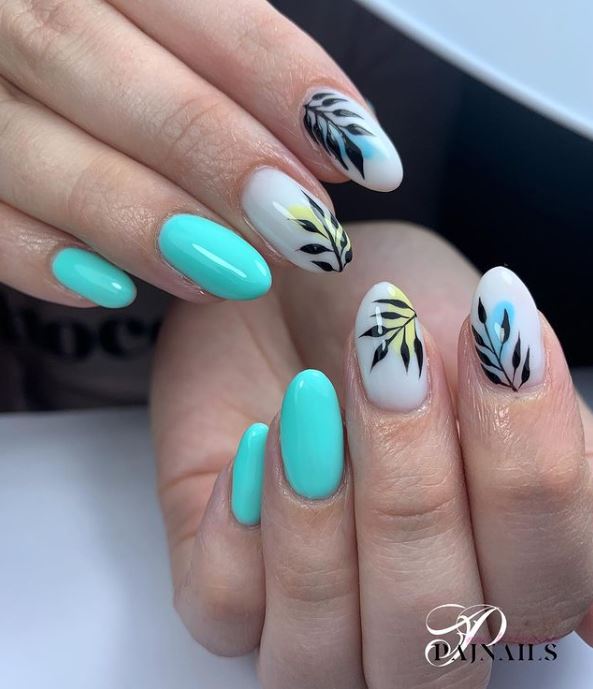 Image by @pajnails_ via Instagram
4. Turquoise Stiletto Nails
Glossy stiletto nails with white sea designs. Doesn't this look heavenly?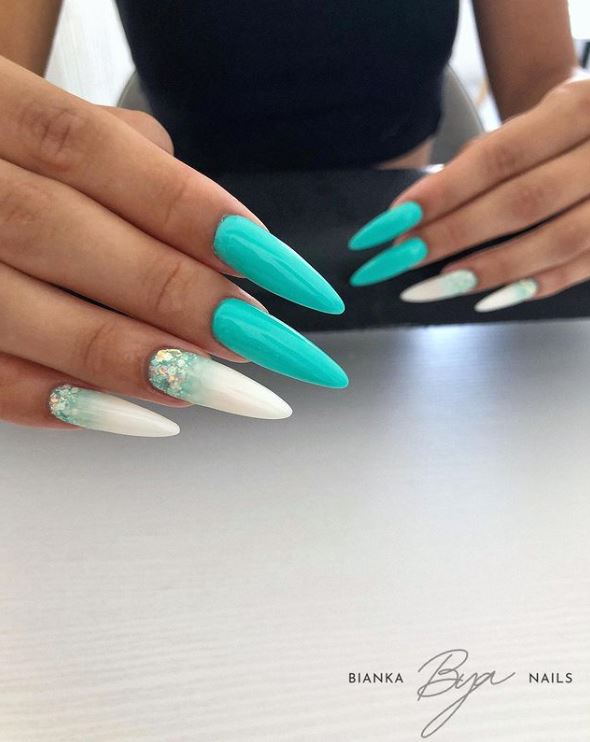 Image by @bya.nail via Instagram
5. Unique Turquoise Manicure
Unique stiletto nails with leafy gold designs and tortoise back designs. This summer nail design evokes a feeling of nature.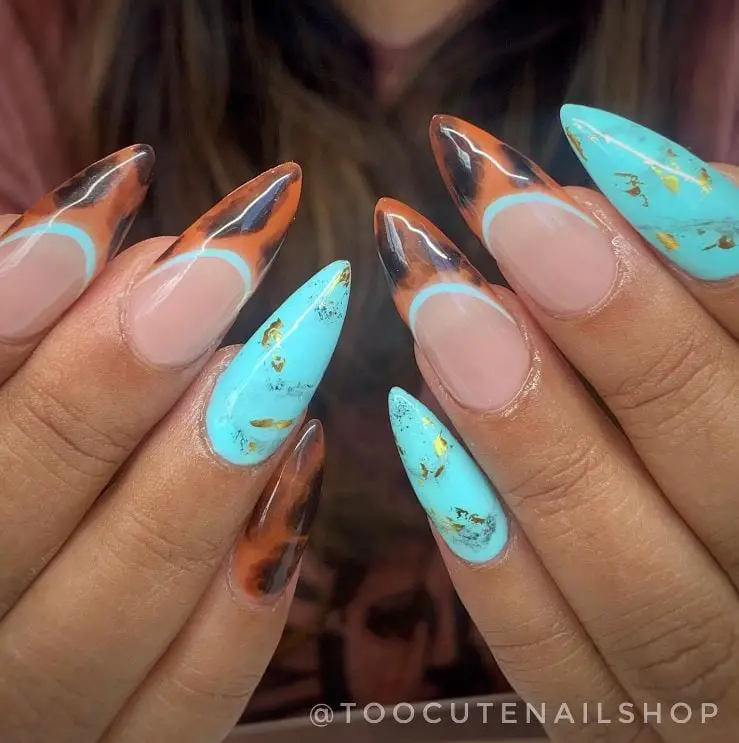 Image by @toocutenailshop via Instagram
6. Dark Turquoise Nails
Short, turquoise nails with a palm tree design and glitter. If you find other shades of turquoise too bright, this shade is the perfect balance.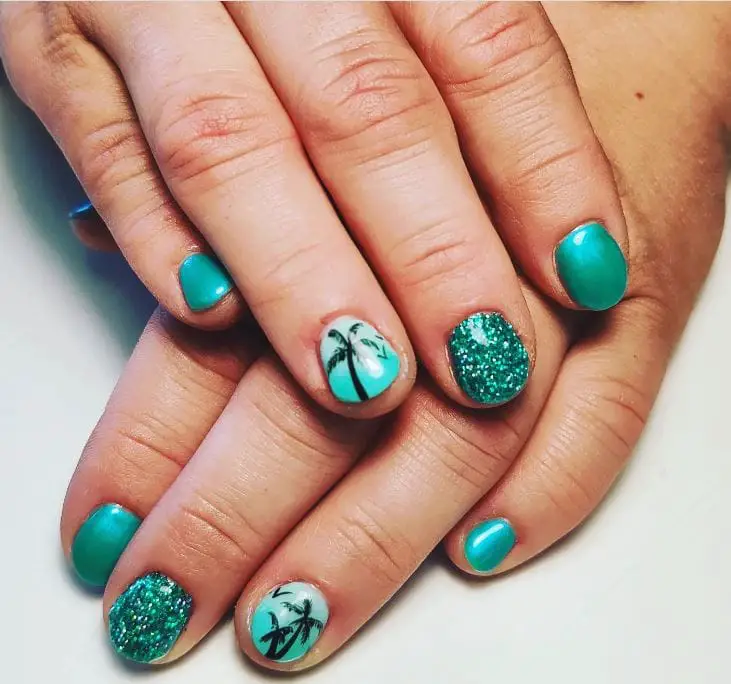 Image by @lamanucurie_ via Instagram
7. Cute Turquoise Nails
Almond gel nails that are designed with flowers, lovely black freckles, and yellow nail polish.
Image by @kej.hybrid via Instagram
8. Short Gel Nails
Simple, short nails with a glossy finish. This nail design transcends the summer season.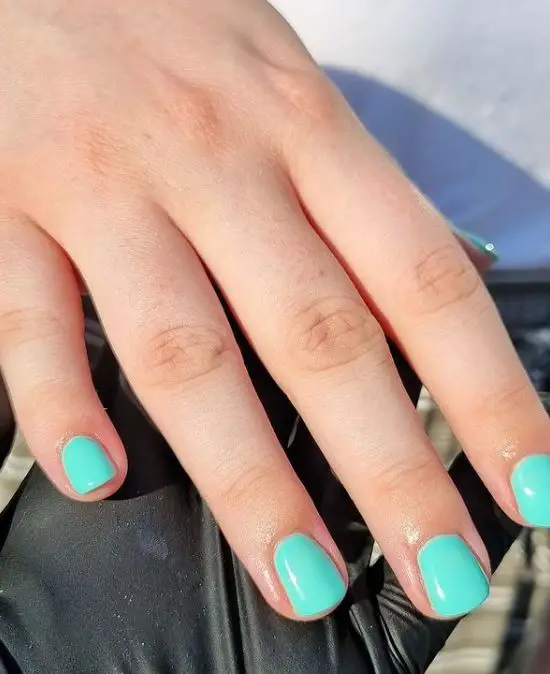 Image by @theivyden via Instagram
9. Turquoise Nails with Pink Star Design
These short, cute nails have a pink star design which makes them colorful and beautiful.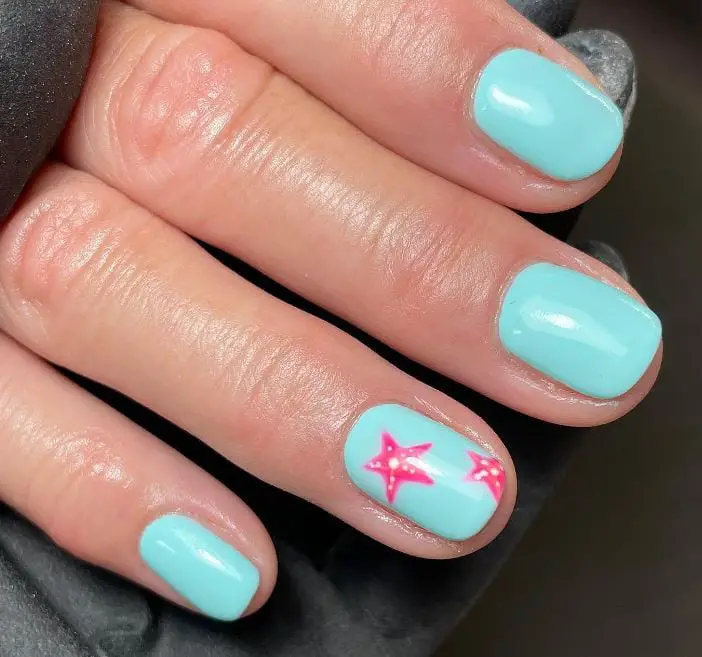 Image by @nails.by_chloe via Instagram
10. Glittery Turquoise Nails
Would you rock these turquoise nails with glitter on the ring finger? You should. Short nails are classy in their way. This nail design is simple yet beautiful.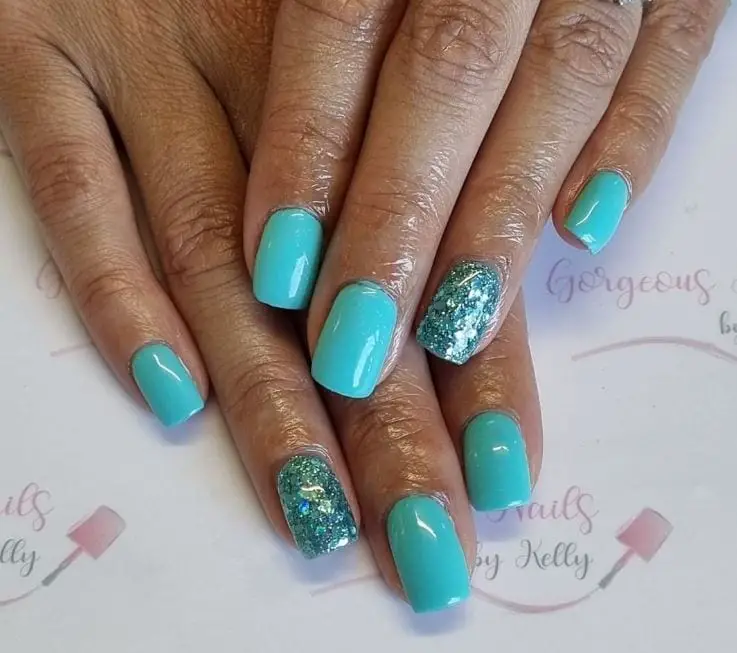 Image by @gorgeousnailsbykelly via Instagram
11. Turquoise Nails for Summer
Short, turquoise nails with smiley faces and cherry designs. This fun nail art can lift your mood on gloomy days.
Image by @nailartbycrystal via Instagram
12. Plain Turquoise Manicure
You can wear this design to incorporate summer vibes into your nail art and appear professional. It's simple, with the nail polish giving it a shiny finish.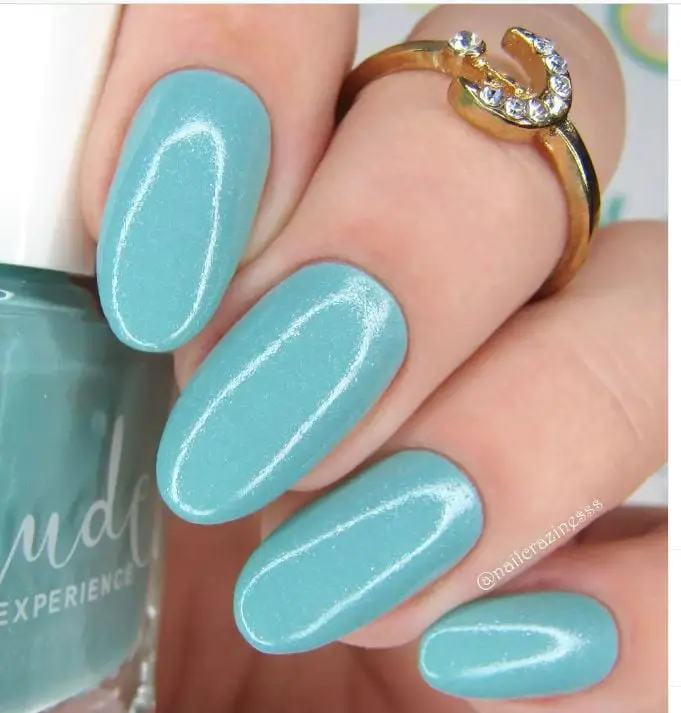 Image by @nailcrazinesss via Instagram
13. Short Coffin Manicure
This turquoise nail art has a cute, milky design with lovely glitter that looks amazing.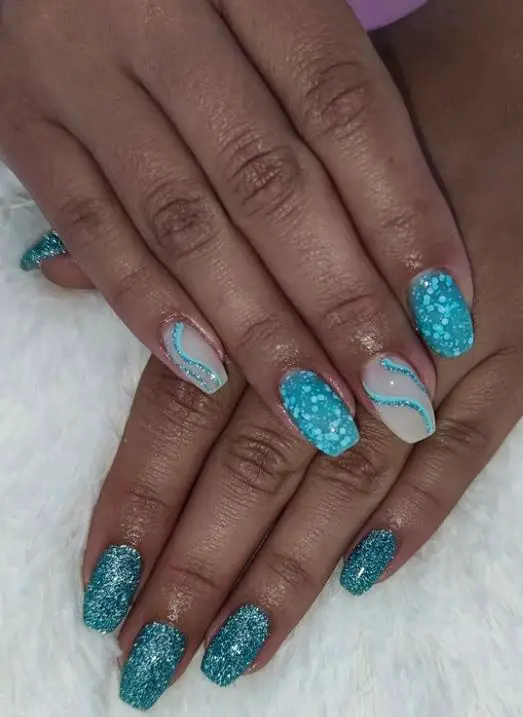 Image by @szilvaszalon via Instagram
14. Turquoise and Teal Nail Art
This lovely nail art has a combination of white, teal, and turquoise nail polish on different fingers. The rhinestones on the ring fingernail add some elegance to the design.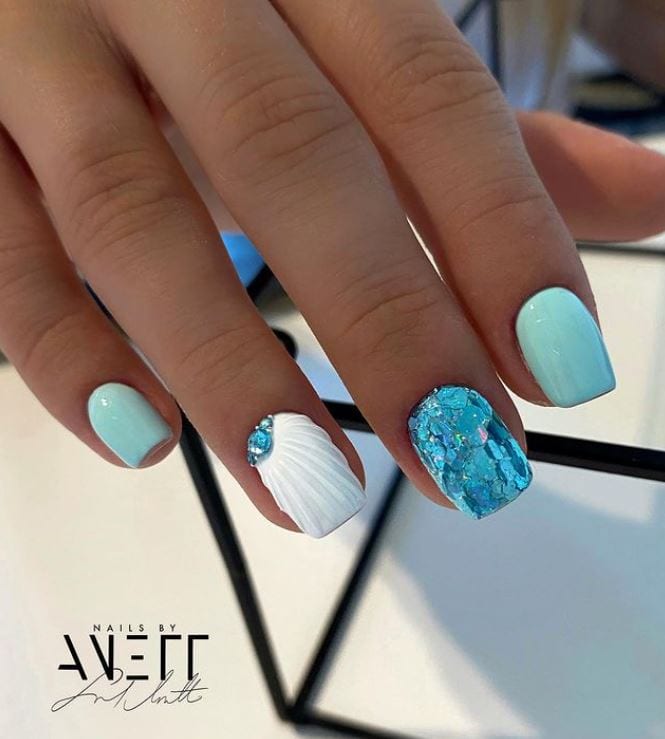 Image by @l.anett.nails via Instagram
15. Almond Peach and Turquoise Nails
Nail designs with two colors stand out majestically. This nail design has turquoise nail polish, and peach color on different fingers which is lovely.
The beautiful spiral design on the fourth nail elevates the look.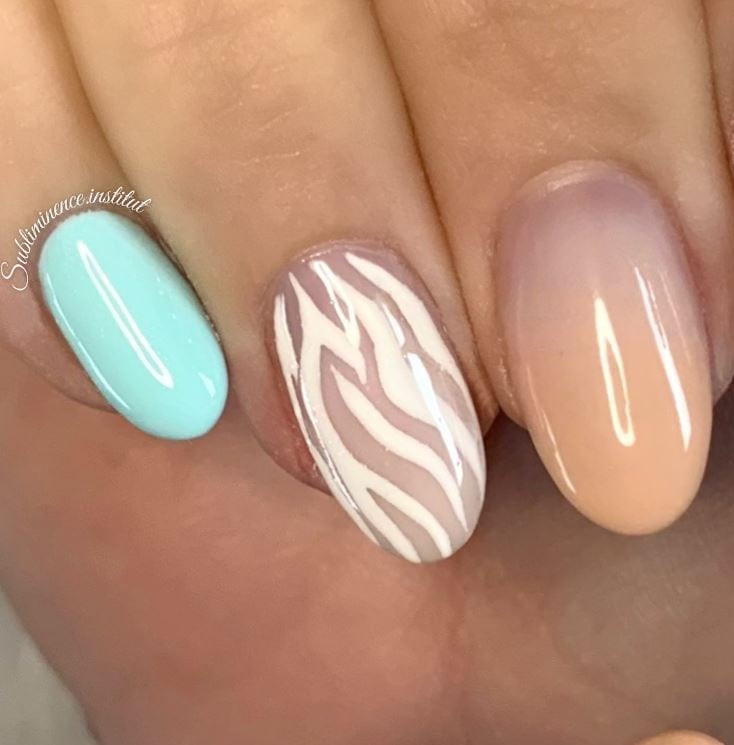 Image by @subliminence.institut via Instagram
16. Short Turquoise Nails
These short, turquoise nails with mint design stand out. The glossy teal nail polish on the last nail adds a fun look to the whole nail design.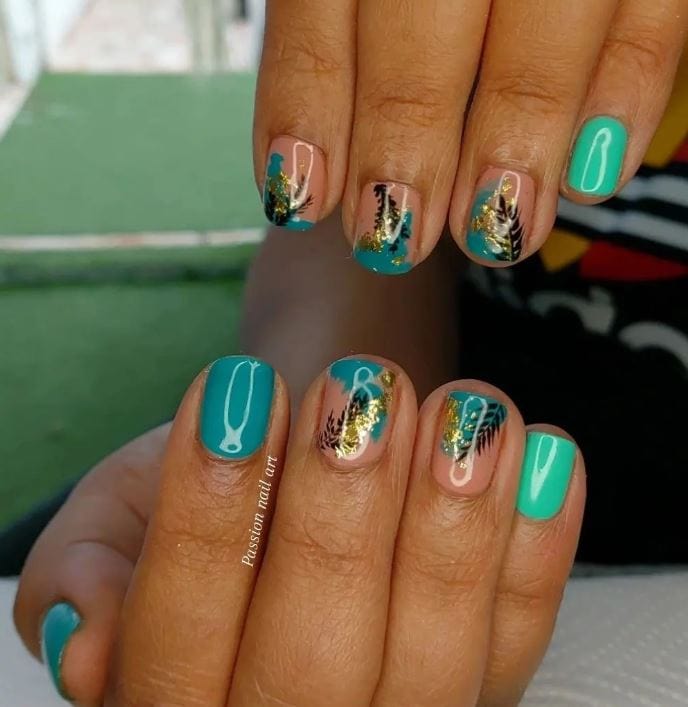 Image by @passion_nail_art_studio via Instagram
17. Stunning Turquoise Nails
A cute manicure with glossy turquoise polish and gemstone on the ring fingernail.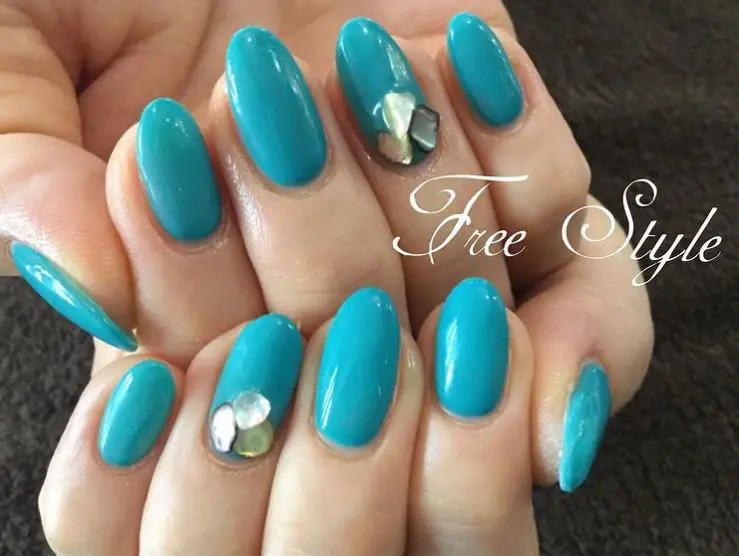 Image by @nailsalon__freestyle via Instagram
18. Feminine Summer Manicure
Creative nail designs with a pretty stone and glitter. Combining colors make the nail design perfect.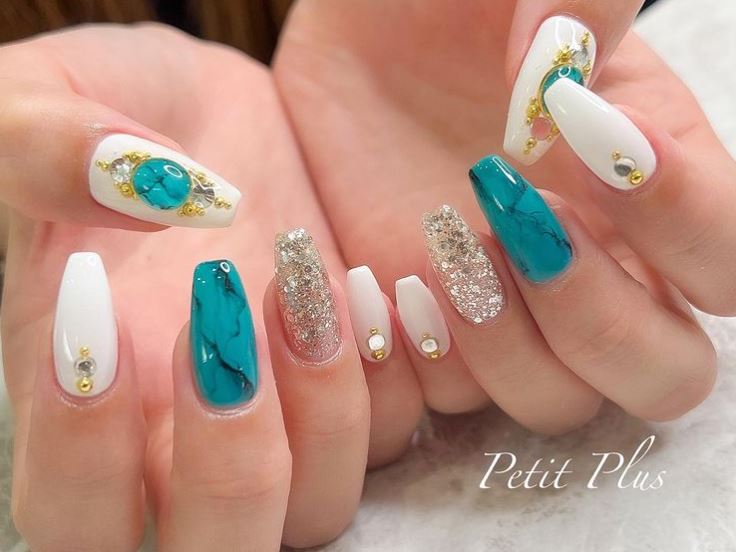 Image by @petit_plus via Instagram
19. Girly Teal Nails
These teal nails look so cool and perfect for summer. It has teal designs on nude and is beautifully adorned with a stone on the thumb, index finger, and small finger.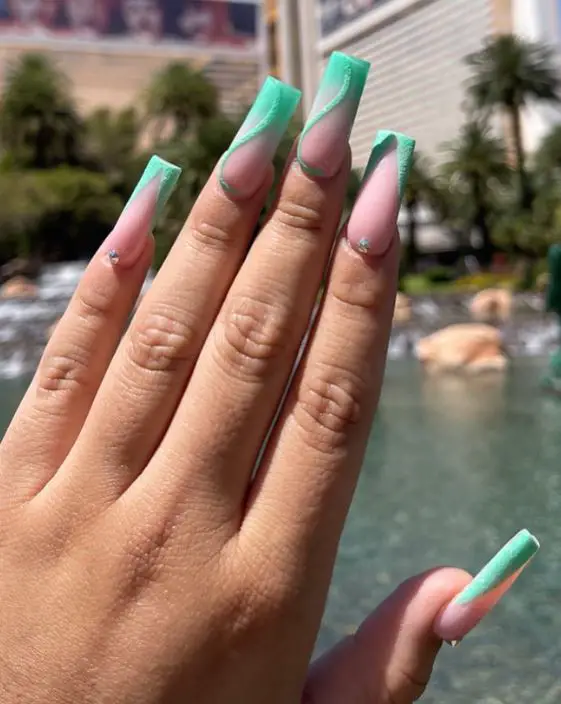 Image by @yajairaxxnails via Instagram
20. Long Turquoise Frenchies
Long, light pink nails with turquoise french tips.
Image by @milasnailstudio via Instagram
21. Short Turquoise Nail Design
These short, turquoise nails with pink nail designs are a lovely combo.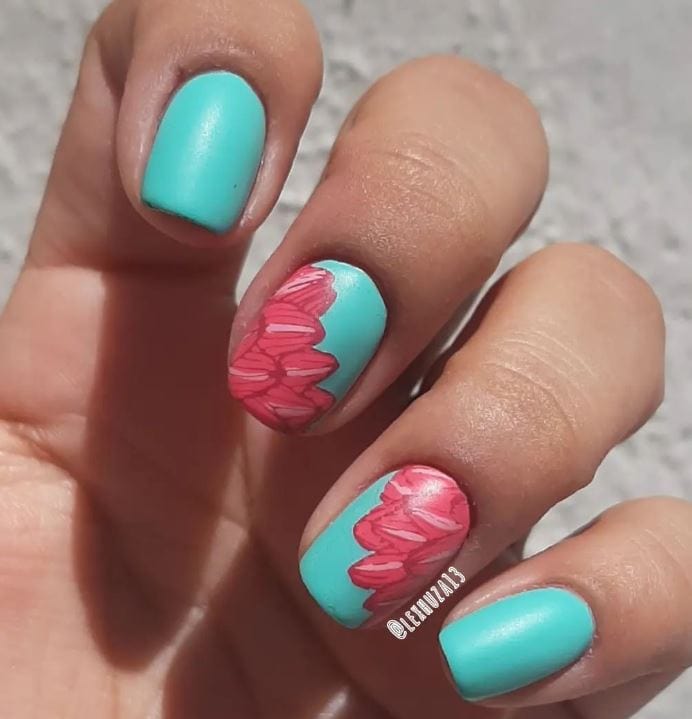 Image by @lexhuza13 via Instagram
22. Nails with Matte Polish
Turquoise nails with a beautiful accent pattern and black freckles.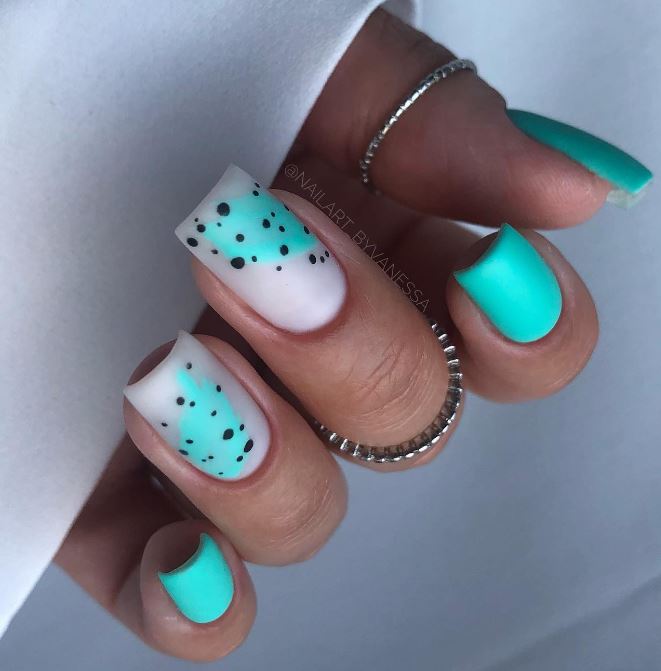 Image by @nailart_byvanessa via Instagram
23. Turquoise and Orange Nails
These nail designs are unique. The uncommon embellishments give the turquoise and orange nails a feeling of royalty.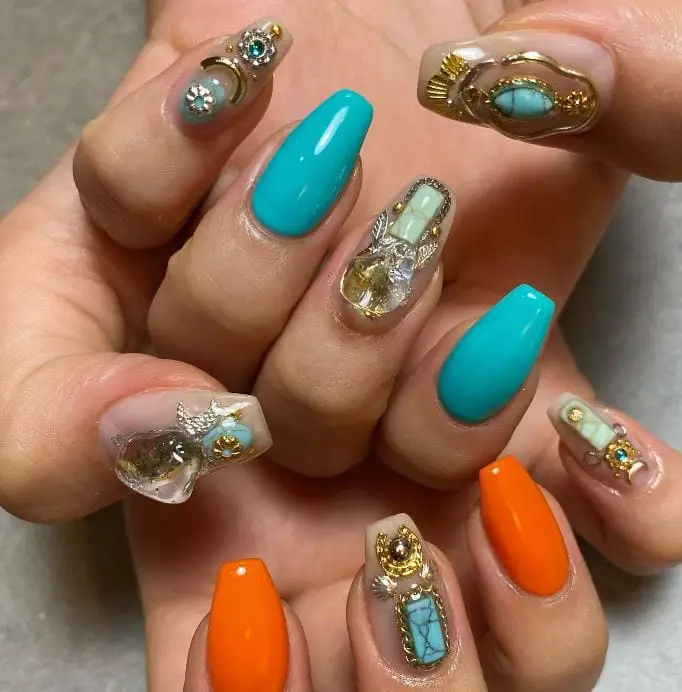 Image by @villa_soulian via Instagram
24. Colorful Nail Designs
These turquoise nails look more colorful because of the turquoise paint added to the tip of the nude-pink polish.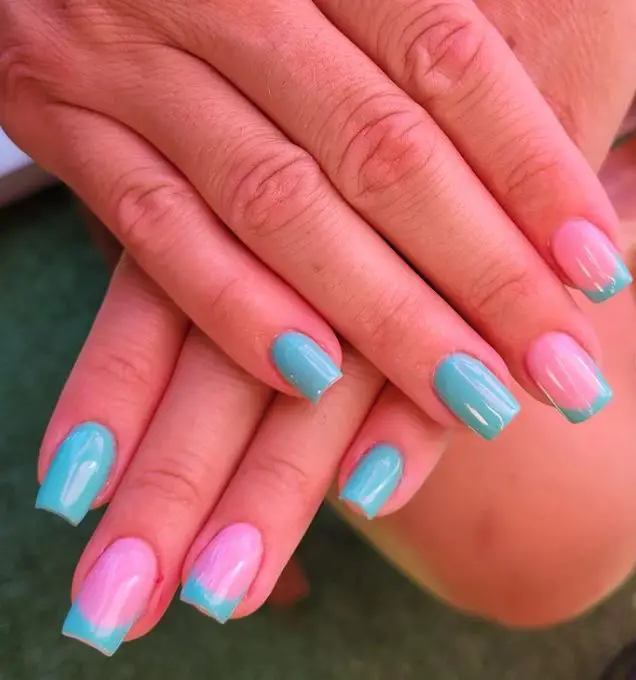 Image by @elenail_art__ via Instagram
25. Acrylic Blue Nails
This long, sky blue on nude nails is a lovely mix. The glossy finish makes it even prettier.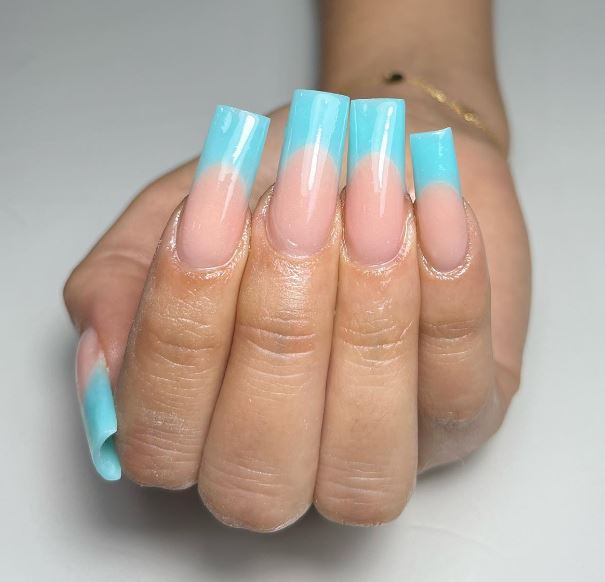 Image by @elabelladeruzafa via Instagram
26. Short Almond Nails
Short, almond nails with silver stones on the ring finger.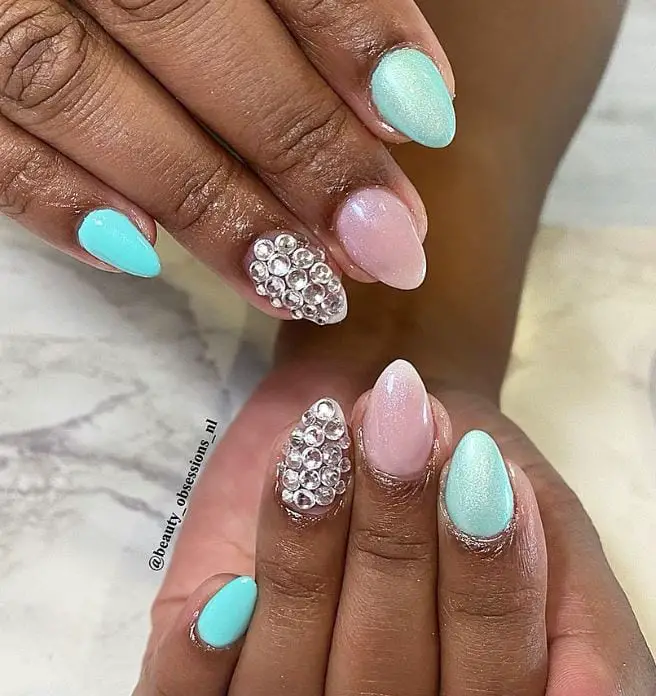 Image by @beauty_obsessions_nl via Instagram
27. Simple Turquoise Nails
These simple, square nails are perfect for corporate workers who want to maintain a professional, classy look.
Image by @cosmojai via Instagram
28. Gorgeous Nail Art
These gorgeous turquoise nails are heavenly. I love the cute design on the third and fourth fingers.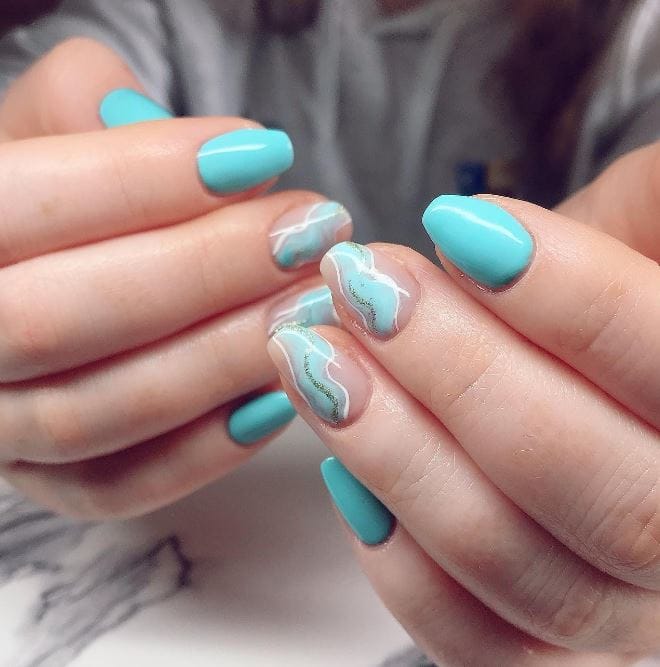 Image by @heavenlynailsbypatrycja via Instagram
29. Colorful Summer Nails
This is breathtaking! The design has turquoise and pink nail polish with green, yellow, orange, and purple colors to form a lovely pattern.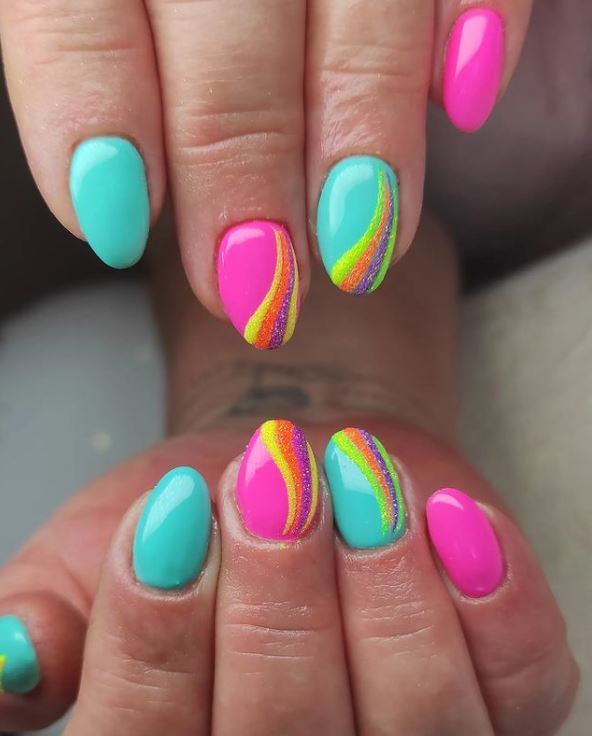 Image by @erzsebetkrupa via Instagram
30. Subtle Glossy Nail Art
Need a simple and lovely manicure? This is for you. The glossy polish sits perfectly on the nails, giving them a pretty shine.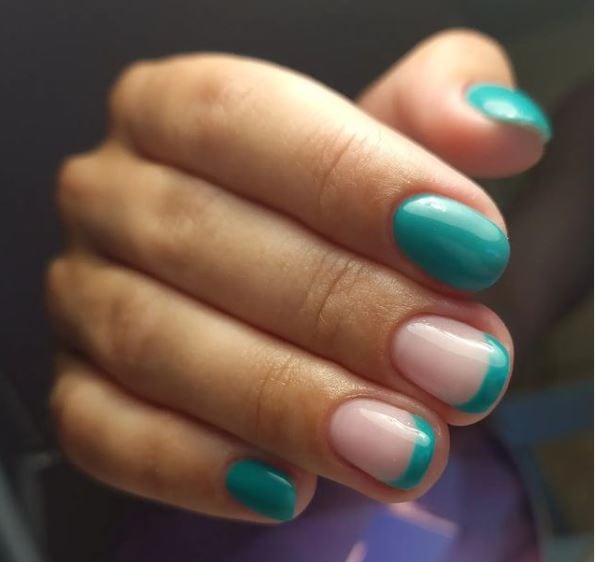 Image by @silvestuudio via Instagram
31. Blue Glitter Nails
Glitter nails are common but what makes all the difference in this design is the white acrylic flowers on the ring fingernail. It's absolutely stunning!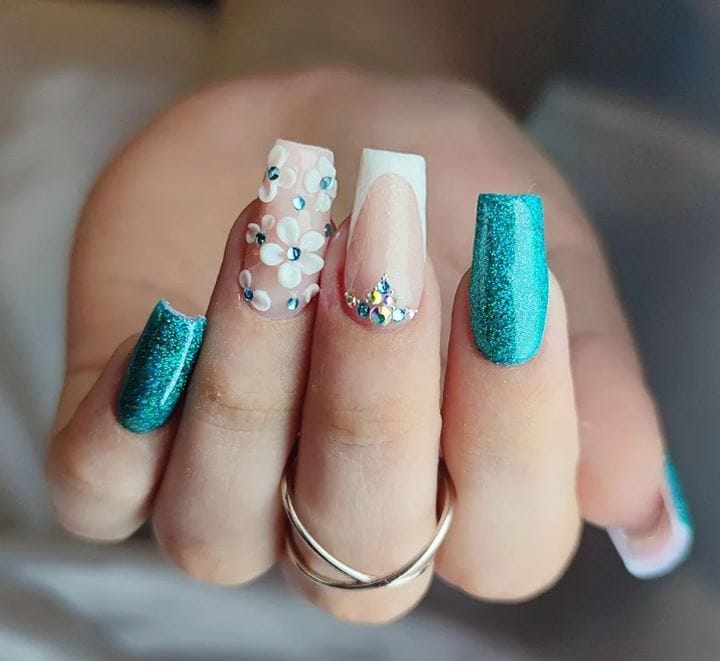 Image by @viktoriaanails via Instagram
32. Natural Nail Designs
Glossy nude polish on natural nails with turquoise blue tips.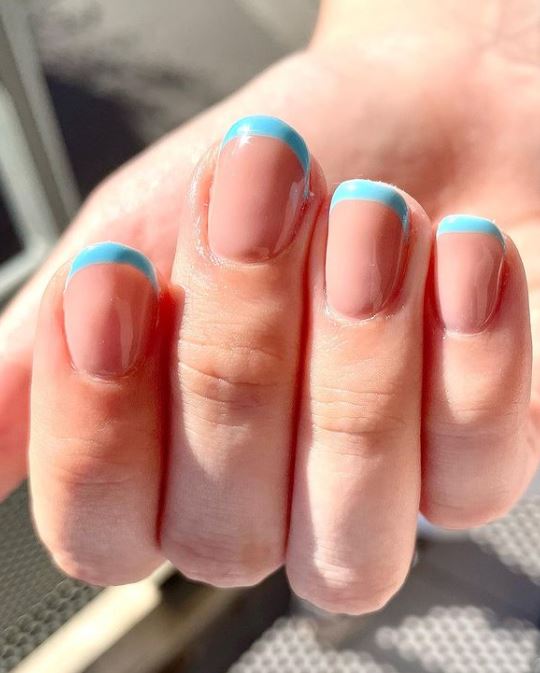 Image by @mnails.34 via Instagram
33. Green Summer Nails
Matte nails with a faint black palm tree design. Imagine taking a photo by the beach in a sexy bikini with these lovely matte nails. It's also perfect for work.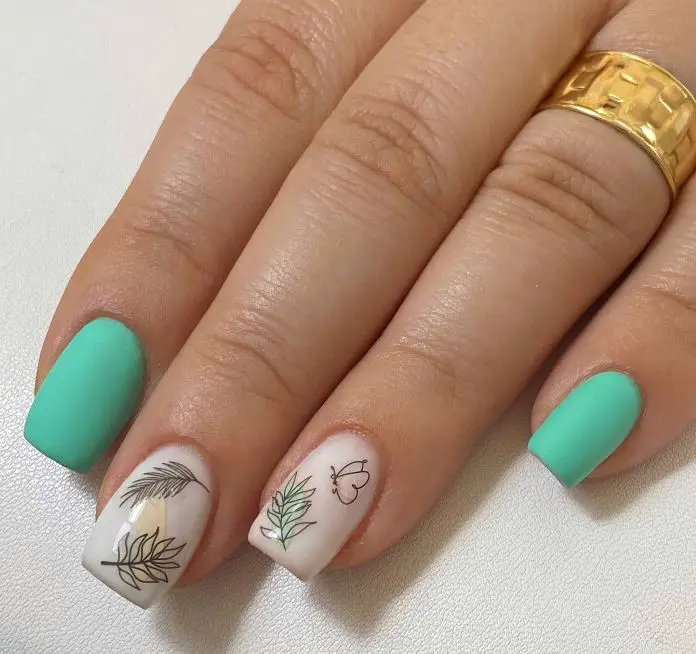 Image by @oh.happy.nails via Instagram
34. Lemonade Nails
Lovely blue nails with a yellow gradient on thumb and ring finger. It has a lovely lemon design with cream paint on it.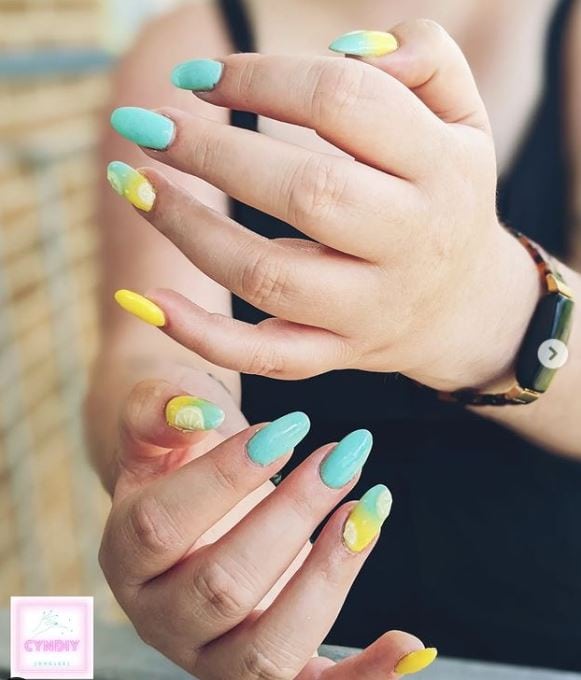 Image by @c.y.n.d.i.y via Instagram
35. Mojave Color Street Nails
These color street nails have a lovely combination of blue, white, and copper-gold.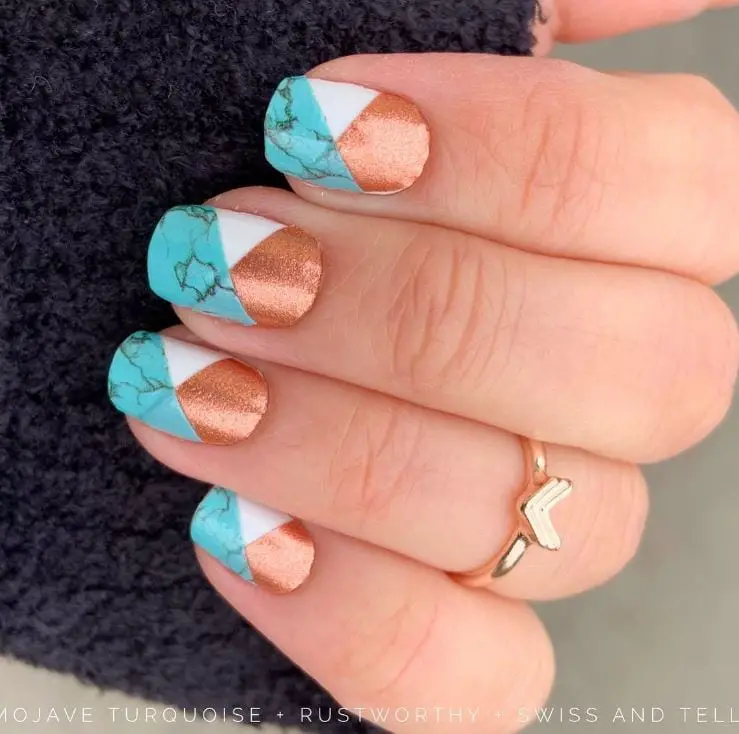 Image by @curves.and.contour via Instagram
36. Turquoise Rhinestone Nails
Celebrate 30th July (friendship day, ps: you're welcome) in style with your friend by getting these stunning nails with beautiful rhinestones and glitter.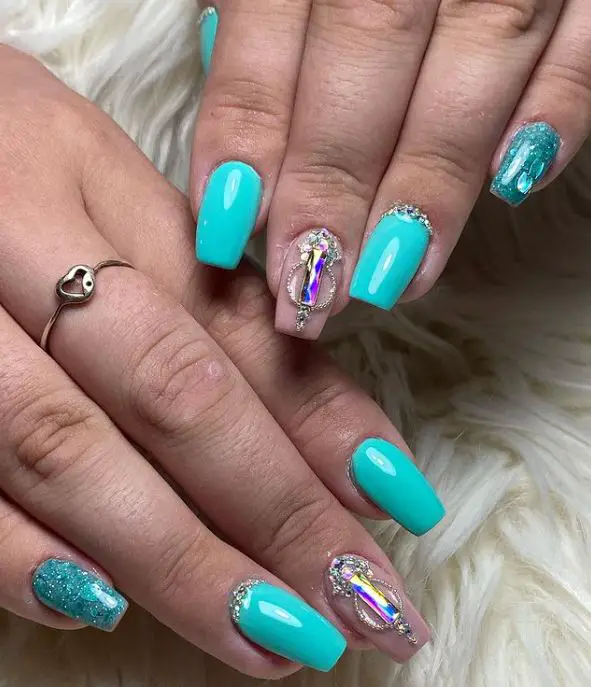 Image by @dancsanails via Instagram
37. Milky White Stiletto Nails
Milky white stiletto nails with an ocean design. Imagining this look on my fingers makes me want to book a nail appointment today.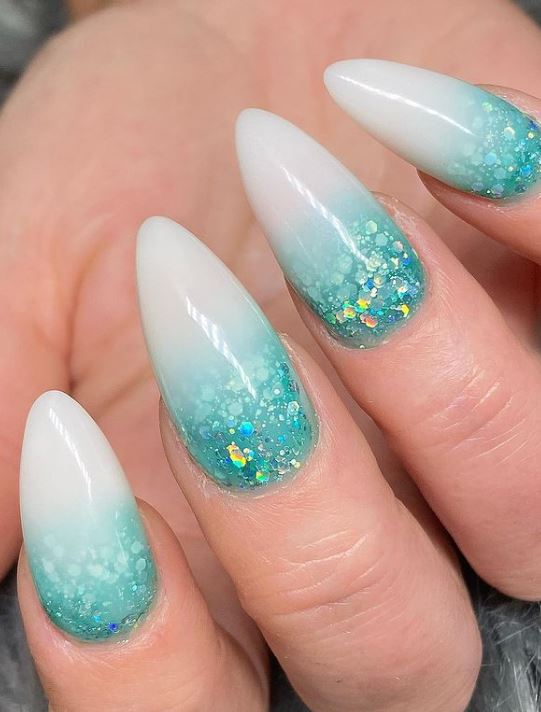 Image by @hmnaildesign via Instagram
38. Glittery Nails
These summer nails are simple yet classy with faint glitter. It's sure to add elegance to your appearance.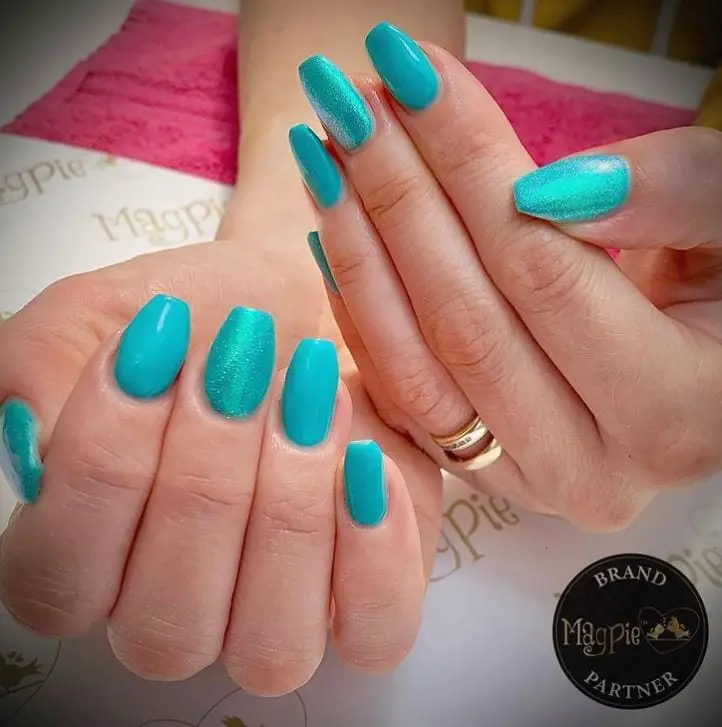 Image by @asprettyas_nailsbykelly via Instagram
39. Swimming Pool Nails
Short-length nail art with swimming pool design and glossy nail polish. It looks great.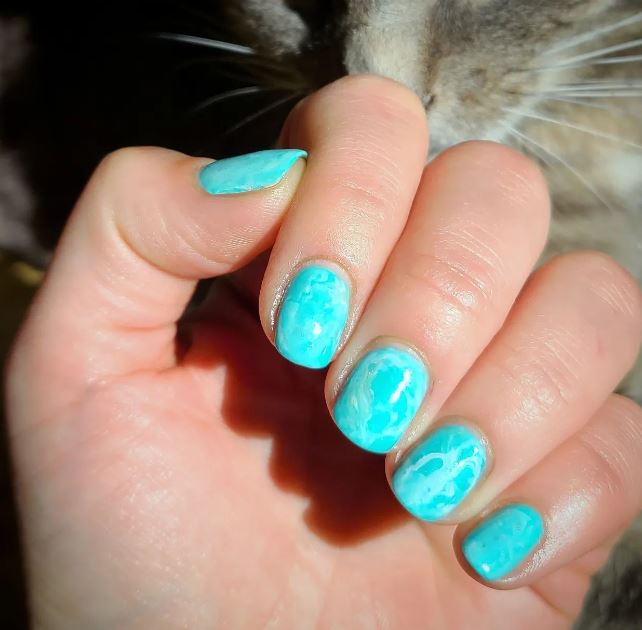 Image by @mynailfixation via Instagram
40. Natural Nails with Halo Polish
These blue and teal green nails have a lovely halo polish on the ring finger. It's simple and cute.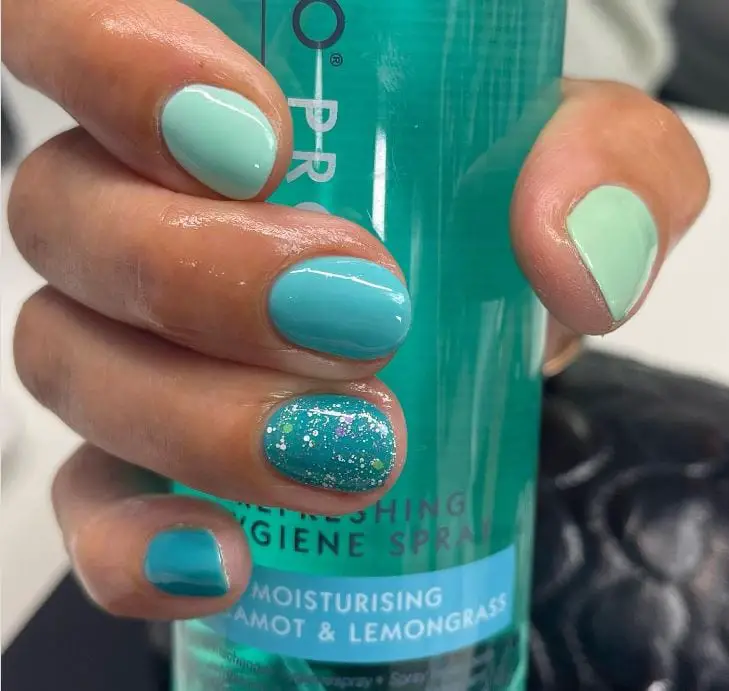 Image by @bignicki19 via Instagram
41. Short Pretty Nails
This pretty mani with loose glitter and turquoise gemstones look amazing.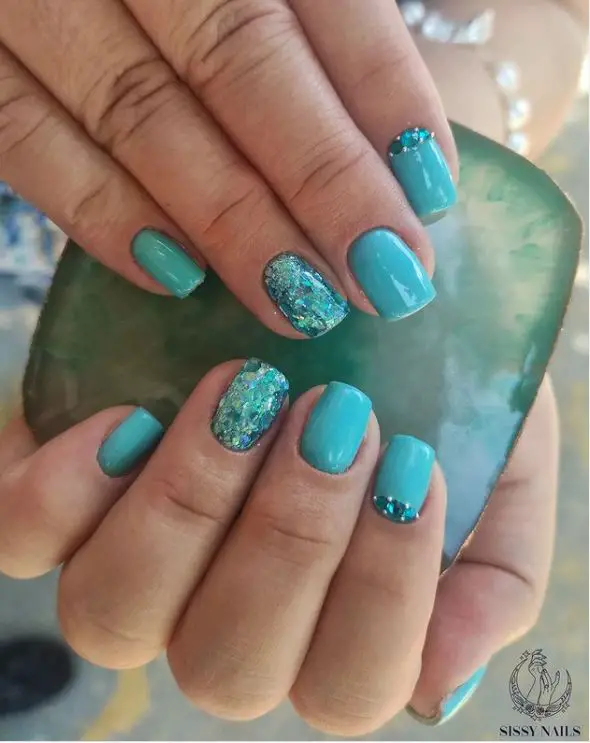 Image by @sissynailart via Instagram
42. Gemstone Nail Art
Stunning is the best word to describe this nail art. The glitter, gemstone, and color all combine nicely to create an exquisite appearance.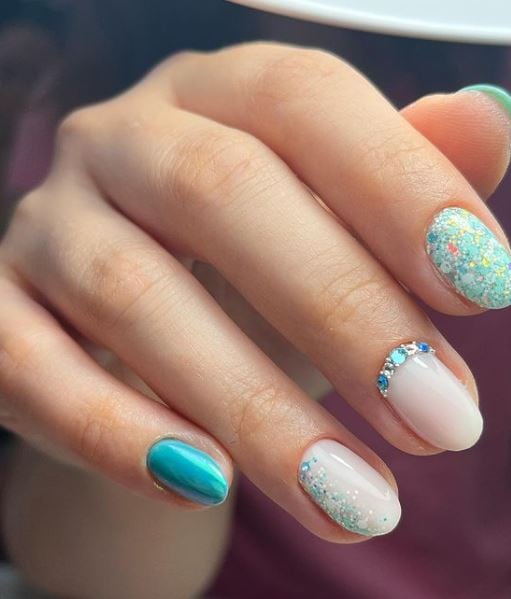 Image by @vivien.nailart via Instagram
43. White and Blue Summer Nails
Long, cute two-color nails with dotted tips and a glossy finish.
Image by @naomis_nail_bar via Instagram
44. Mani with Star-Like Designs
This lovely summer manicure with star-like designs on the ring finger and fifth nail are laid-back and cute.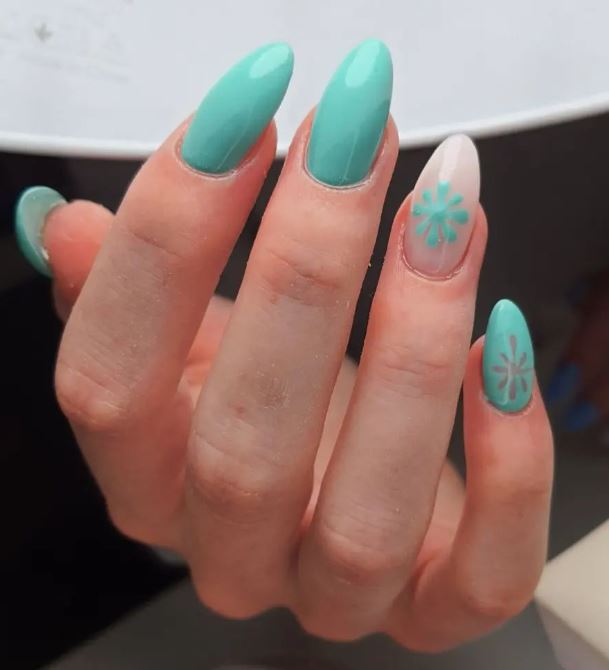 Image by @esthetic.lounge.nails via Instagram
45. Delicate Summer Manicure
This delicate mani with stones, floral embellishments, and pink glitter is beautiful. It evokes a princess-y vibe. You can't go wrong with this for summer.
Image by @kadasnails via Instagram
46. Long Ombre Nails with Crystals
Ombre manicure with pink gradient, loose glitter, crystals, and stones.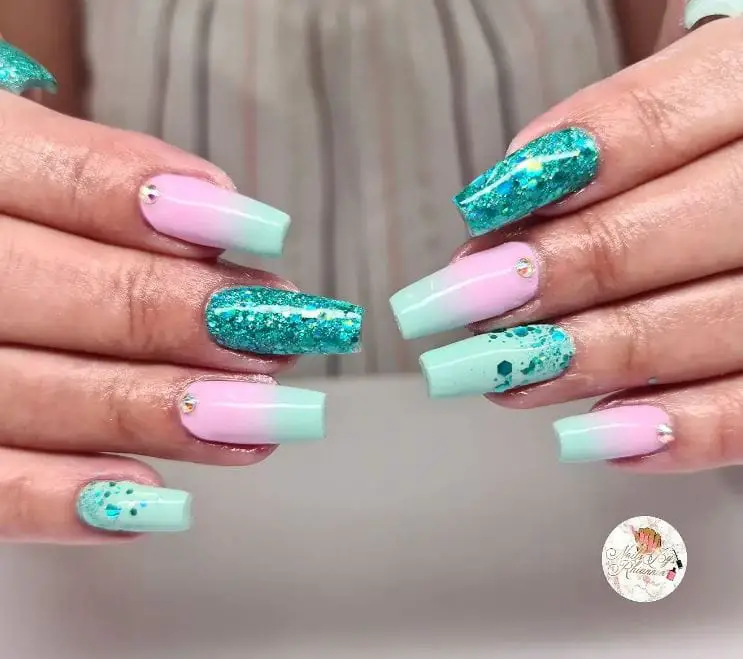 Image by @nailsbyrhiannonn via Instagram
47. Lovely Beach Nail Art
Short manicure with sea green nail polish and ocean blue wavy designs.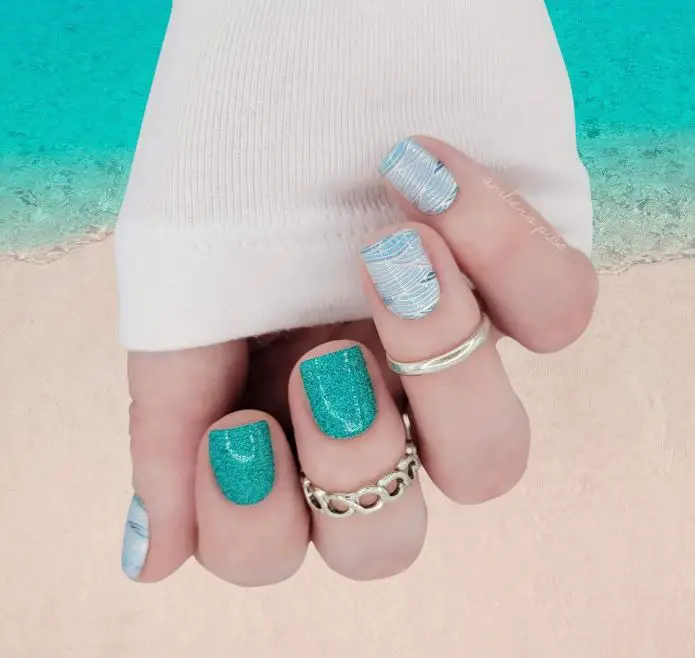 Image by @ambers.nail.polish.obsession via Instagram
48. Long Floral Nail Designs
This nail art has a white floral design and tips on the thumb and fifth fingers. This kind of manicure is often done as a press-on.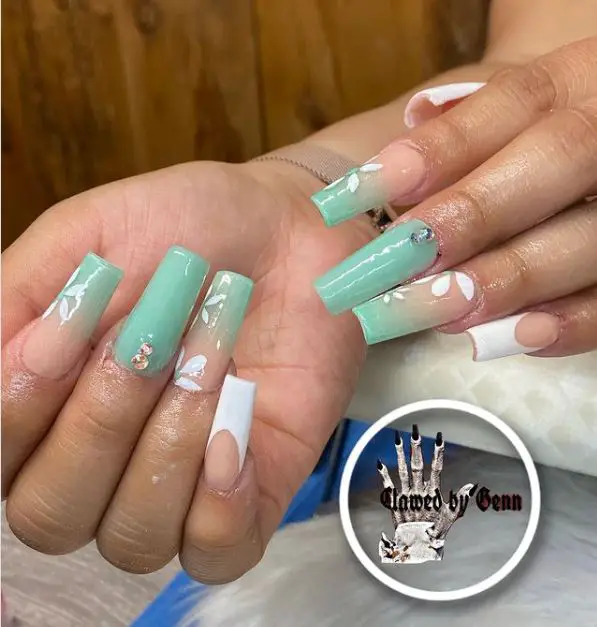 Image by @clawedbygenn via Instagram
49. Simple Handmade Manicure
This manicure has a nude-white gradient with blue glitter nail polish.
Image by @elenail_art__ via Instagram
50. Creative Almond Claws
The designs on the third and ring fingernail are artistic and creative. I love how the color combo stands out.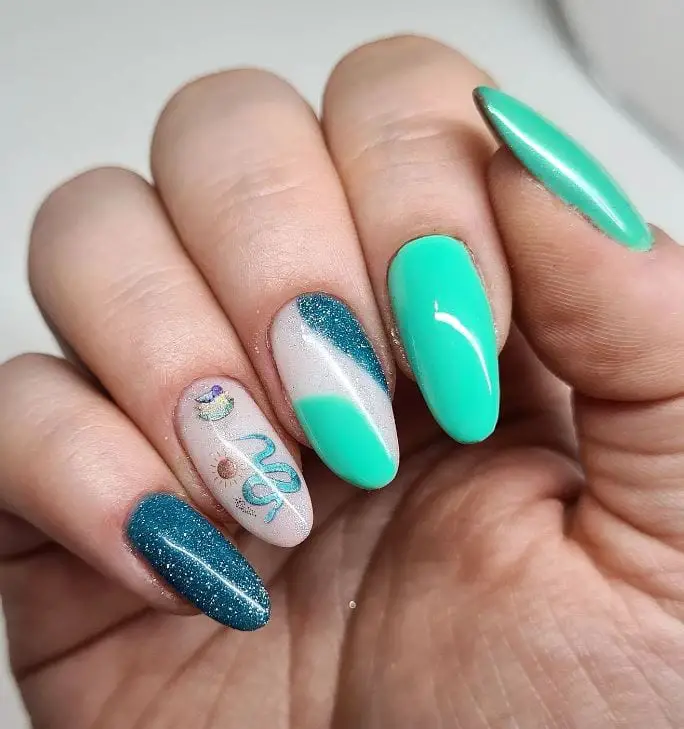 Image by @nusynail via Instagram
51. Long Stiletto Summer Manicure
Don't you just love the look of this gorgeous stiletto talon with cloud art and gold stone and pearl embellishments? I know I do.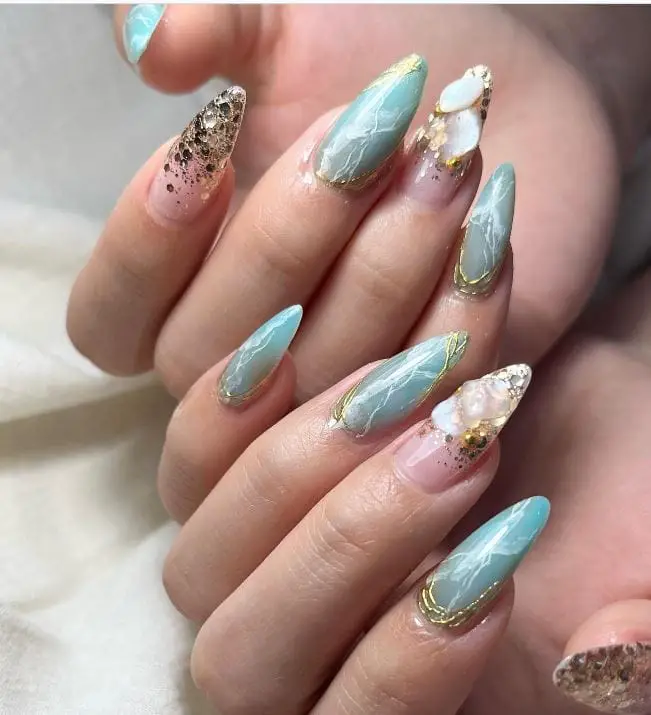 Image by @nail_salon.flamingo via Instagram
52. Beach Nail Art
This short, square nail art has a lovely painting of leaves on nude polish. It looks beautiful and neat.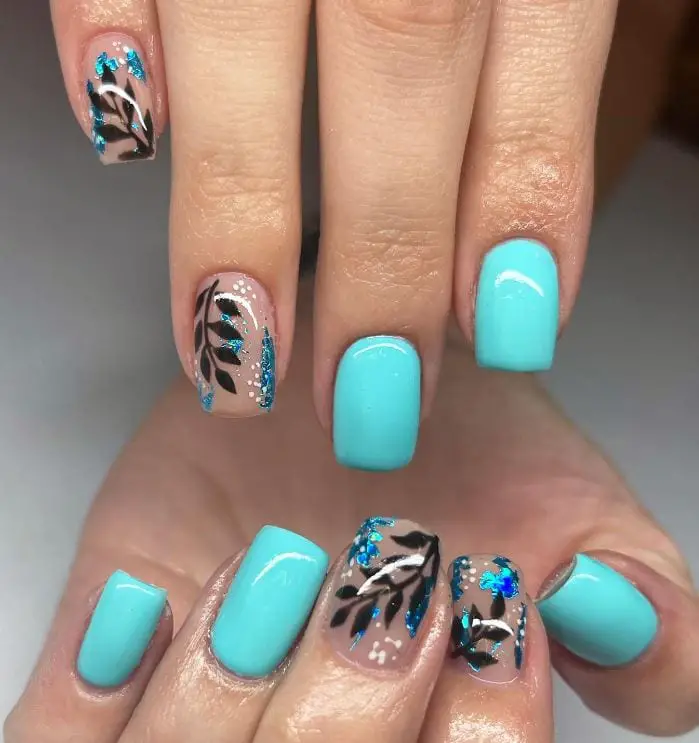 Image by @nailsbyswayz via Instagram
53. Sky Blue Coffin Nails
With the lovely nail art, gold stripes, stones and creative patterns, this coffin manicure will have you looking dashing as you step out.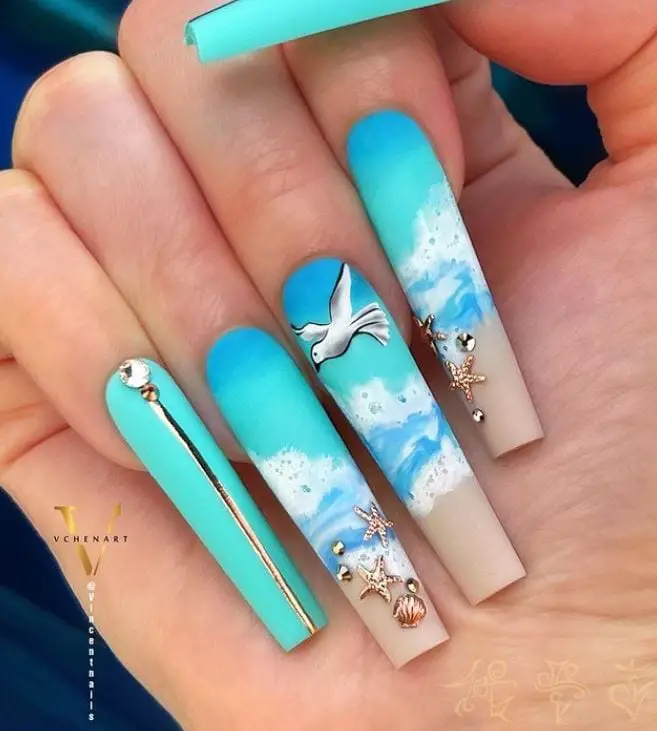 Image by @vincentnails via Instagram
54. Dark Turquoise Coffin Manicure
This dark shade with matte polish and gold wavy stripes is gorgeous.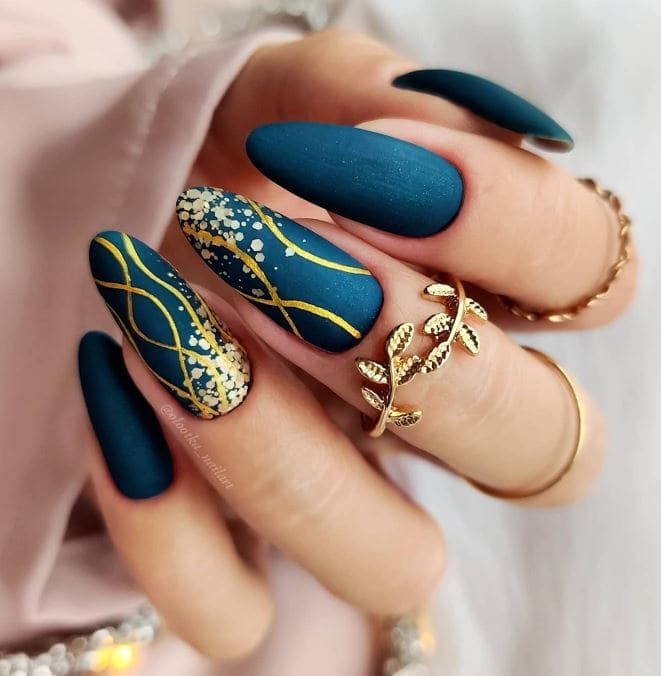 Image by @olootka_nailart via Instagram
55. Stiletto Nails With Floral Pattern
Lovely stiletto manicure with super shiny glitter shellac. It has a bold and vibrant appearance. The floral pattern on the accent nail makes the design unique.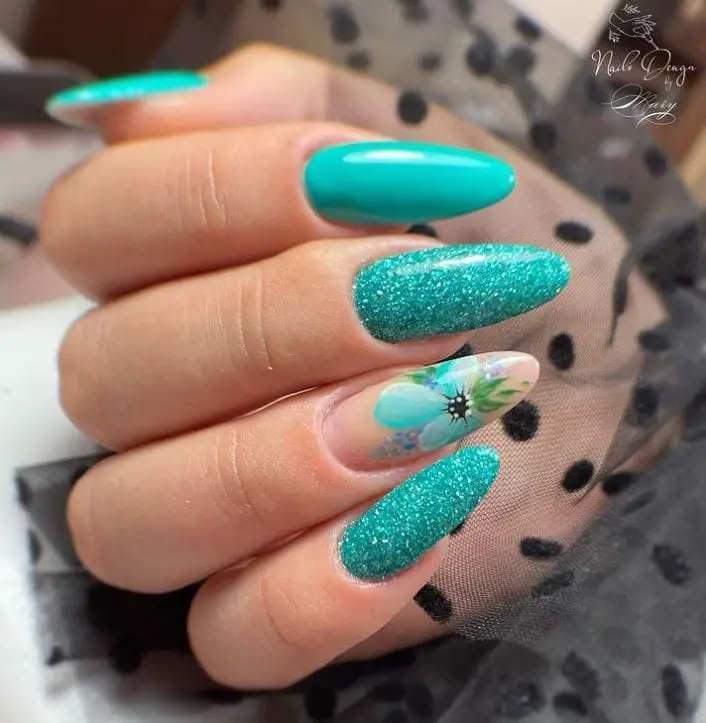 Image by @mariana.sarca via Instagram
This list of 55 breathtaking nail art proves that turquoise manicures can never be boring. It's time to select your favorite manicure to kick-start your summer adventure!