White nails are perfect for every occasion as they a have versatile look that can be styled for any occasion.
For a wedding, white nails are best left plain, or with a little sugaring. For a date night, adding rhinestones or glitter is the best way to step out looking stunning and luxurious.
Regardless of the occasion, here are 42 white nails with designs to choose from before your next nail appointment.
White Nail Designs With Nude
1. White French Tip With Swirls
With alternating Frenchies and swirls, this nail design is elegant and will look great for a night out.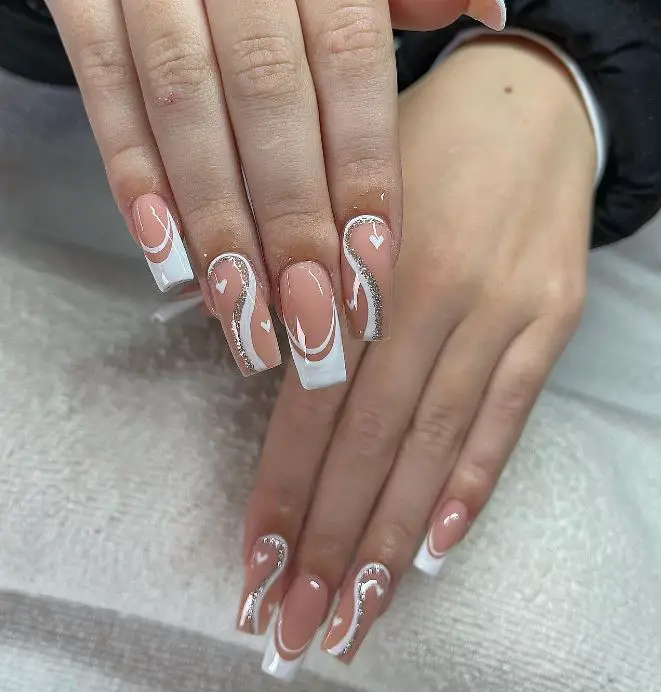 Image by @hayleyjanebeautybar via Instagram
2. Pastel White Nail Designs
The manicure features plain white design nails with 2 accent nails. These have cute butterflies added to give a blast of color to the otherwise pastel nails.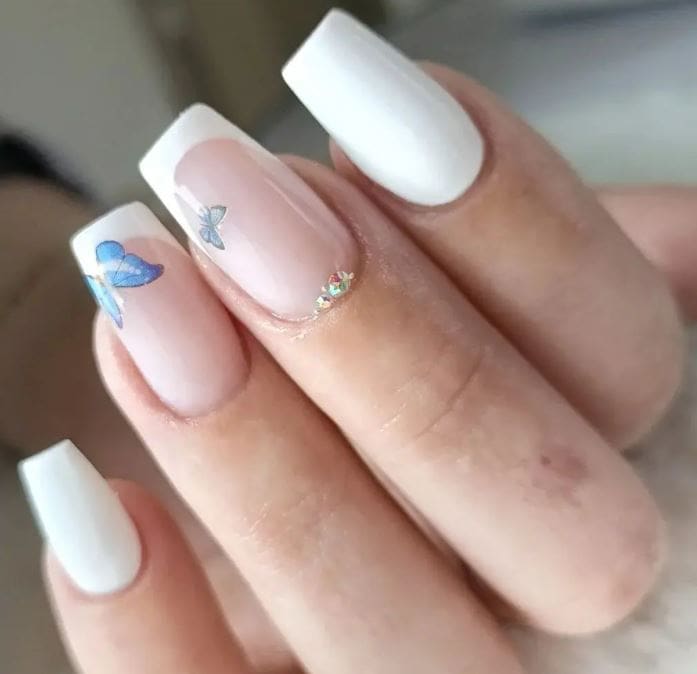 Image by @minaly.nails_ via Instagram
3. White Croc Tips With Flames
Crocodile pattern nails have been hitting my Instagram timelines lately.
They look gorgeous with white tips and flames.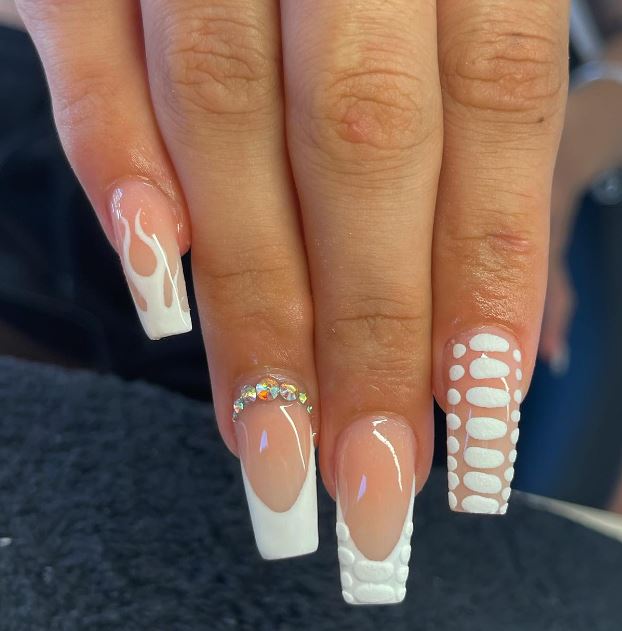 Image by @hayleyjanebeautybar via Instagram
4. White Double French Tip Nails
Step out looking like a knockout with these cute almond nails with white double french tips.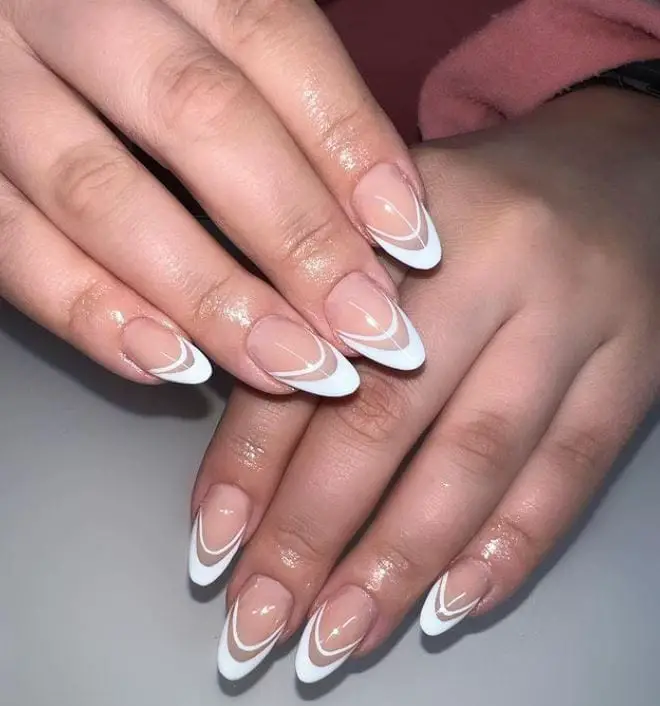 Image by @girlsnailcave via Instagram
5. White and Black V-tips
With a base like natural nails, these medium-length nails with black and white V-tips are sure to make you look like a stunner.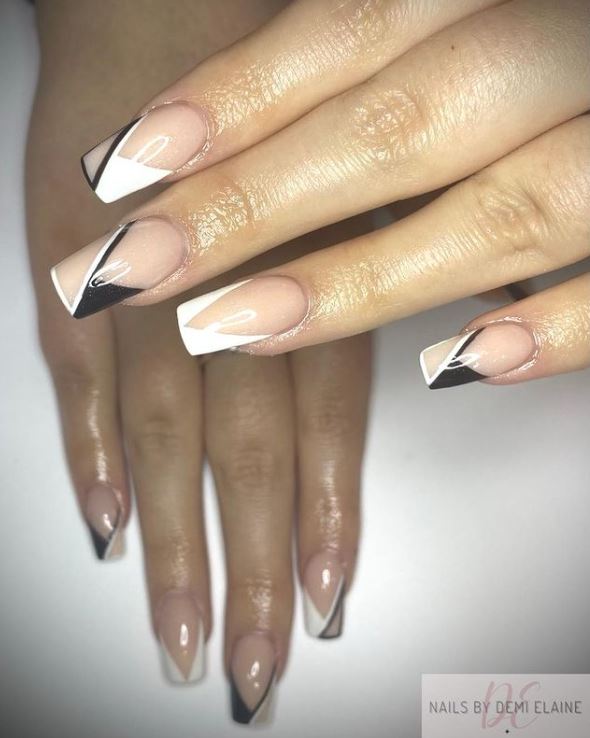 Image by @nails_by_demi_elaine via Instagram
6. Mocha and White Nail Designs
Simple white nails have a classy aura. You can get that look with this mocha nail with half french tips and white swirls.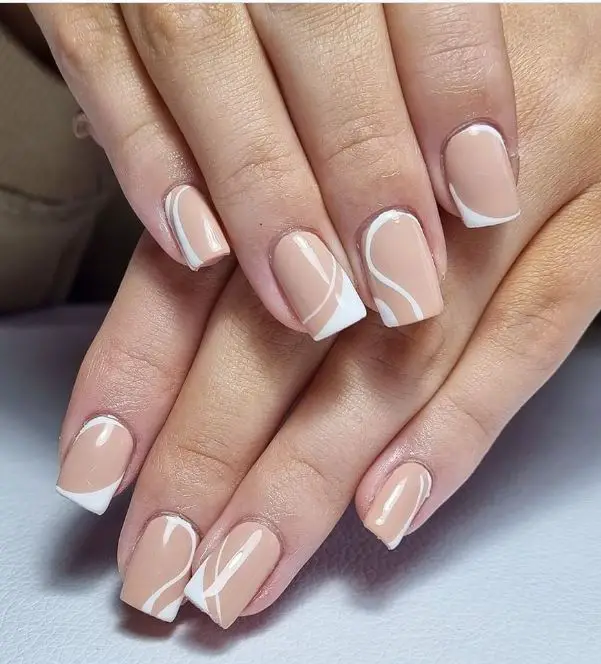 Image by @kookynailsmk via Instagram
7. Stiletto and Coffin White Nail Designs
This is an elegant way to rock white nail designs.
You can get this style to look summer-ready.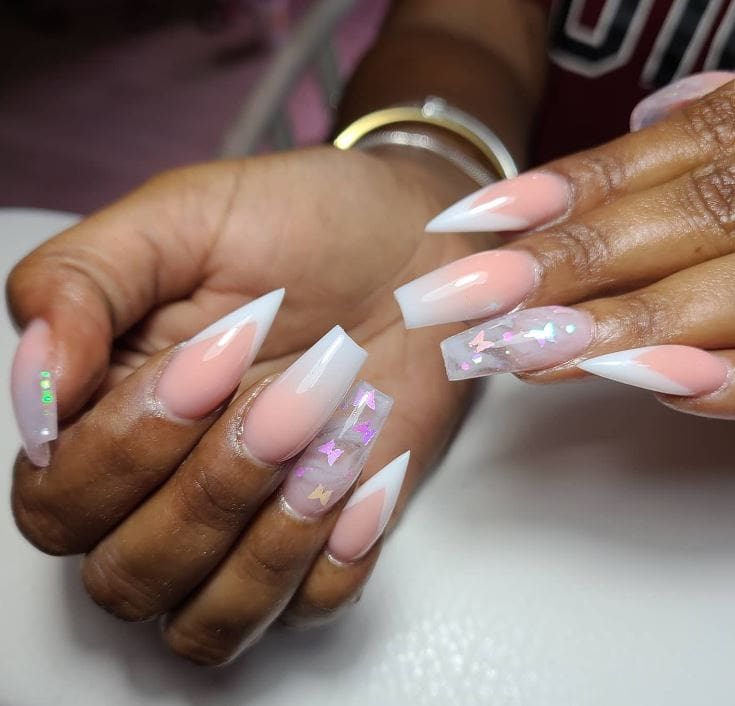 Image by @leglitznails via Instagram
8. White Hearts
Complement your outfit with this elegant manicure with cute white hearts at the tip of the nails.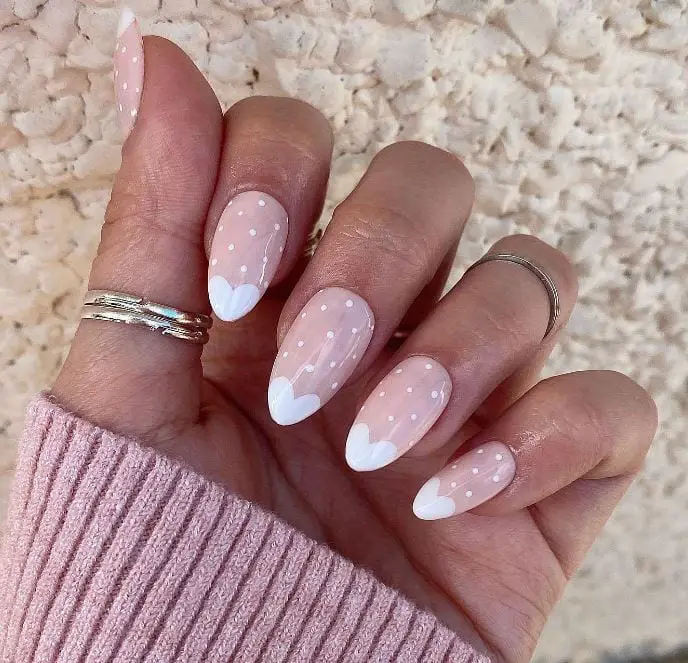 Image by @mel_vivalasnails via Instagram
9. White and Gold V-tips
V-tips are seductive and gorgeous.
You can rock this elegant manicure if you've got a hot date with your significant other.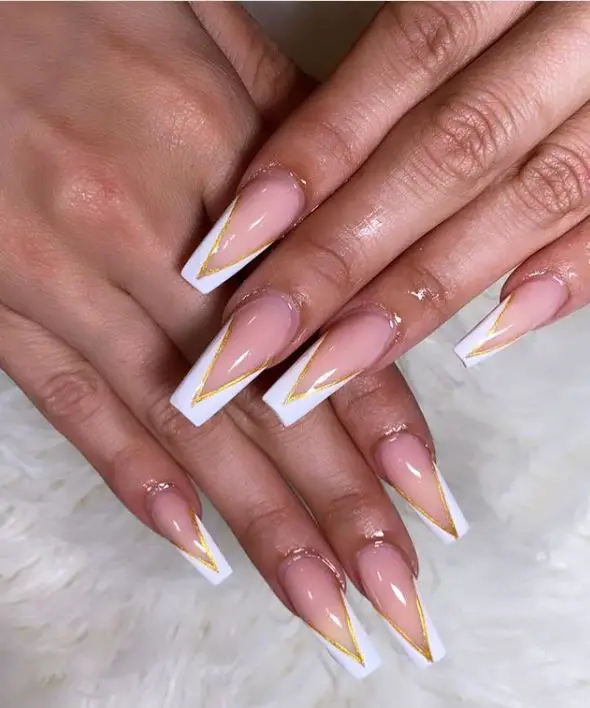 Image by @nailtox_bar via Instagram
10. Nude and White Stiletto Nails
Ombre, marbles, flowers.
This combination creates a bomb nail design like this chic and trendy stiletto white nail.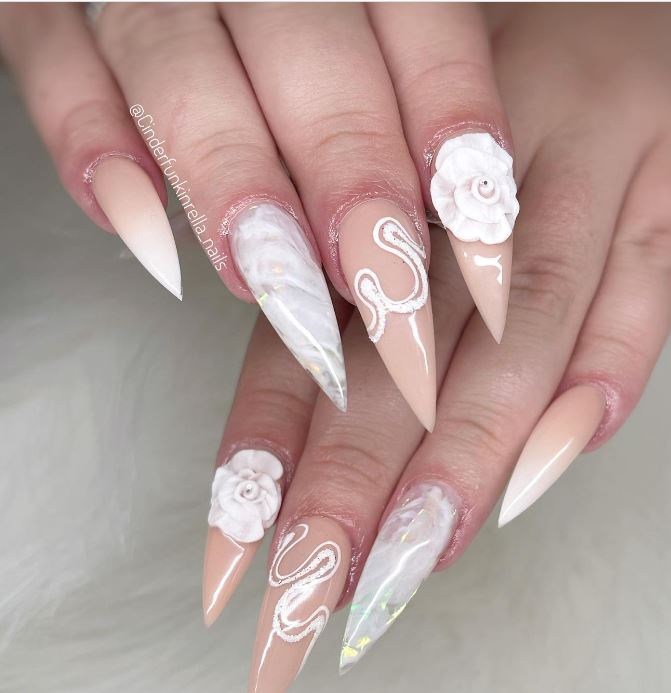 Image by @cinderfunkinrella_nails via Instagram
11. White Nail Designs For Winter
These white and peach/press-on nails are stunning and perfect to keep you looking elegant in winter.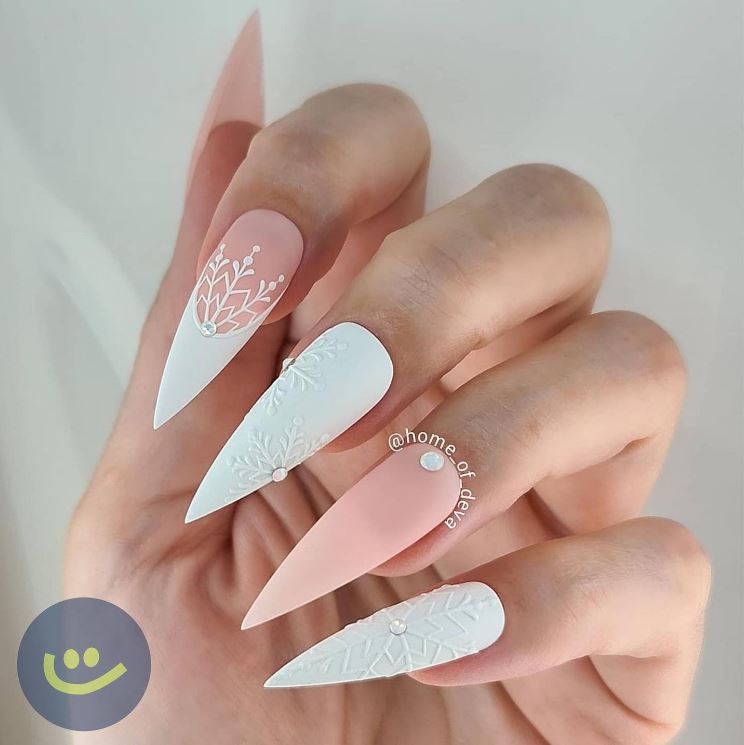 Image by @home_of_deva via Instagram
12. White Nail Designs For Holiday
Put your kid in a pleasant mood by getting this nail design from a child menu. The cute white nail designs give off holiday vibes that are charming and lovely.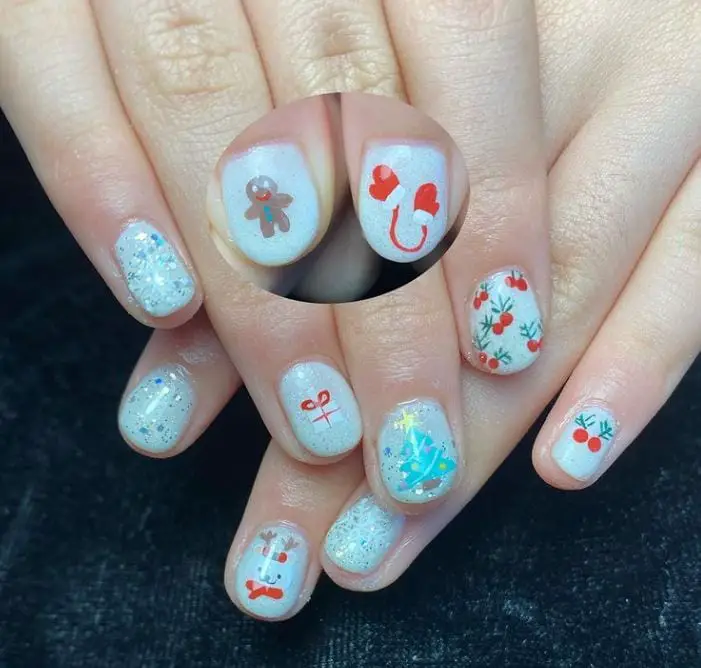 Image by @getpolishedsg via Instagram
13. Vertical Nude and White Nail Designs
This nail design has a nice twist which blends white and nude.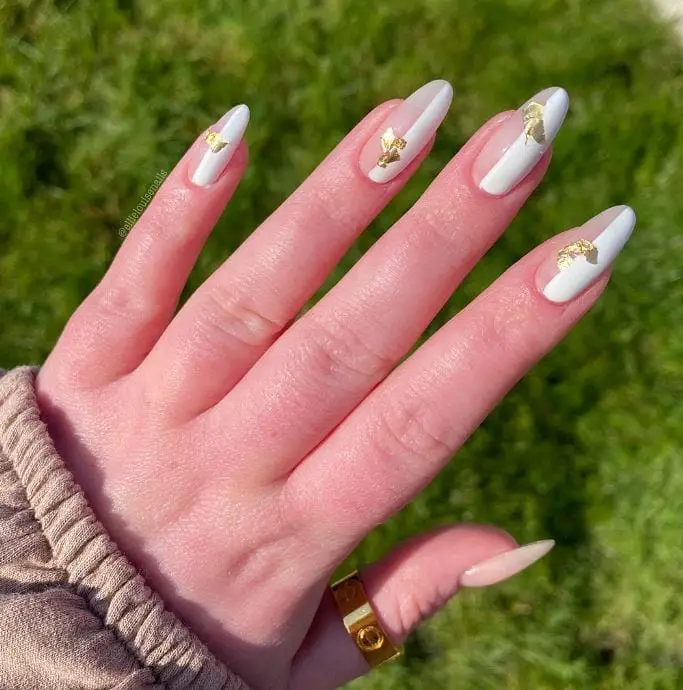 Image by @ellielouisenails via Instagram
14. Kiss White Nail Designs
Kisses on nails are a favorite because they always look cutesy.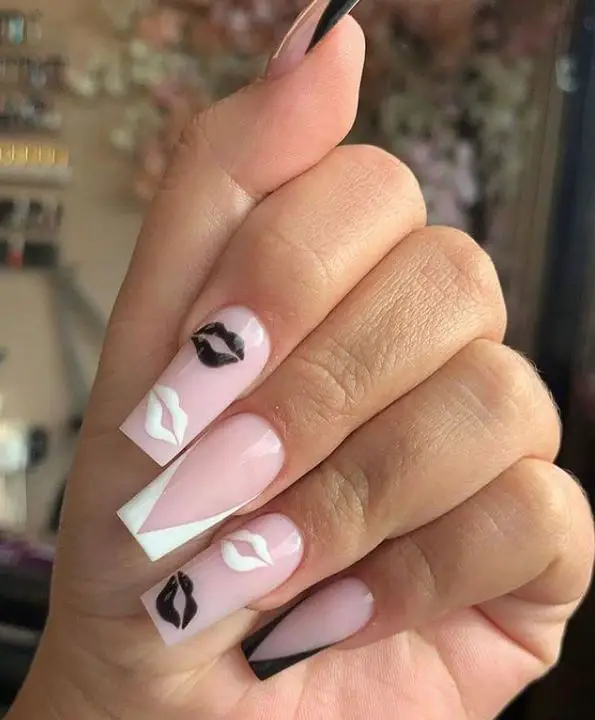 Image by @sunnie_nails22 via Instagram
White and Pink Nails with Designs
15. White and Pink Nails with Gold Foil
These classy white nail designs feature plain white nails with 2 nails designed with a pink base and gold foil separating the pink base from white tips.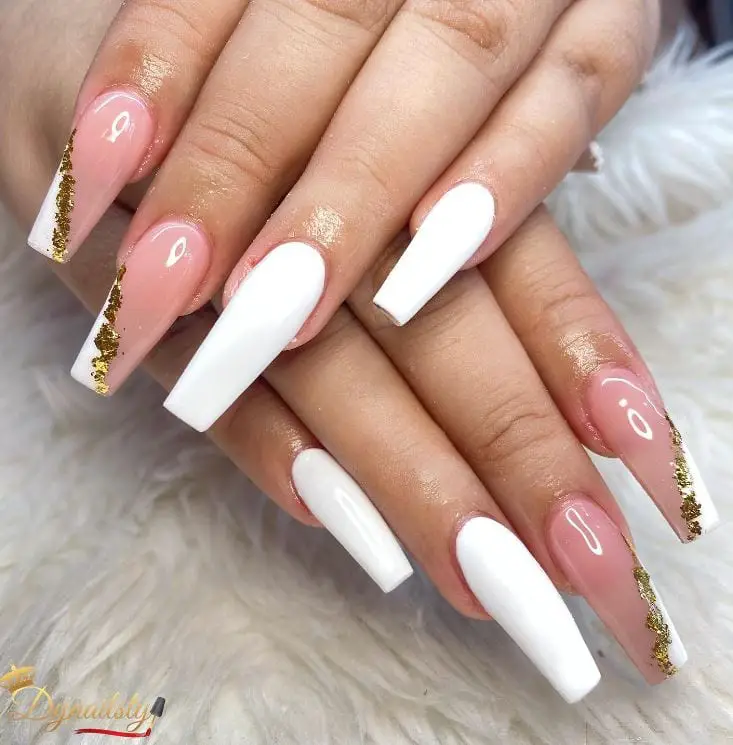 Image by @dynailsty via Instagram
16. White Nails With Pink Swirls
Square nails are the go-to nail shapes for baddies because they look so chic and slick. These nails with pink and purple swirls on the white base are perfect.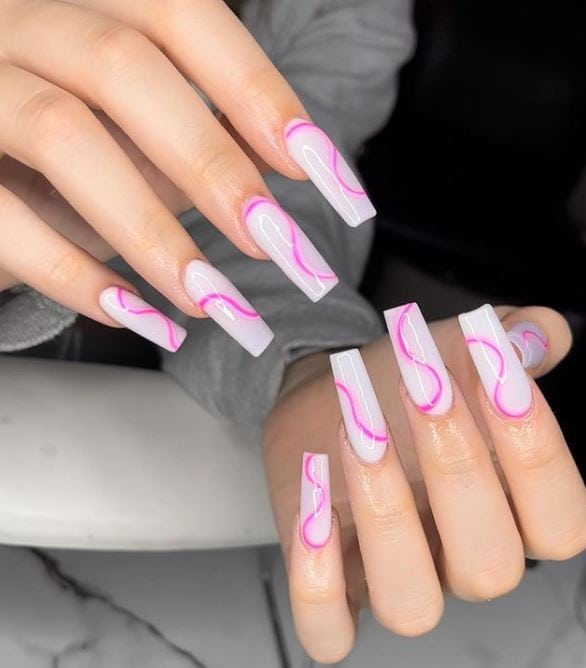 Image by @nailedbybellaa via Instagram
17. White and Pink Flowers Nail Art
Create a beautiful spring look by using this white nail idea with the cutest pink flowers as inspiration.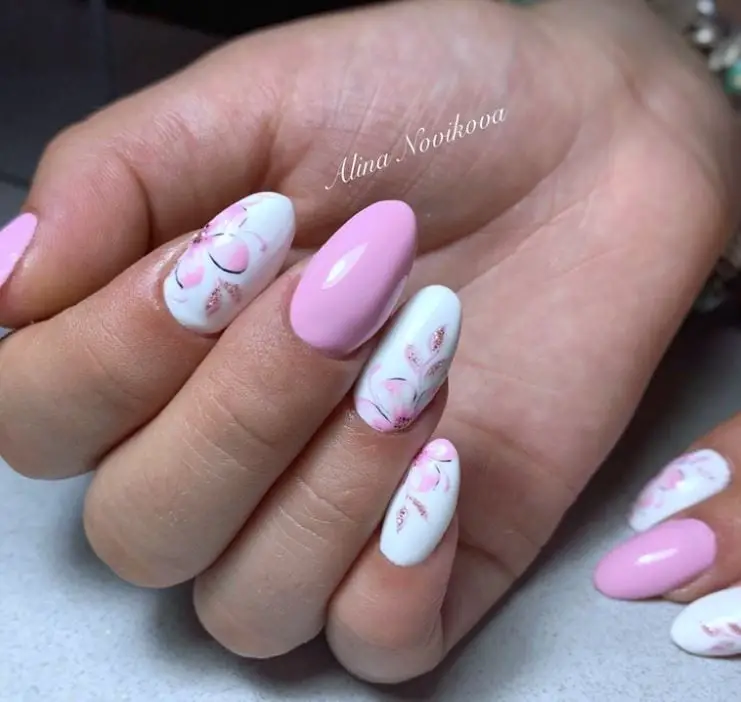 Image by @alinannails via Instagram
18. White Flame Tips
The white nail designs have an amazing look.
You can get nails like these as press-on nails.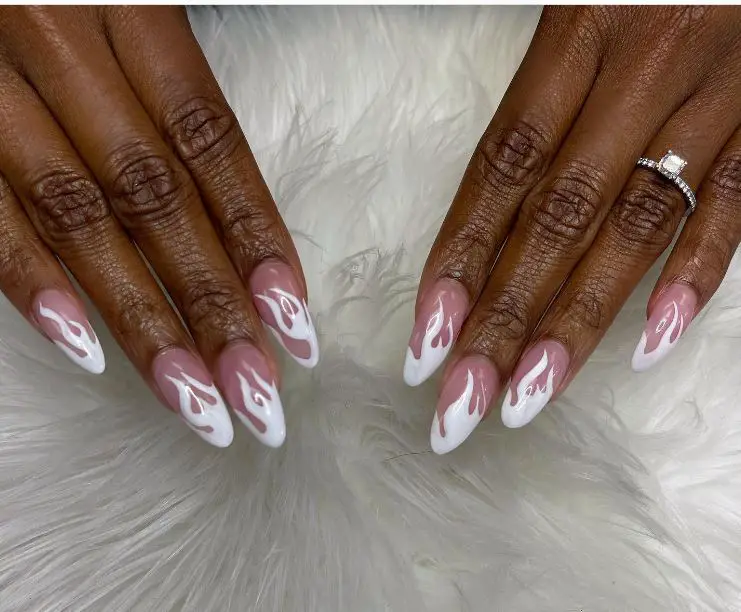 Image by @nailsbyazhiaxo via Instagram
19. Coffin White Nail Designs
I love the modern feel of these nails with the rhinestones that add sparkle.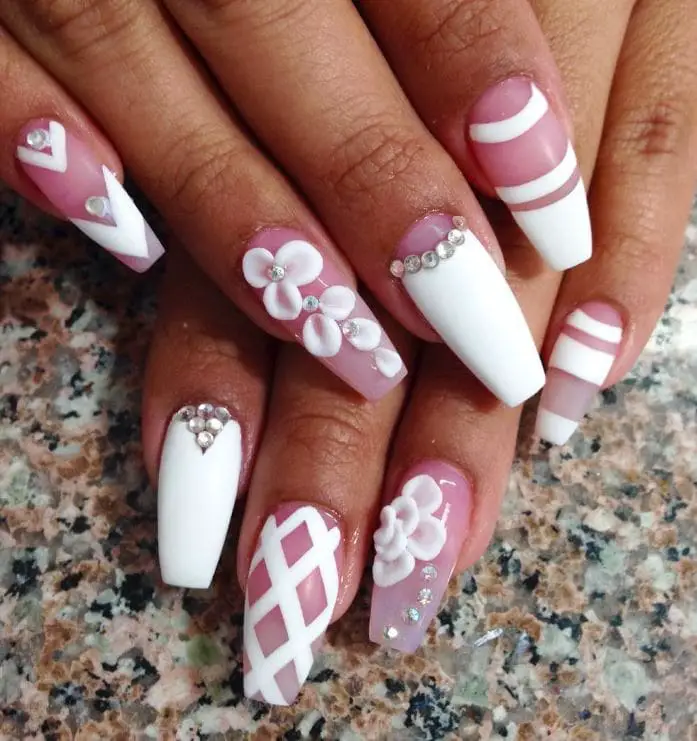 Image by @nailedby_jade via Instagram
Other White Nail Designs
20. White Nails With Sugaring
These nails are quite subtle with just the sugaring on the ring finger and small rhinestones at the cuticles as adornments.
You should go for this if you want a subtle look for a wedding.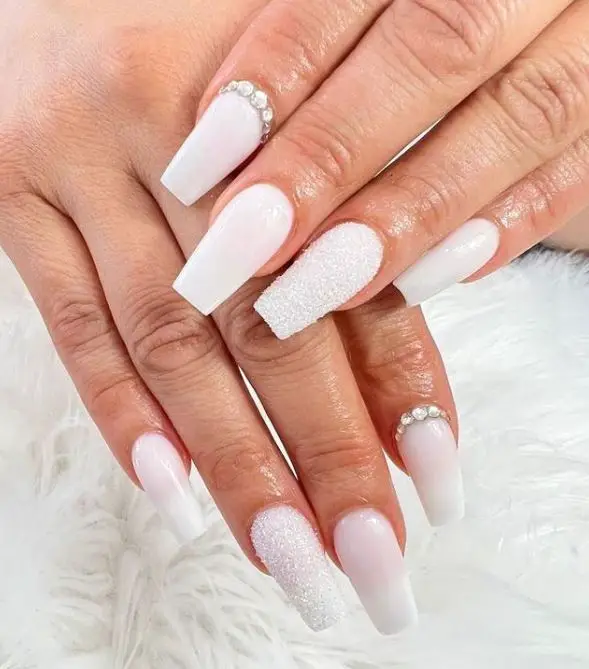 Image by @bluenailslounge via Instagram
21. Metallic White Nail Designs
These amazing almond nails are plain white with an accent nail of metallic chrome silver to spice things up a bit.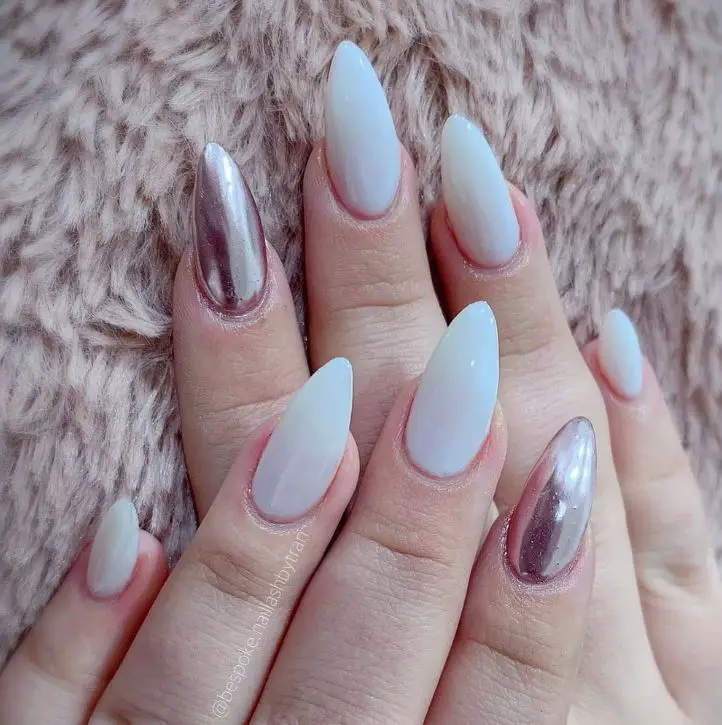 Image by @bespoke.naillash via Instagram
22. Faint White Nails
The transparency of these nails gives a luxurious feel when you get it done.
It has a nice length with glitter and iridescent rhinestones added to brighten up the nail design.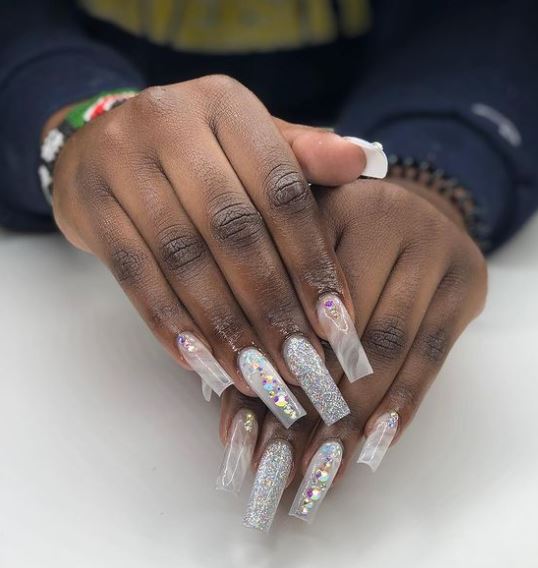 Image by @pressed_nd_polished via Instagram
23. Short Square Nails
You can wear white nails of this length to most formal events.
The swirl-like white design on two nails is subtle yet stunning.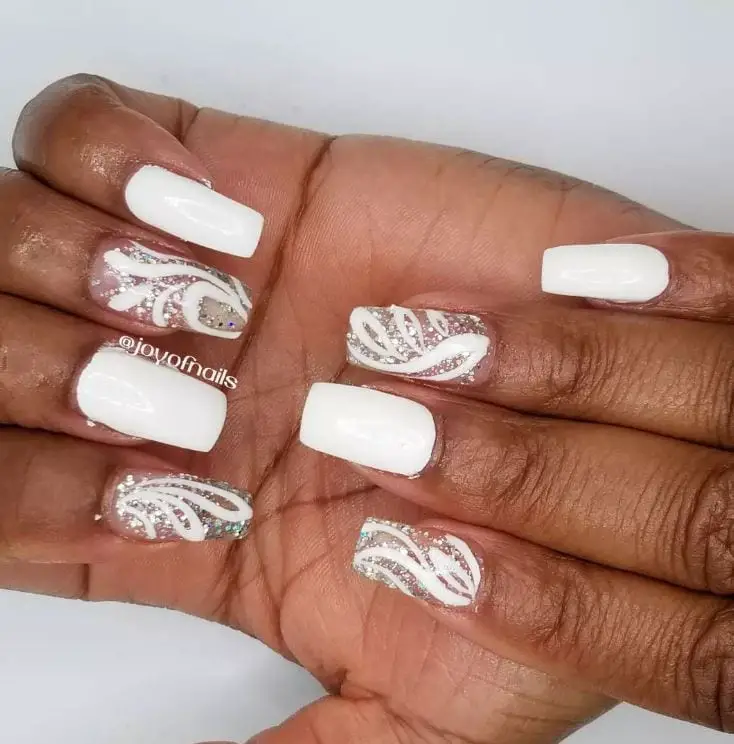 Image by @joyofnails via Instagram
24. Off-white Nail Polish
I love how these cute almond nails fit the skin tone creating a lovely appearance.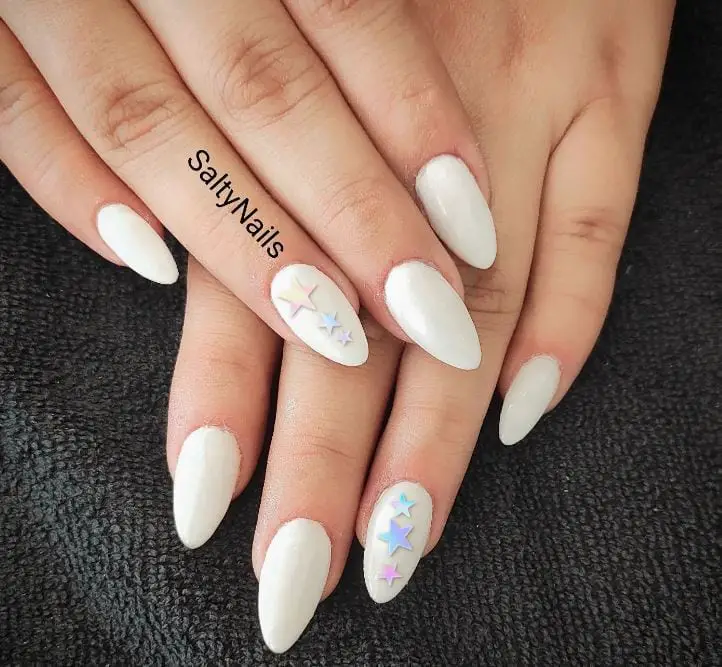 Image by @saltynails1 via Instagram
25. White and Green Nails
If you're a fan of short nail lengths, this is perfect for you.
It has a unique pattern that's perfect for a vacation.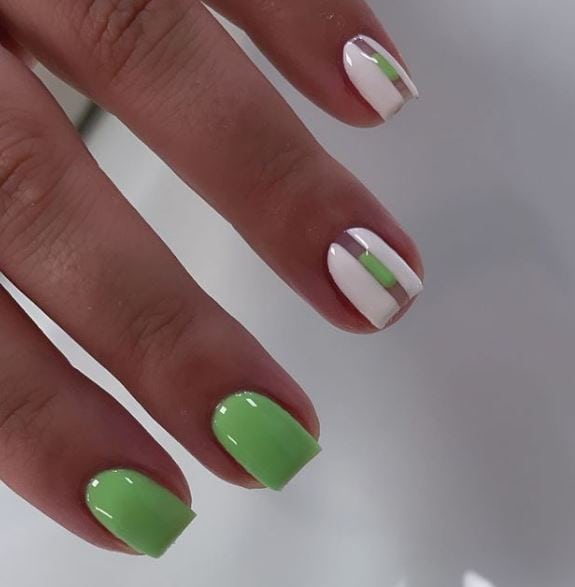 Image by @savsbeauty_room via Instagram
26. Red and White Nail Designs
This is a winter white nail design with frost and red glitter gel.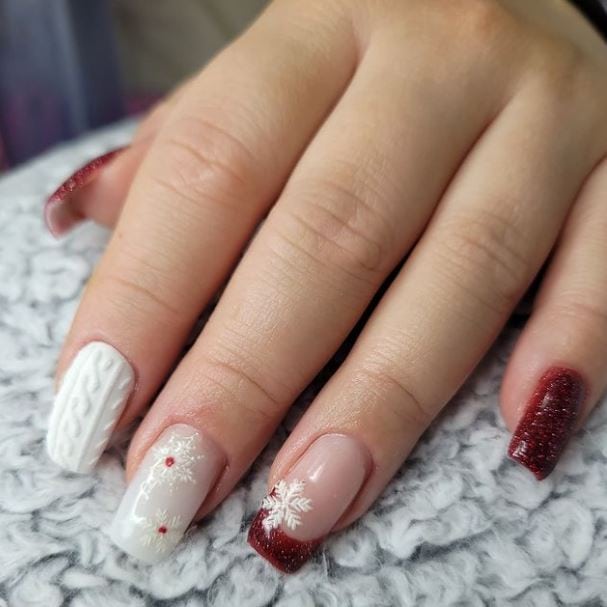 Image by @nails_sshine via Instagram
27. Unique White Nail Design
End your search for unique white nail designs because this delightful manicure is what you need.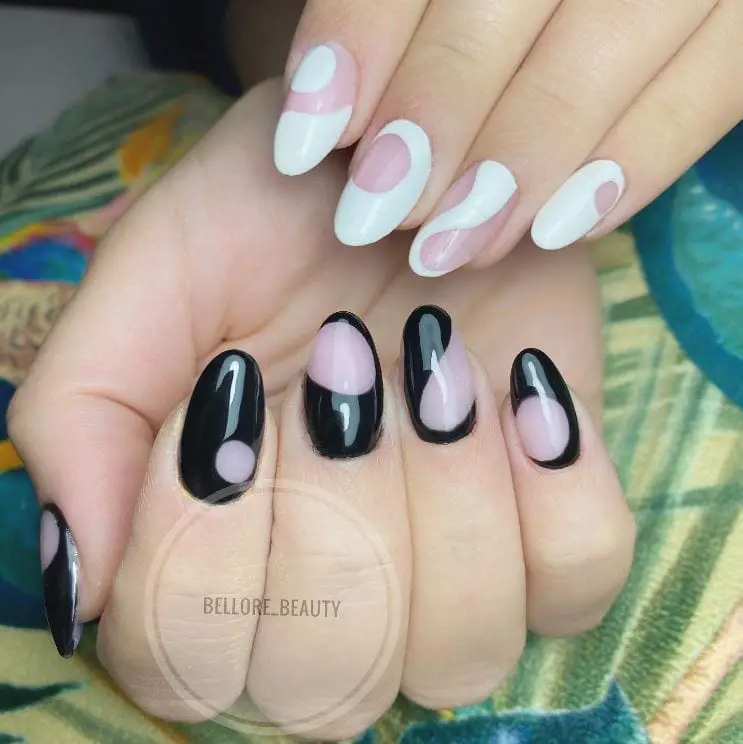 Image by @bellore_nailmaster via Instagram
28. Pearl and Glitter White Nail Designs
These magical nails are nothing short of perfect.
The glitter almost completely covers the white nails. The pearls added makes it look stunning.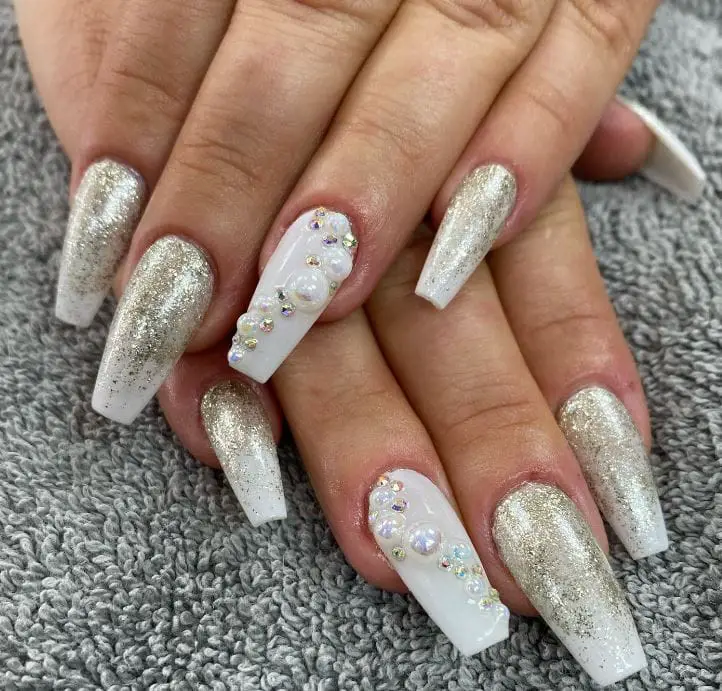 Image by @kaitlynmarieartistry via Instagram
29. Bold White Nail Designs
This white manicure has an elegant snake design. It also has a cute heart on the ring finger. The nail length is also perfect, giving a baddie vibe.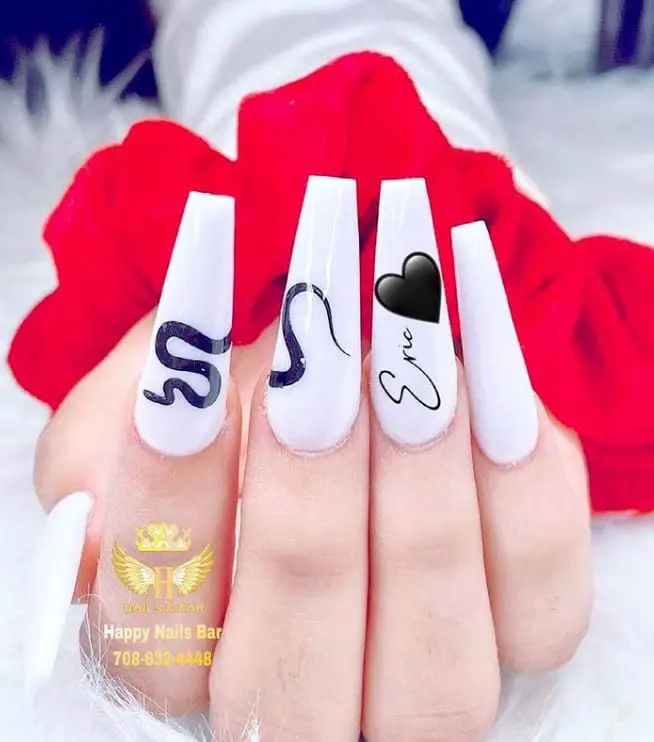 Image by @happynailsbarhillside via Instagram
30. White Coffin Nail Design with Red Tips
With the thinnest red tips, the white nails with a snake design on one finger is sure to have you stepping out looking like a stunner in any outfit.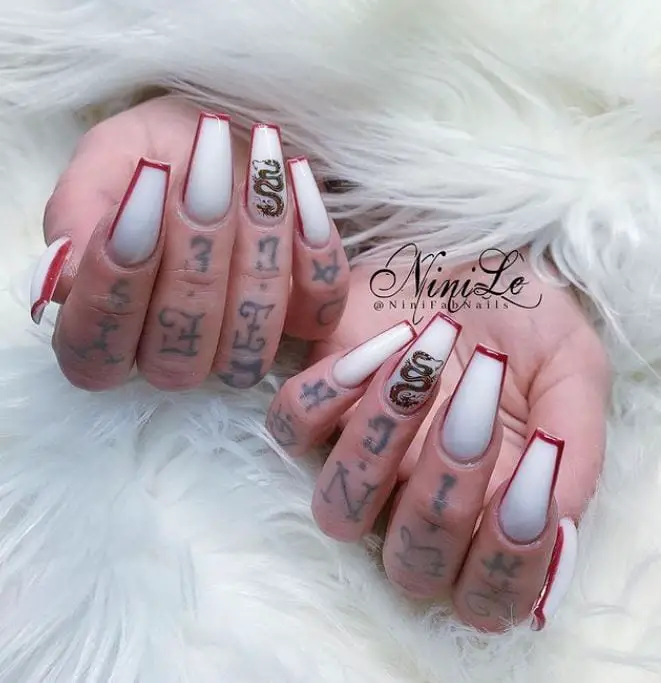 Image by @ninisfabnails via Instagram
31. Silver and White Nail Designs
These nails have lovely patterns of different colors.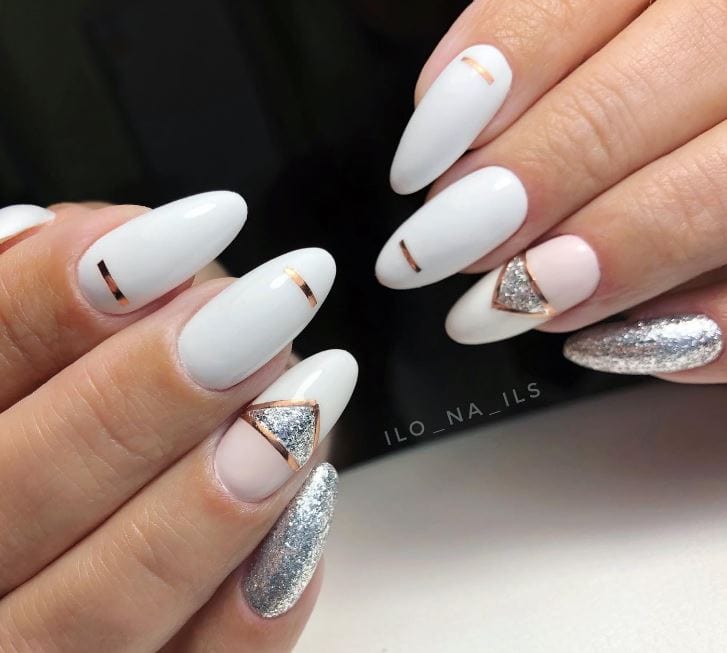 Image by @ilo_nailsquad via Instagram
32. Blue and White Nail Designs
If solid white nails are too blah for you, you can add colored rhinestones.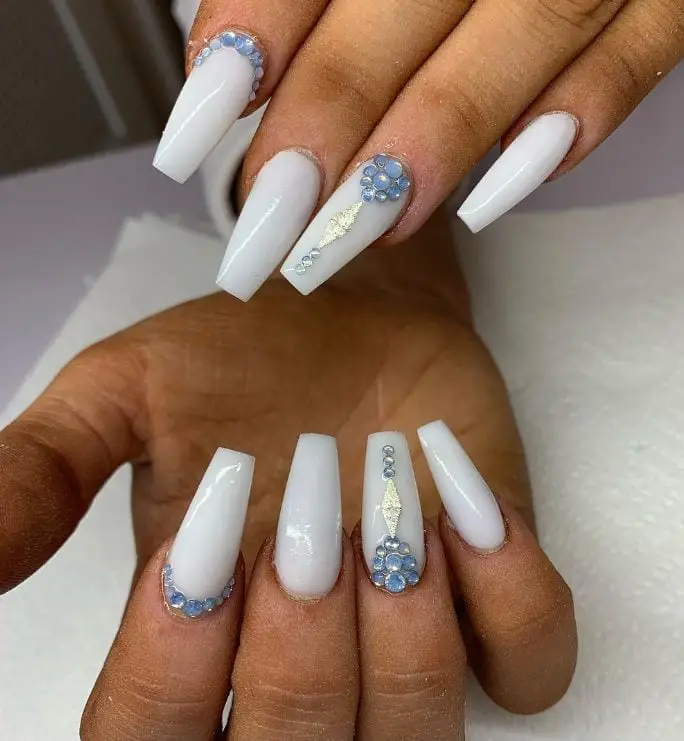 Image by @nailmhtech via Instagram
33. Halloween White Nail Designs
Recreate this nail look to glam up for Halloween.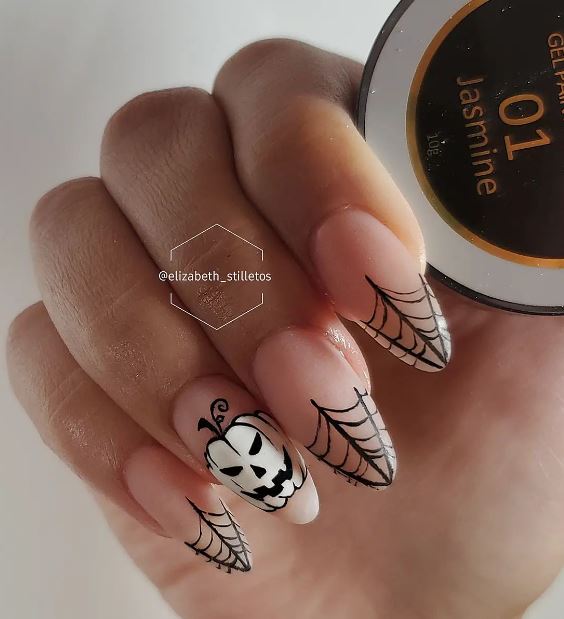 Image by @elizabeth_stilletos via Instagram
34. Extra Long White Nail Designs
The rhinestones and decals give the nail design extra glitz.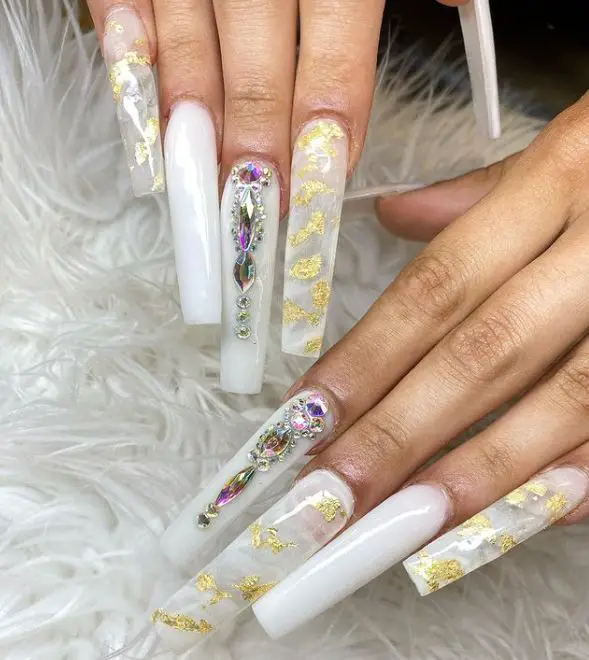 Image by @nailsbyoanhle via Instagram
35. Wild Crocodile Nails
These spectacular nails pass all the boss babe nails checklist.
It has an extra length with a crocodile pattern and drawing of dragon and tiger heads on it.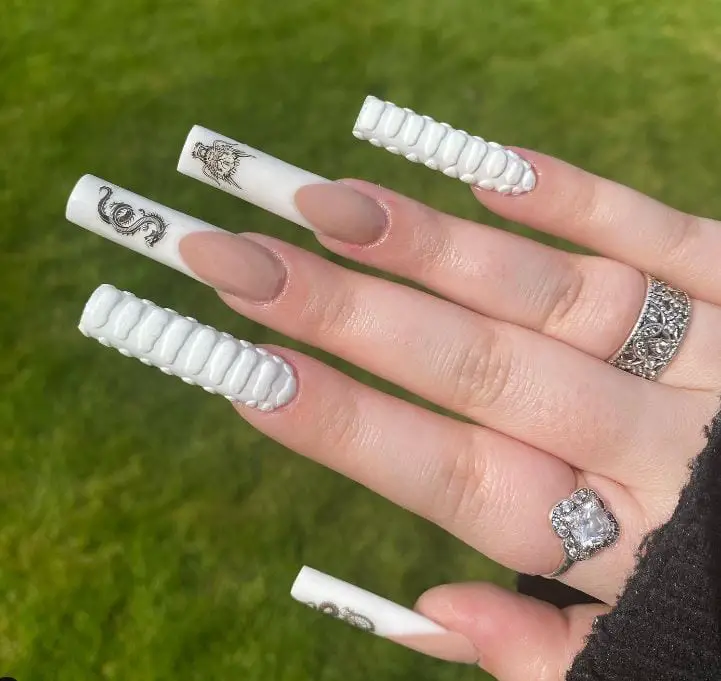 Image by @carries_nails18 via Instagram
36. White and Blue Stiletto Nails
These medium-length stiletto nails have a refreshing feel due to their flawless combination of blue and white.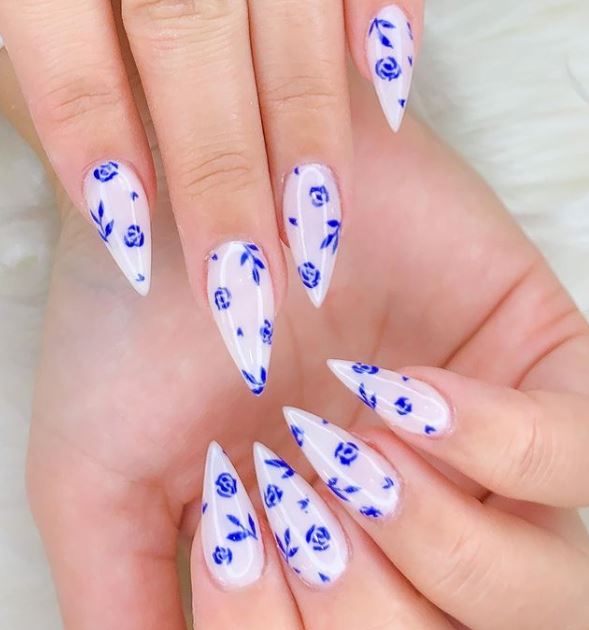 Image by @solarnailspa via Instagram
37. White and Turquoise Nail Art
With iridescent turquoise glitter and small rhinestones, this nail art is sure to make you the center of attention.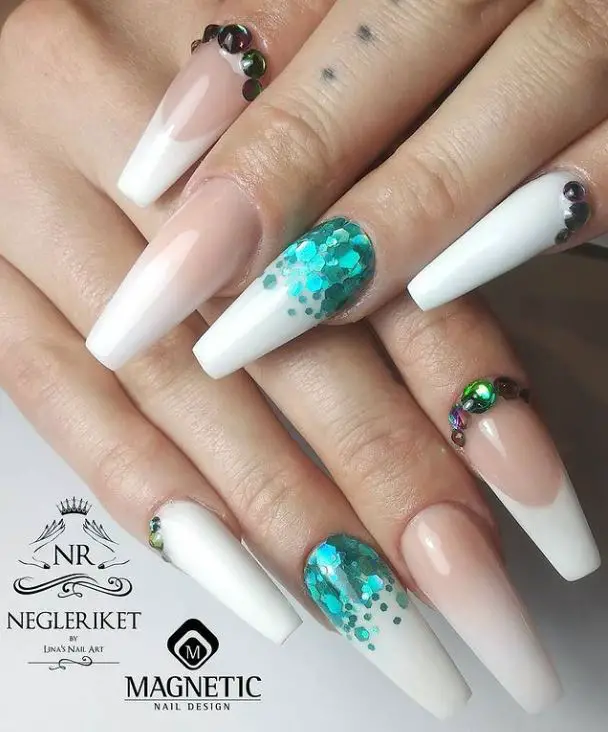 Image by @naglariskandinavien via Instagram
38. Murakami Nails
Even without the smiley face, these Murakami's nails are a vibe.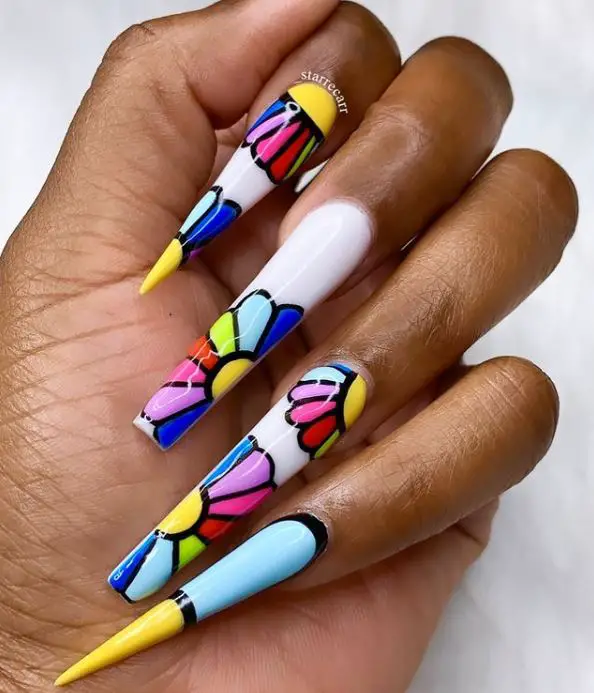 Image by @_starrecarr via Instagram
39. White Nail Designs With Leaves
Stun in spring with this pretty leaf nail idea.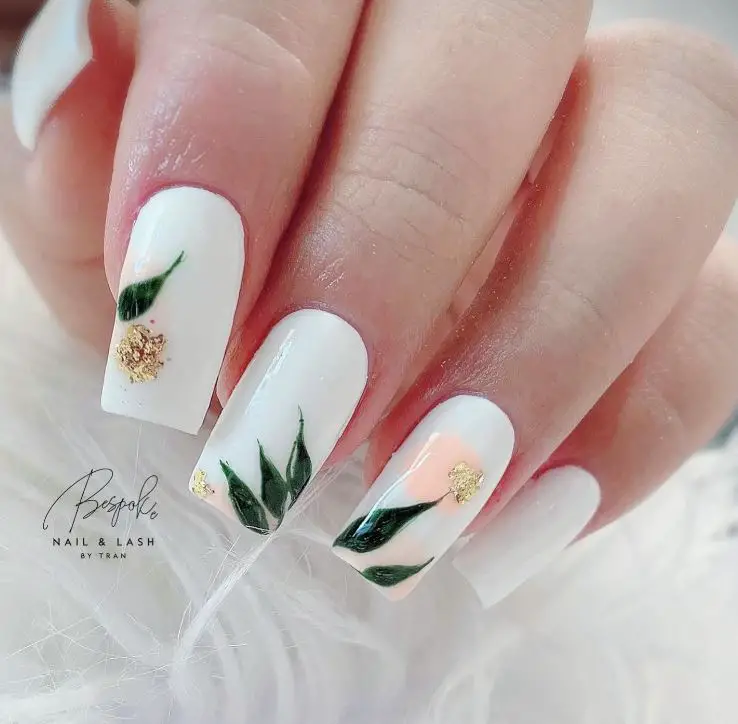 Image by @bespoke.naillash via Instagram
40. Pope Vibe Nails
The cruciform design on these solid white nails reminds me of the pope's attire.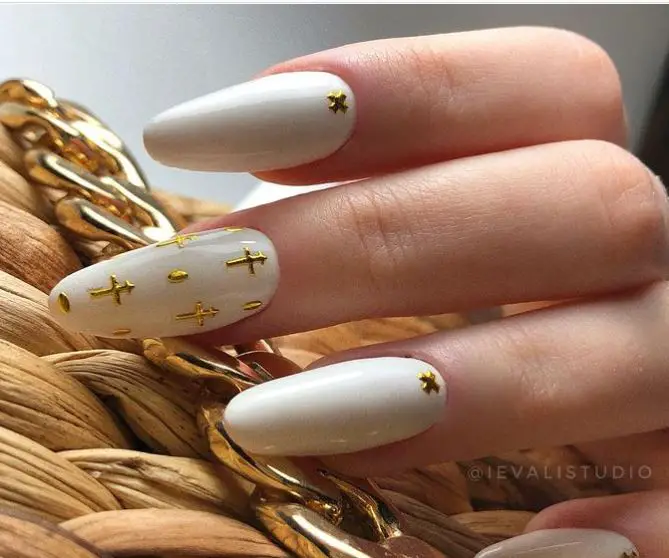 Image by @evalistudio via Instagram
41. White Nail Designs with Write-ups
You could write your name on your white nail designs to give it a special effect.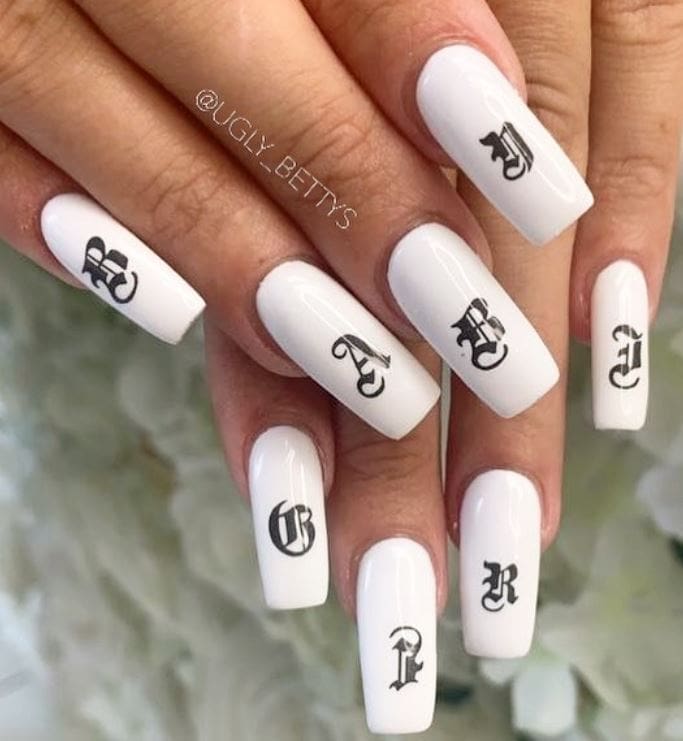 Image by @ugly_bettys via Instagram
42. All White Nails
Sometimes, simple is better and this is proof of that.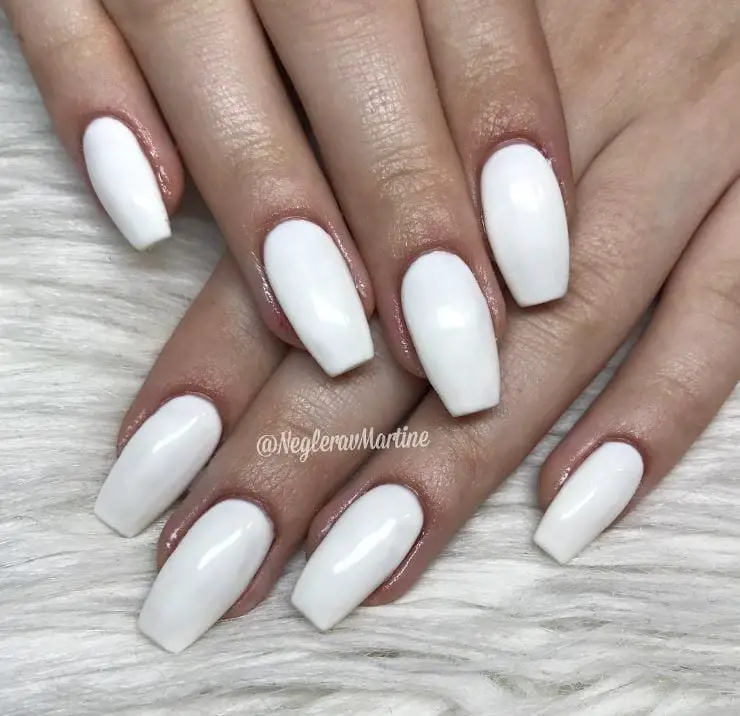 Image by @uniquebeautybymartine via Instagram
White nails can be styled for any occasion. Get your favorite white nail designs done for your next nail appointment.